Wedbush trims AAPL estimate to $335, expects 'iPhone 12' to ship late
The "once in a century" coronavirus outbreak is forcing Daniel Ives from Wedbush to tailor estimates for Apple downward, mostly based on iPhone demand deterioration in the short term and an "iPhone 12" release later than expected.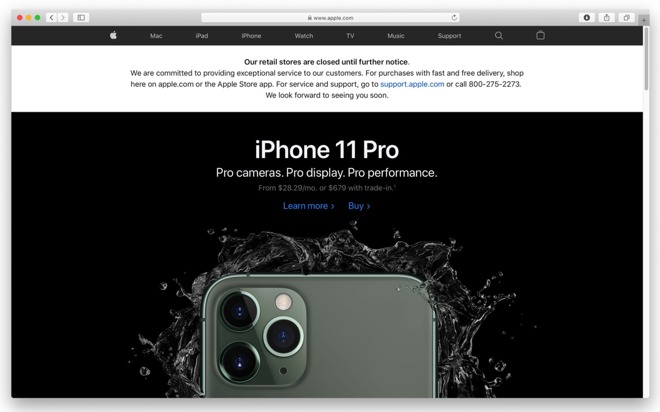 Apple's retail stores are closed until further notice, which isn't going to help Apple's finances
In a research note to investors seen by
AppleInsider
, Daniel Ives from Wedbush Securities is lowering iPhone revenue estimates by 14% in fiscal year 2020 and by 10% in fiscal year 2021 to reflect the change in near-term consumer demand, lockdown conditions globally, and a "negative economic backdrop." Practically, Ives believes that during the
coronavirus
pandemic, people looking to upgrade an iPhone still will do so, but "switchers" and new-buyers will wait, or not get an iPhone at all.
"We now assume only the installed base consumers currently in the window of an upgrade opportunity that have not upgraded their iPhones in more than 42 months purchase a new phone over the next 18 to 24 months," writes Ives. "Currently we estimate that ~350 million of Apple's 925 million iPhones worldwide are in this upgrade window, as we assume going forward in a more draconian scenario that minimal new smartphone activity takes place besides this segment of Cupertino's massive installed base."
That 14% 2020 iPhone revenue drop equates to $131 billion from the iPhone versus Wedbush's prior estimate of $152 billion. Predictions of units of iPhones sold are being cut to 172 million versus the
prior forecast
of 200 million.
Unlike previous notes, Ives isn't addressing the potentially imminent release of the "
iPhone SE 2
" at all. It isn't clear how the expected release is modeled into iPhone sales at present.
Related to the iPhone sales drop, Ives has also reduced Services, AirPods, Mac, iPad, and other revenue across the board to $251 billion of total revenue for fiscal year 2020 versus the prior $285 billion estimate.
A "modest gradual recovery" is predicted for fiscal year 2021. Total revenue of $282 billion is predicted for 2021 versus a prior forecast of $309 billion. That $282 billion is comprised of $147 billion in iPhone revenue with 190 million units sold, including early sales of the 5G "
iPhone 12
." Ives doesn't expect the "iPhone 12" to ship in September -- the last month of fiscal year 2020 -- with a launch likely getting pushed into October or November because of continuing supply chain challenges.
"Our scenario now assumes the 5G iPhones do not get released this Fall due to the global lockdown-like conditions with the supply chain in Asia still on a path to normalization," writes Ives. "Clearly, anything can happen and this stress test exercise on Apple's model could prove to be conservative or not aggressive enough given this fluid global pandemic."
After two months predicting
$400 per share
in the pre-coronavirus environment, Ives' new $335 price target is derived from the company's fiscal year 2021 estimates. To reach $355, the analyst gave a 8.5x multiple to Services valued at about $510 billion and the rest of Apple's iPhone and hardware ecosystem a 4.4x multiple at about $985 billion.
All of Ives' premises are expecting a coronavirus recovery before July. Should it extend into the fall, then Ives and company "will have to revisit this thesis/valuation."
Apple stock has been tumultuous in recent weeks. After a 4.4% gain on Monday with a market close of $252.86. the stock is down in after-hours trading. As of 6:45 AM Eastern Time, Apple stock is worth $236.50 and is closer to losing a $1 trillion valuation than it has been all year.