Apple Watch users can monitor their body's response to COVID-19, flu with Cardiogram app
Apple Watch owners can now monitor their response to symptoms of infections like COVID-19 or the flu using nothing more than the wearable's heart rate monitor, thanks to a new feature introduced by heart health app Cardiogram.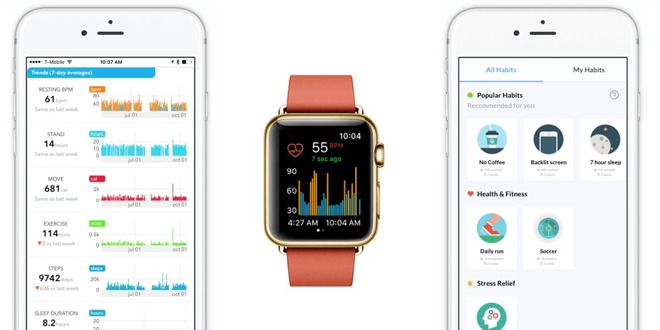 Cardiogram is launching a new feature that could let users monitor how their bodies are responding to disease.
Cardiogram is known for its tight watchOS and
HealthKit integration
, as well as taking part in a handful of research studies like the University of California, San Francisco's
Health eHeart Study
. Now, Cardiogram's developers hope that the data their app produces could be useful in the midst of the coronavirus pandemic.
The body's resting and sleeping heart rate can look vastly different when the body is fighting an infection like COVID-19. Starting Thursday, Cardiogram is introducing a new feature that lets users easily spot and track these heart rate differences with their
Apple Watch
, giving them more data to monitor their sickness.
"Cardiogram's new Sleeping BPM feature can help users become more aware of how their body is responding to symptoms of the flu or other illnesses including COVID-19," said Johnson Hsieh, Cardiogram's co-founder.
When you're sick, cells in your immune system release small proteins called histamines, which cause inflammation and expansion of blood vessels. This process sends signals to your brain to increase your heart rate and the amount of blood sent to inflamed regions.
This type of elevated heart rate during times of infection or fever is most notable during sleep, Hsieh said. Hence, the new feature could offer some insights into how a user's body is responding to a sickness.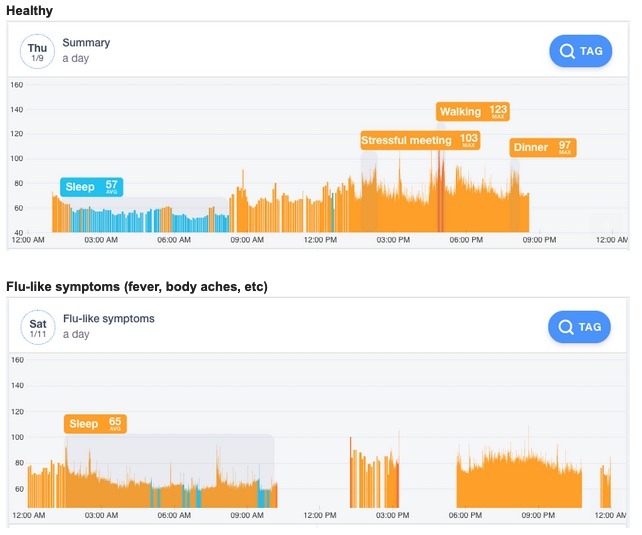 Data from Johnson Hsieh's Cardiogram app, showing differences between sleep during good health and sickness.
The team cautions that Sleeping BPM isn't intended to diagnose the flu or COVID-19, and shouldn't be used as a replacement for medical diagnostic tests and tools. There are also unrelated conditions or routine events that can cause an elevated heart rate.
"Rather, we're providing users with an additional tool to become more aware of how flu-like symptoms may be affecting their body through their heart rate patterns," Hsieh said.
Cardiogram says its feature is unique because it integrates with other data to assist users in contextualizing and interpreting data. Many of Cardiogram's users also have existing heart conditions, which can place them at a much higher risk of developing serious complications from viruses like the flu or COVID-19.
Of course, the feature will requires users to wear Apple Watch, or another compatible heart monitoring accessory, during sleep. That probably cuts into the time that users typically charge their wearable, but could still be useful for those who are participating in social distancing or are already sick.
The Sleeping BPM feature is a free upgrade of the
Cardiogram app
, which is also free to use. For users who want to remotely monitor loved ones or export data to their doctors, the app also offers a
premium membership
for $25 a year.