Apple rumored to be 'prototyping' revamped AirPower charging mat
Despite previously cancelling the planned AirPower charging mat, an unsubstantiated new rumor claims that Apple is revisiting the idea, and is even at the prototyping stage.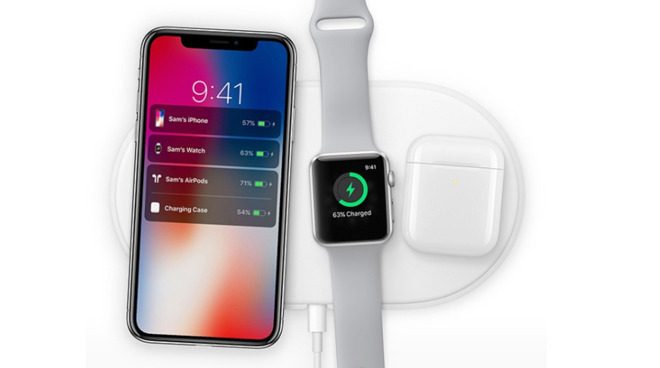 The original and never released AirPower wireless charging mat
AirPower
was a rare public failure for Apple, as it was
announced in 2017
, but was
ultimately cancelled
in 2019. At the time, Apple did not give specific reasons for why the project was dropped, though, and now a new rumor claims that it has revived its plans for the wireless charging mat.
AirPower isn't dead

The project is back on, internally. No guarantee that they'll finalize and release it, but they haven't given up yet and they're trying to re-engineer the coils to displace heat more effectively. Prototyping is underway.

pic.twitter.com/tjbbViwGM2
Jon Prosser
has tweeted that the project has resumed, and that it has even reached a prototyping stage. As he says, this is not evidence that Apple will ever actually release a product, but it is significant that it has gone beyond design and into testing.
Prosser, who describes himself as a tech analyst, has only a limited track record in Apple rumors. However, he did correctly report when Apple was
showing AirPods Pro
to media ahead of their official launch.
Also, his report comes after established analyst Ming-Chi Kuo claimed, in January 2020, that Apple was planning to release what he only described as a "
smaller wireless charging mat
," in the first six months of 2020.
Kuo did not call this mat AirPower, and the claim that it is "smaller" suggests that it wouldn't have the AirPower's ability to charge an iPhone,
Apple Watch
and
AirPods
simultaneously. Consequently, if there is a revised AirPower being prototyped, it may not be the same device as this smaller mat.
However, it does also fit with what Apple said when it cancelled the original AirPower. After saying that it was not going to achieve "our high standards," and apologizing for it, Apple added one extra comment.
"We continue to believe that the future is wireless," said Dan Riccio, senior vice president of Hardware Engineering
at the time
, "and are committed to push[ing] the wireless experience forward."