Apple Watch measurements central to new blood pressure & walking correlation
A new health study, involving measurements using Apple Watch, appears to demonstrate that simply walking more can make a measurable improvement in blood pressure.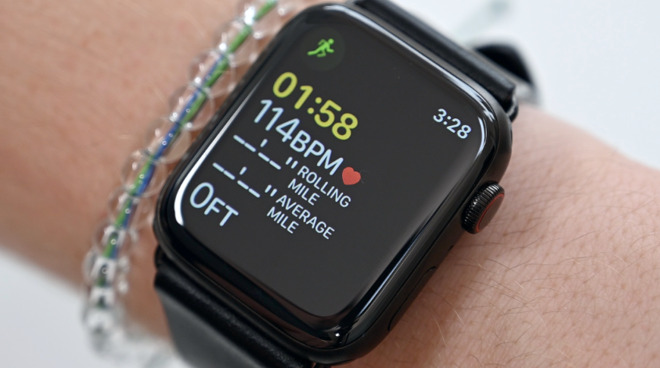 Participants were required to wear Apple Watch for at least five hours per day over an extended period
Apple Watch
now regularly
spots health issues
in people, and prompts them to seek help. It's also become the focus of much of Apple's overall drive
into health
. Now, it's been subjected to testing which at least begins to quantify some of the general medical benefits to wearing Apple's smartwatch.
The testing was done as part of the Framingham Heart Study, an ongoing cardiovascular study that has been monitoring residents in Framingham, Massachusetts, since 1948. In this latest test, presented at the American College of Cardiology's
annual meeting
, 638 participants were asked to wear an Apple Watch.
They were required to wear the Watch for a minimum of five hours per day, and to record their blood pressure at weekly intervals. Ultimately, participants on average wore their Apple Watches for 14 hours per day, and recorded 24 weeks' worth of blood pressure results. Their average step count was 7,531 per day, and in summary, the report found that systolic blood pressure was around 0.45 points lower for every 1,000 daily steps.
For a person walking 10,000 steps per day, this could amount to a significant improvement. However, the report's authors caution against making more than a general conclusion.
"I do want to stress that these analyses do not establish causality or directionality of the association in any way," author Mayank Sardana, of the University of California,
told cardiology journal
TCTMD. "So we cannot say that a lower step count led to higher blood pressure based on this study because ours was a cross-sectional analysis."
"We know from the prior literature that lower step count as reported by self-report or the use of an accelerometer was associated with a lower risk of hypertension," he continued. "So, these are the initial findings and I think a lot more needs to be done."
In particular, the authors report that a person's body mass index was a significant enough factor in the results. Plus of the 638 participants, some unknown number were discounted for wearing the Watch for fewer than 30 days, and data was discarded for days in which a participant wore it for under five hours.
Nonetheless, Sardana, believes that the research's findings are a promising start. "This study solidifies our understanding of the relationship between physical activity and blood pressure and raises the possibility that obesity or body mass index accounts for a lot of that relationship," he said.
"Going forward, it would be useful to look at how smart devices might be leveraged to promote physical activity, reduce the burden of obesity and potentially reduce blood pressure," he added.