Editorial: Apple's impact from social distancing in 2020
Posted:
in iPhone
edited August 2020
Just a few months ago, Apple was gearing up to climb onto the gigantic shoulders of its blockbuster iPhone 11 launch to deliver another massive annual upgrade to its Macs, iPads, audio devices, wearables, and the upcoming new iPhone 12. Then the world ground to a halt in an unprecedented way. Here's how Apple can make the most positive impact possible in this year of social distancing.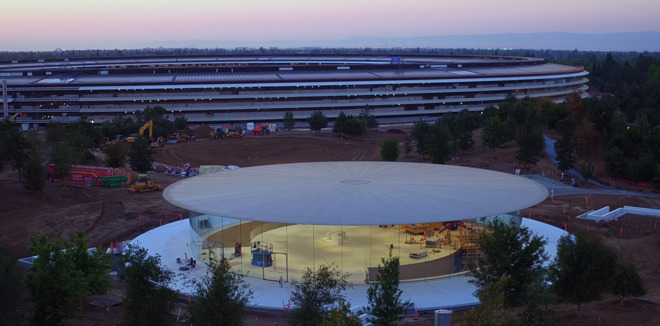 Steve Jobs Theater at Apple Park
Things got real 2020 all of a sudden
I initially started writing a piece about Apple's biggest flaws that it needed address this year: solvable problems the company needed to fix to greatly improve its current offerings beyond just the release of new technologies such as LIDAR-enhanced Augmented Reality, Ultrawideband
AirTags
, new camera sensors and lenses, and all of the other expected enhancements to its OS software.
My list of necessary and deliverable 2020 fixes included things like Apple working to radically revamp its language tools to fix the increasingly glaring and frustrating errors in QuickType autocorrect-- which seems to have devolved from being nearly magical into an annoying hindrance over the past few years. My list of rough edges ranged from elements of computational photography to iCloud to search and
Siri
to AirPlay 2 minutia.
Instead, the larger issues of 2020 landed with a thud that made my various grievances seem downright petty. On top of that, I got sick and limped along feeling at least a taste of how miserable and overwhelming it is to fall ill while also isolated. To people who are much more seriously ill, or for whom isolation is even more devastating to their economic security, the wishlist for what appears to be the world's most competent orchestrator of supply chains and product development has shifted dramatically.
Journalists once slammed Apple for being operational and global
Remarkably, Apple already appears to have expertly positioned itself to deal with the COVID-19 crisis long before anyone conceived of a global pandemic occurring this year. Despite contemptuous protest from a flock of know-nothing columnists who spent 2019 nodding along to the absolutely braindead idea that Apple has sadly lost the
twinkling design-based magic
of Steve Jobs and Jonny Ive under the "boringly operational" reign of Tim Cook, the reality has been very different.
Cook's
operational foresight
in building a global supply chain in partnership with the most competent leaders in fabrication and assembly-- ranging from TSMC to Foxconn-- has resulted in an agile, flexible and extremely powerful structure that can literally build anything, faster, better, and stronger than any dreamed up "factory in America" or any other imagined plant conveniently situated in a populist hotbed of overconfident nationalist supremacy rooted in a glorious industrial past that doesn't exist anymore.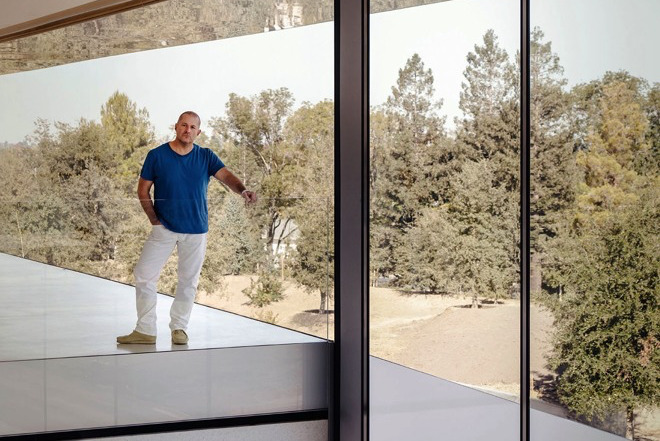 Last year, the Wall Street Journal bizarrely groused that Apple was too focused on global operations
After decrying Apple for being hopelessly
stuck in China
rather than reliably building stuff "at home," the tables have turned on the facile opinions of
Wall Street Journal
bloggers, revealing instead that Apple's global supply chain and production network in Asia is already almost back to normal, while the United States only freshly begins its devolution into absolute chaos, completely unprepared for a pandemic crisis.
Apple's retail stores in China are already opening far in advance of the incremental reopening scheduled for the future of its locations outside of China. Despite Apple's
ambitious sounding plans
, that might take significant time to occur in places like New York City, where COVID-19 interruptions are paralyzing normal life and will clearly continue for an unknown, extended period of time. Yet it's noteworthy that Apple is moving ambitiously if also cautiously, rather than just blaming its troubles on a country that is still deeply divided on whether the global pandemic is actually a hoax or not, and whether doctors really know what they are doing or not, or if people should self medicate with colloidal silver and fish tank chemicals or not.
Apple's 2020 vision for health
Additionally, Apple has already demonstrated its fast, flexible operational supply chain muscle, rapidly flexing its power to produce desperately needed Personal Protective Equipment for healthcare workers, including
millions of disposable masks
to protect the doctors, nurses, and other emergency care workers on the frontline of this disaster.
It has certainly helped that Apple isn't just freshly approaching the healthcare industry for the first time. The company has been working closely with hospitals and universities for years to develop its ResearchKit and CareKit tools, gaining an intimate understanding of the issues and needs of healthcare institutions. Apple has even been operating its own health care clinics scattered around its various campuses.
Apple's connection to healthcare is so strong, in fact, that Cook presciently stated in January 2019 that "If you zoom out into the future, and you look back, and you ask the question, What was Apple's greatest contribution to mankind?' It will be about health." In retrospect, that thought might have seemed excessive a year ago. Today it appears that Apple was cultivating deep insights into the most important subjects to humanity that all of its embittered newspaper critics simply failed to actually appreciate or even grasp.
In the company's latest conference call-- back when COVID-19 was only expected to pose some short term complications-- even Apple's chief financial officer Luca Maestri made significant comments about Apple's exposure and influence on healthcare as an industry, emphasizing how important of an impact the company was having in the realm of healthcare.
"100% of Fortune 500 companies in the healthcare sector use Apple technology in areas such as patient experience, clinical communications and nursing workflows," Maestri stated, "and we're also seeing smaller companies in this sector drive innovation with our technology and apps. One example is Gauss Surgical, which uses CoreML in iOS to more accurately estimate blood loss during childbirth and surgery. This helps clinicians have more complete and timely information on whether a patient needs an intervention, which can impact both clinical outcomes and cost. Another example is Butterfly Network, a medical imaging company which makes a handheld ultrasound device that connects to iPhone or iPad to enable clinicians to take ultrasound anywhere at a cost that is dramatically lower than other solutions in the market today."
It's easy to take healthcare for granted until you get wheeled into an emergency room with some sort of severe condition or injury. Yet Apple's business model of making the best possible devices in massive scale naturally lends itself to finding and solving important and vitally valuable tasks: like keeping us alive, informed and safe. The business model of Google's Android platform does not. It coasts along seeking to achieve mediocracy at minimal expense to enable the low-cost tracking of consumer behaviors to deliver commercial advertising messages at the highest profit, without any real regard for whether those ad messages are even true or just completely fraudulent and manipulatively profiteering.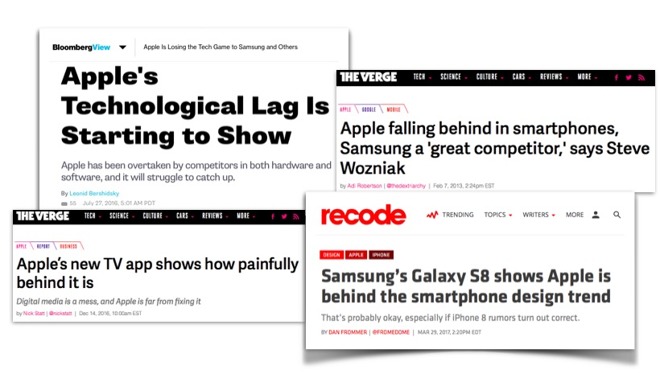 Bloomberg, Recode and the Verge have ignored health to desperately paint a picture of Apple's supposed technical lag for years
That's why Apple's successes have been its latest iPhones, iPads, Macs, Apple Watch and other wearables, while Android has largely powered cheap phones barely capable of running significant apps as well as WiFi microphones that have failed to deliver enough value to consumers to warrant anything more than a $30 loss leader impulse buy of gimmicky curiosity. Yet which approach are columnist critics wholeheartedly advocating, and which are they incessantly complaining about?
The visionless leaders of contempt
Note that
Bloomberg
, the
Wall Street Journal
,
New York Times
, and so on weren't ever chiding Apple for failing to enter the healthcare market in a significant way. Instead, they were belaboring the idea that Apple shouldn't be so concerned about Operations and instead should be blowing smoke up journalists' skirts about gimmicks like
folding OLED panels
and not-yet-ready 5G mobile networks, two of the least important factors in consumer electronics to matter across all of 2019, despite constant infomercials from Apple agitators wondering why there was no 5G iPhone that could be bent in half for the premium price of $2,600 or more. They beat that drum as if they were being paid to do it.
Also recall how these same voices of concern earlier spent 2018 grousing about what
a disappointing failure
iPhone X would be because of how terribly expensive it was at $999; or who talked in 2017 about what
a terrible mess Apple TV 4K was
because they had no vision for what Apple could deliver purely in software updates for its now solid TV+ and
Arcade
platform; or who spent 2016 wondering aloud why Apple hadn't jumped on the bandwagon of Virtual Reality headsets, the fantasy that ended up being
the biggest loser
of that year.
It's almost as if prolific anti-Apple pundits like Tripp Mickle, Joana Stern, and Mark Gurman have no insight into the things Apple is doing that are really important, and nothing but hollow, ignorant concerns for all of the failed things competitors are doing that Apple is deftly avoiding. The best explanation is that these writers who are commissioned to craft contemptuous cacophonies of complaints really have no idea what is going on or what is important. They are mercenaries of empty outrage in a war on competency.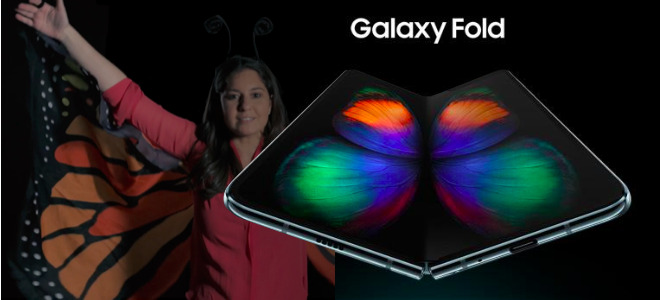 The Wall Street Journal's mocking derision of Apple isn't also applied to Samsung
Notice also how none of them-- and let's include all the market research groups-- had any vision to see where Apple Watch was going over the last several years. None saw how it would grow into a product that could monitor accidents and falls or underlying heart issues, or play an increasingly large role in collecting personal health data useful for everything from clinical trials and medical treatments to exercise, activity, and mensuration-- all without relying on some sort of invasive advertising-based business model.
Instead, they groused for years about how Apple Watch wasn't immediately a bigger launch spectacle than iPhone itself, a bizarrely safe claim that ended up looking as dumb as everything else they've ever written about how woefully incompetent and totally scatterbrained and ineffectual Apple is as a company. Why can't Apple just get evenhanded treatment that involves measured criticism and appropriate credit for what it does? Because every one of these writers and research groups is playing to the web advertising networks that thrive on outrage "engagement," where the simple truth is just too boring to sell ads. Suggest to readers that they are smart for agreeing with how dumb Apple is and they line up to view ads, just to feel better about themselves. They're smarter than Tim Cook! They know everything Apple should be doing, and here is a blogger agreeing with them about how super clever they are, even though they actually accomplish nothing of value.
The world needs a more boring, competent 2020
Rather than constant outrage and smug, hollow engagement that keeps everyone perpetually upset, cynical, and terrified, what the world really needs is practical, competent, and uncontroversial strides in scientific progress and policy delivered by operational planners with a history of successful accomplishment. The jury is still out on whether than can happen on a national level, but Apple as a company is already showing how to do that.
Apple's goals for 2020 are certainly going to be impacted by COVID-19. WWDC20 has already been converted to an online format, and Apple appears to have sprung out its LIDAR future for instant ARKit early, revealing what will be one of the showcase features of this year's iPhone 12. It's pretty clearly another step in the direction of augmented computer vision, preparing to make the jump from device display to wearable lens. It's what's ready and possible now, and Apple's frameworks are what developers can build upon now to prepare for an even more advanced future.
Apple has also begun using its platforms to draw attention to reliable information right now. Siri, the App Store, and Apple News are all featuring professional, expert advice on social distancing from the CDC. Core Apple technologies including iMessage and FaceTime are making it easy-- and free-- for individuals to securely connect with friends, family, and business colleagues while practicing social distancing.
Apple's big push last year to drive Services, from Apple Arcade, to News+, to TV+ and its Apple TV platform of channels, were all
widely disparaged
by talking heads proclaiming that Apple was "pivoting from hardware" and other nonsense, while also insisting that Apple was impossibly behind Netflix and Roku and whatever other false comparisons they could throw out. Yet instead, Apple managed to launch and refine these offerings just before it got the "perfect storm" of captive audiences: millions of users stuck at home looking for news, entertainment, new content, and alternatives to ad-based cable. Apple TV is not without flaws, but it has rapidly shifted from an "other product" into a very desirable, high-quality way to enjoy content from any service, including Netflix, Disney+ and other offerings.
Arcade is, in particular, a strong new showing for the App Store that has radically shifted casual gaming from annoying In-App shovelware into a real, viable market for a creative array of different kinds of gaming, titles that can appeal to new kinds of players as well as delivering a broad selection of classic gameplay that spans from mobile device to TV to the Mac. Arcade has barely been around for several months, yet has dramatically improved the quality of games parents can put in front of their kids without having to worry about security issues or ringing up a big bill of loot boxes and virtual coins. It's an incredible success, delivered simply by identifying an ambitious goal and then working to achieve it with development partners.
The world didn't seem to grasp where Apple was going with Apple Pay and last year's debut of Apple Card. But both have positioned the company perfectly to take the greatest advantage of a new world where handling money is yet another risk. Tap to pay transactions, with details right on your phone, are not only broadly available globally now, but retailers have increased motivation to accept NFC payments. Further, in offering its customers credit and new iPhone financing, Apple is in a position to help them get back on their feet financially, with payment forgiveness and the ability to buy what they need now. Apple Card also integrates Apple Business Chat for customer service, an offering Apple's critics have rarely addressed.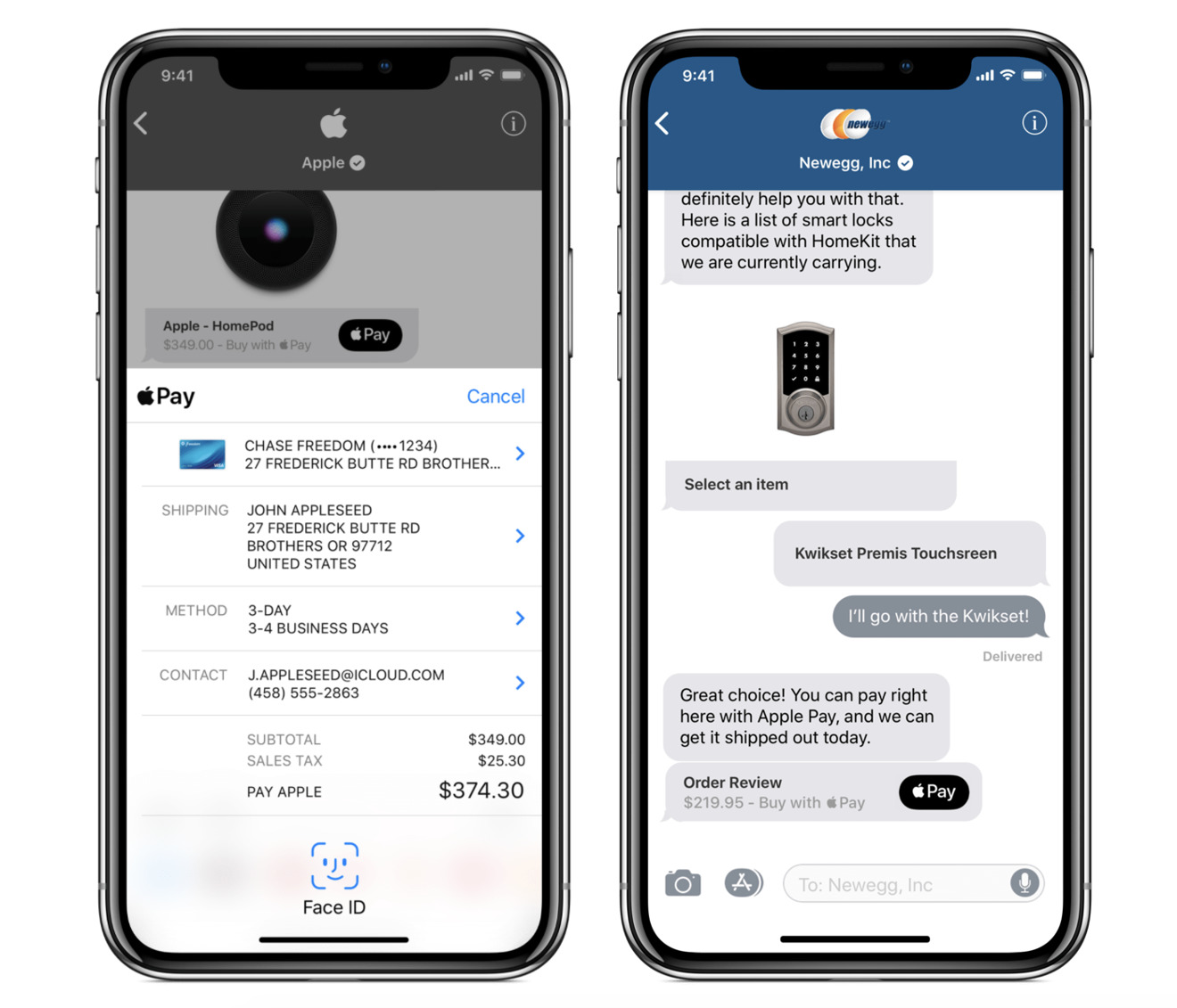 Apple Business Chat integrated Apple Pay, and now the reverse is true
Apple's launch of
macOS Catalina
last fall was appropriately criticized for its rough edges, but now that the company has addressed its biggest flaws, the new release has shifted iTunes into a more coherent batch of media apps and made users' existing hardware more valuable, as seen with iOS Sketch and iPad
Sidecar
.
Just a few weeks ago, a spectrum of pundits was telling us how Apple had totally screwed up the iPad over the past decade, failing in its multitasking, its mouse support, and well, everything about it that wasn't a "real PC." But now that most of us in the world's population centers are working remotely due to the
coronavirus
pandemic, the genius of iPad is starting to manifest itself in a striking fashion. After a decade of maturing, iPad is perfectly ready for the remote-optimized, highly simplified computing needed in the Coronavirus era.
On a lower level, the work Apple has done in highly integrated silicon has resulted in Apple itself being the leading producer of high-end mobile chips, ranging from the beast chips that power iPad Pro to the copilot chips that bring iOS features to modern Macs, to the one-piece computers that power Apple Watch and the ultra-slim silicon that drives AirPods.
This year, while we start out 2020 stuck inside and working largely in isolation, the world should take a cue from the proficient, wildly competent, incremental progress Apple has consistently delivered over the past decades under the restrained fanfare generated by Cook and his executive team.
There are no extravagant banners draped over the once-common idea of trade shows extolling some flashy new hardware gimmick, or simply touting a brand like Android or Windows that doesn't really consistency stand for anything. Just the incremental, science-based improvements that have driven Apple into position as the world's most competent consumer electronics company.
Apple is not run by populist opinion or fueled by carefully tracked engagements of outrage. It's driven by delivering products that are so consistently high quality that people show up to vote with their dollars to advance this progress.
That's something we need to see across every facet of society, not just screaming ads that bellow out hollow ideas of greatness and ridicule the people who actually achieve progress.