Compared: Apple's 2020 iPad Pro versus 2019 iPad Air
Posted:
in iPad
edited March 2020
AppleInsider pits Apple's latest pro tablets against the middle-of-the-road 2019 iPad Air to see how different they truly are.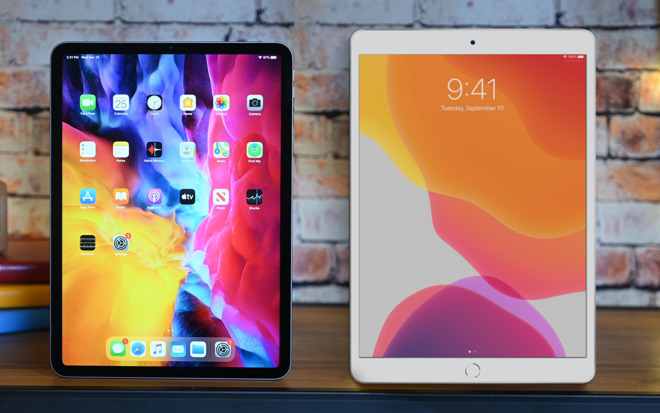 2020 iPad Pro (left) and iPad Air (right).
Design
Visually,
iPad Pro
and iPad Air are both similar and quite different. iPad Air has a very familiar design to early iPads with rounded edges and a large "forehead" and "chin," or thick top and bottom bezels. Importantly, iPad Air retains a physical Home button with Touch ID for authentication.
iPad Air has dual microphones for recording audio and two speakers on the bottom of the device.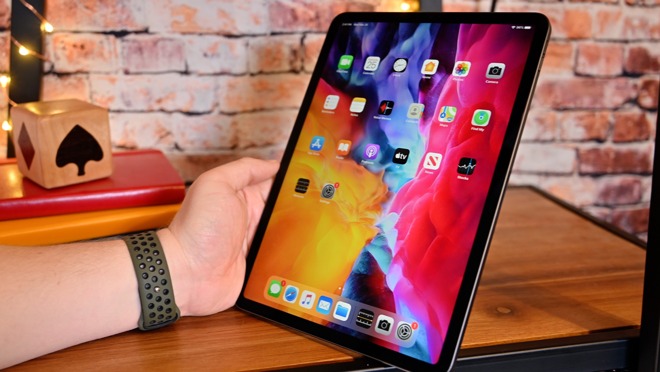 Looking at the 11-inch 2020 iPad Pro.
iPad Pro has a newer design that was first introduced with the 2018 iPad Pro. The sides are flat and the bezels are very slim all around the display. The display has rounded corners which is where it gets its "Liquid Retina" designator. It uses Face ID for authentication.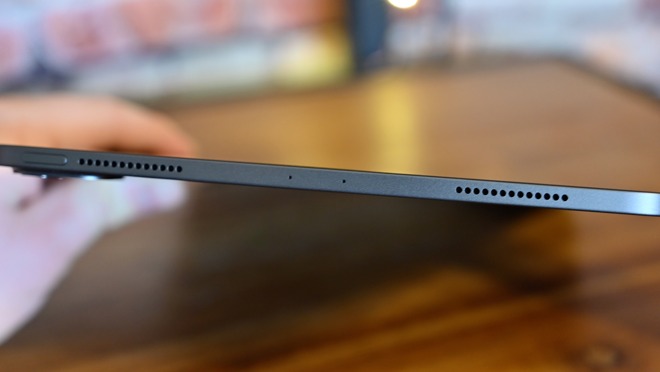 Two of the four speakers and two of the five microphones on iPad Pro.
On iPad Pro are five "studio-quality" microphones and four speakers -- two on the top and two on the bottom.
Cameras
Each iPad has cameras on the front and the back, yet, this is one of the biggest differentiators between the two lines.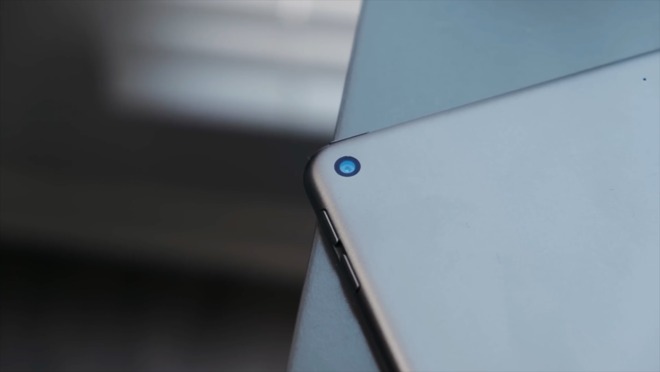 The 8MP camera on the iPad Air.
iPad Air has an 8MP f/2.4 rear camera that is capable of shooting 1080p video at 30 frames per second. Additionally, it can shoot slow motion at 720p and 120 frames per second.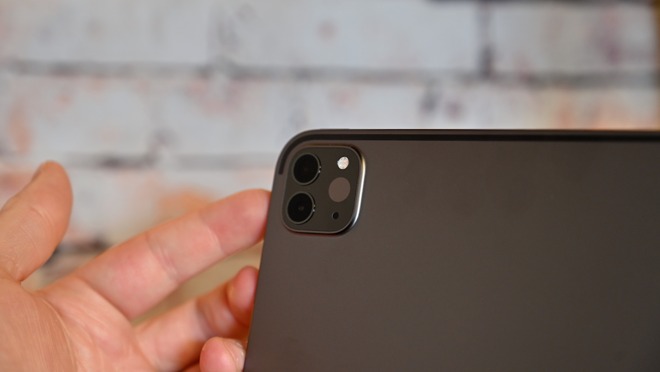 The updated camera on the 2020 iPad Pro.
iPad Pro takes things significantly further. It has a higher-resolution 12MP f/1.8 rear camera joined by a 10MP ultra-wide camera. It can shoot 4K video in either 24, 30, or 60 frames per second. For slow motion, it can shoot in 1080p at either 120 or 240 frames per second.
Both models shoot Live Photos, yet the Live Photos on iPad Pro are stabilized. iPad Pro also has a True Tone flash.
While not a camera in the traditional sense, iPad Pro has a LiDAR sensor on its camera bump. It is used to capture 3D images of a room to improve AR, power the Measure app, and more.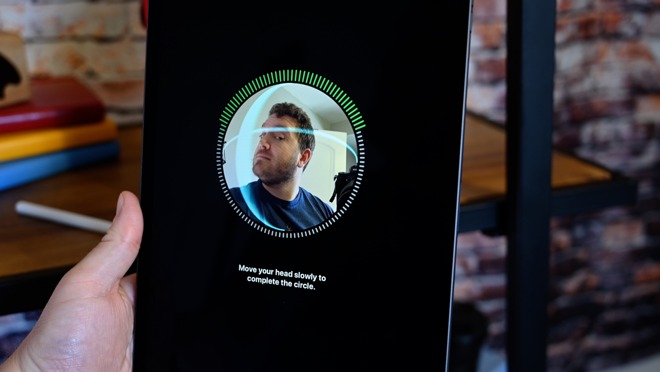 The iPad Pro's front-facing camera is part of the TrueDepth camera system which is also used for Face ID.
Turning to the front-facing cameras, they are both 7MP,
but
iPad Pro is using the TrueDepth camera system that is also there for Face ID which unlocks Portrait mode shots as well as Animoji and Memoji characters. Portrait mode pictures are stunning and easily make up for the lack of resolution.
Whether in education, personal, or professional use the cameras on iPads are becoming more and more useful (and capable) and may very well be the most important deciding feature.
Connectivity
When it comes to connectivity with iPad, both iPad Air and the 2020 iPad Pro have adopted Bluetooth 5. For Wi-Fi, the Pro has a leg up with 802.11ax Wi-Fi 6 support and only 802.11ac support for the Air.
Just as with the previous generation Pros, the 2020 line retains USB-C while the Air is still holding onto Apple's Lightning port. This obviously isn't just used for charging, on iPad Pro the USB-C port can handle a wealth of different accessories, hubs, storage, and more versus the proprietary Lightning connector.
Accessories
For accessories, Apple offers a wide variety of cases, covers, and other products to help you get the most out of your tablet. This includes the Smart Keyboard Folio for typing or the original Apple Pencil for note-taking or drawing. Not to mention the bevy of third-party gear you can pick up as well.
The same goes for the Pro. Aside from the usual cases, Apple does offer the Smart Keyboard Folio for the Pro and it supports the more full-featured second-generation Apple Pencil. Both the 2018 iPad Pro and the new 2020 iPad Pro have support for Apple's Magic Keyboard.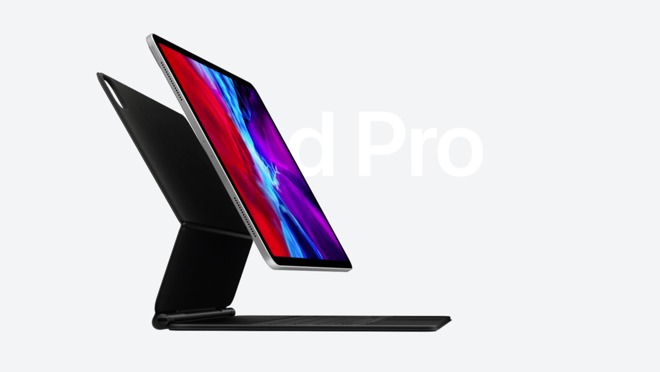 The upcoming Magic Keyboard.
The Magic Keyboard launches in May and has a full backlit mechanical keyboard with an integrated trackpad, fully articulated display, and additional USB-C port. For those who are looking to get the absolute most out of their iPads, this is going to be a go-to accessory, even with its high price tag.
| | iPad Air | iPad Pro (2020) |
| --- | --- | --- |
| Sizes | 10.5" | 11" & 12.9" |
| Storage | 64GB/256GB | 128GB/256GB/512GB/1TB |
| Processor | A12 | A12Z Bionic |
| Rear Cameras | 8MP wide lens | 12MP wide lens, 10MP ultra-wide lens, LiDAR |
| Live Photos | Yes | Yes, stabilized |
| Video Shooting | Up to 1080p 30 FPS | Up to 4K at 24, 30, or 60 FPS |
| Slow Motion Video | 720p at 120 FPS | 1080p at 120 or 240 FPS |
| Flash | None | True Tone flash |
| Front-Facing Cameras | 7MP | 7MP with support for Portrait Mode |
| Authentication | Touch ID | Face ID |
| Microphones | Dual microphones | Five studio-quality microphones |
| Speakers | Two bottom speakers | Four stereo speakers |
| Charging Port | Lightning | USB-C |
| Wi-Fi | 802.11a/b/g/n/ac | 802.11ax Wi-Fi 6 |
| Keyboards | Smart Keyboard Folio | Smart Keyboard Folio, Magic Keyboard |
| Apple Pencil Support | First-gen | Second-gen |
| Starting Cost | $499 | $799 |
Pricing and availability
iPad Air starts off at $499 for the 64GB version and users can upgrade their storage to 256GB if they need more.
The 2020 iPad Pro starts at $799 which gets you the 11-inch 128GB model. Storage on the Pro also comes in 256GB, 512GB, and 1TB. All configurations are also available on the 12.9-inch model.
Deals on Apple's 2020 iPad Pro and 2019 iPad Air
Cash discounts on Apple's new 2020 iPad Pro are already in effect, with the latest deals at your fingertips in the
AppleInsider
2020 11-inch iPad Pro Price Guide
and
2020 12.9-inch iPad Pro Price Guide
.
Deals on Apple's 2019 iPad Air are also available in the
iPad Air Price Guide
, with discounts of up to $130 off.
2020 11" iPad Pro deals
2020 12.9" iPad Pro savings
Top iPad Air deal