New Apple Music in-app banner notifications alert users to new releases
Posted:
in iOS
edited March 2020
Apple on Thursday rolled out a new Apple Music feature that notifies users of new releases directly in the app's Library tab, exposing listeners to the latest albums, tracks and videos from their favorite artists.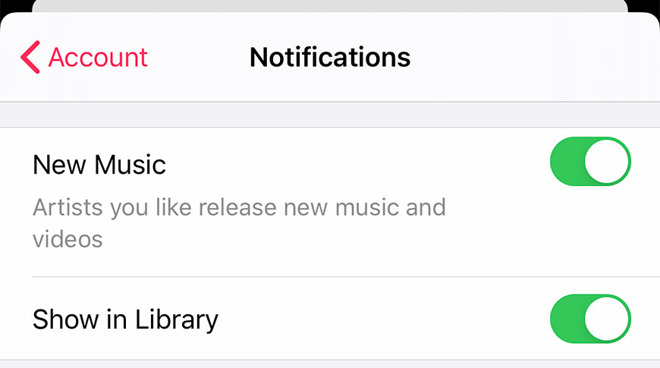 The feature, which is currently rolling out to Apple Music subscribers, is accessible via a pop-up page that asks users to enable notifications for updates about new music releases.
"See new music from artists you like," the page reads.
Users can elect to turn the feature on from the pop-up page or dive into Apple Music settings.
To manually enable the feature, navigate to "Notifications" in account settings, located in the For You tab, and turn on alerts for new music. A sub-menu offers a new setting to show notifications in the Library tab.
With notifications enabled, users will see a large banner appear at the top of their screen when a preferred artist released a new track, album or video.
Apple Music has relied on push alerts to advertise new music for some time, but the feature can be spotty. Whether Apple updated its notification system backend to take advantage of the banner alert feature is unclear.