Review: Brydge Pro+ keyboard & trackpad both helped & hindered by iPadOS
Posted:
in iPad
edited January 21
The Brydge Pro+ is an all-aluminum keyboard and trackpad designed specifically for the 2018 and 2020 iPad Pros. While the hardware is in the right place, the changes in iPadOS 13.4 have left us wanting a bit more for this otherwise excellent accessory.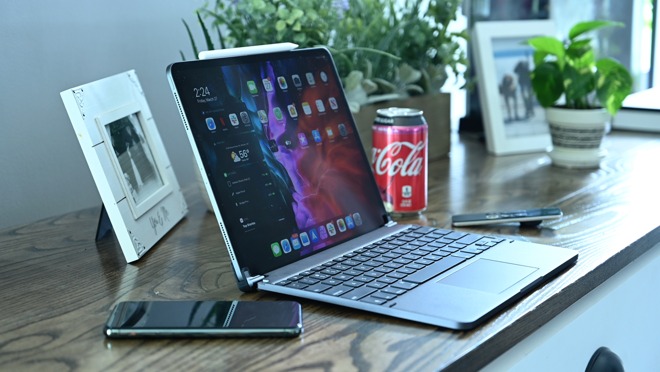 Brydge Pro+ and the 12.9-inch 2020 iPad Pro
On both iPhone and iPad, Apple has a feature called AssistiveTouch. With this enabled, you could finally use a rudimentary cursor on your device using a wired mouse. It wasn't flashy and only had basic support. It was, after all, still an accessibility feature, but Brydge sprung into gear to take advantage of it.
We've looked at previous Brydge keyboards, such as
the Brydge Pro for iPad Pro
. It was a solid keyboard with an aluminum frame that cleverly connects to the
iPad Pro
when needed. Brydge Pro+ is an evolution of that, integrating a trackpad to take advantage of that new accessibility feature found on iPads.
The device crept closer to launch, before a curveball was thrown.
An iPadOS 13.4-shaped curveball
Brydge wasn't expecting this at all. Brydge announced the Pro+ months ago. We even went
hands on ourselves at CES 2020
to test it out. Everything seemed set to go.
Then Apple dropped
iPadOS 13.4
which had previously-unannounced support for a cursor as well as Bluetooth mice and trackpads.
Things changed then drastically for Brydge. With that simple update, Brydge Pro+ both lost features as well as gained new ones. On one hand, there are now native aspects and gestures that you can do throughout the OS with any connected mouse. But, Brydge lost its own gestures that it was hoping to debut with.
We've
covered cursor support extensively
so far and it is impressive how Apple added it to the touch-first interface in an intuitive way. Because of that, it makes Brydge Pro+ even more exciting of a prospect and anticipation for the new keyboard-mouse combo has skyrocketed.
A familiar design
First things first -- the design of the Brydge Pro+ is very familiar. It looks like an iteration on the previous Brydge designs as well as a MacBook. It has the large mechanical keyboard sitting atop that new trackpad.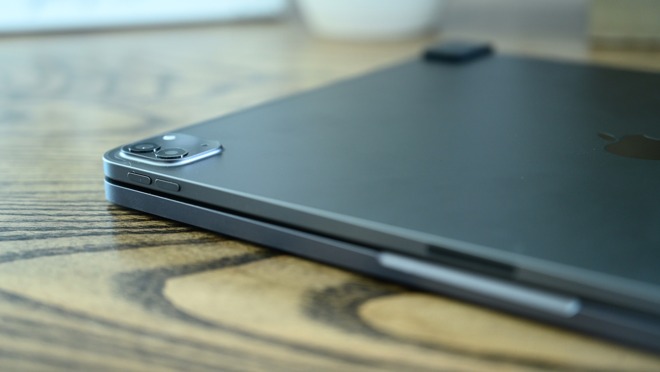 Brydge Pro+ closed
At launch, Brydge Pro+ will only be available in space grey. That seems to be the more popular color and it has done an excellent job at matching it to the color of the iPad Pro.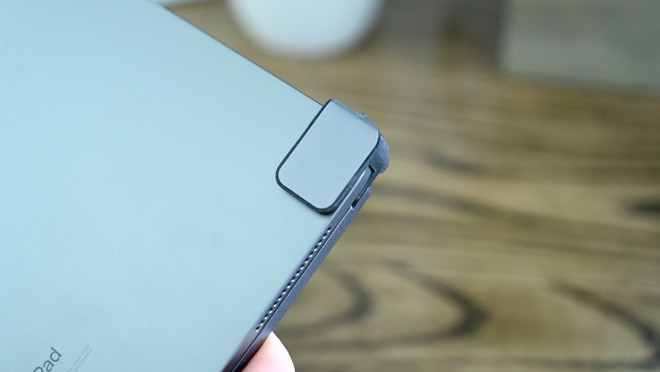 The hinge on the Brydge Pro+
The hinges have been adjusted and they are our favorite ones from Brydge yet. They are very minimalistic and you practically don't notice them when looking at the iPad from the front. Around back there is a bit more surface area.
To keep with the iPad Pro's design, the hinges are a bit more squared off. They have the rubberized inserts that now go just around the corners which adds a small amount of drop (or bump) protection. The hinges also have a small strip of rubber that, when opened, keeps the Brydge from hitting the surface below it.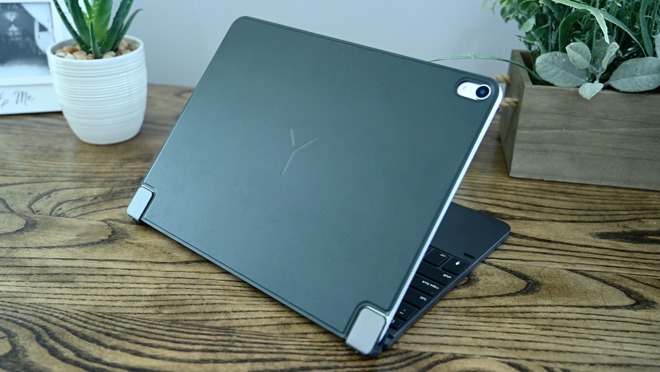 Brydge Pro+ comes with a magnetic back panel
We've seen a lot of Brydge keyboards and this one looks and feels like the most polished one yet.
There is a faux leather back panel included in the box. Ours arrived with one designed for the 2018 iPad Pro though new orders will ship with one designed to fit the 2018 and 2020 models.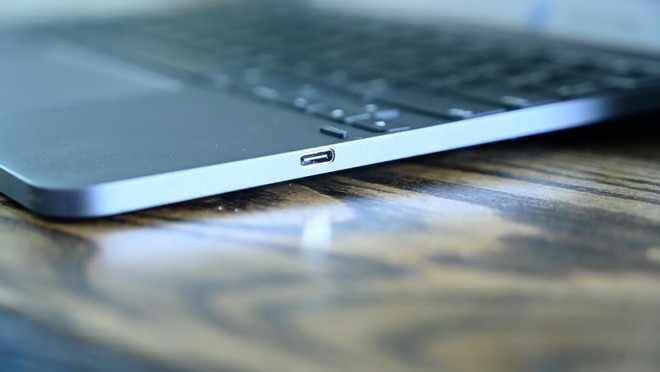 Charge Brydge Pro+ over USB-C
The whole thing is charged over USB-C, and a full charge should yield about three months of use. This is different than the Magic Keyboard, which connects over the Smart Connector and never needs to be charged, though it does leach some of the iPad Pro's power.
What is great about the USB-C port is that in an emergency, Brydge can be charged right from the iPad's own USB-C port.
The trackpad
With the trackpad, we have a lot to evaluate. How does it integrate into the system, does it support any form of multi-touch input, and how does the surface itself
feel
.
Brydge has once again done an excellent job when it comes to build quality. The trackpad is very large and spacious. It feels like the perfect width because when in a natural typing position, the trackpad comes just to where our palms are resting. Very nicely done.
Brydge Pro+ in space gray matches perfectly
The trackpad uses a common trackpad "diving board" design. What this means is that the top of the trackpad is fixed and the rest of the trackpad can be pressed down to "click."
However, we've become spoiled in recent years, seeing what Apple has done. Apple's Mac trackpads are a large surface that never actually moves. The Mac trackpad simulates a click by triggering a short vibration -- or haptic feedback. This allows the entirety of the trackpad's surface to be "clickable."
Sometimes we expect to be able to press down on top of the Brydge trackpad and it doesn't move.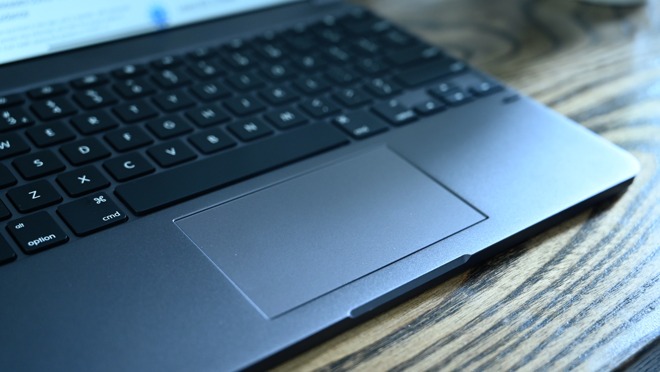 The new trackpad on the Brydge Pro+
The good news is that tapping is unaffected. The entire surface can be tapped and we find tapping to be faster anyway, so we don't count it as much of a detraction.
As we use the trackpad with the iPad, there is a bit of a delay. The way that the Brydge Pro+ connects causes there to be some lag as you track the mouse around the OS.
We don't necessarily blame Brydge for this as some fault belongs to iPadOS for how it is interfacing with these Bluetooth peripherals. There's similar lag experienced with some other Bluetooth mice as well.
Moving the mouse around the iPad's display isn't the biggest issue we have, as that lies with the scrolling. You can scroll using the trackpad by moving two fingers up and down -- same as with Apple's own trackpad, but it is very jarring.
It sometimes feels like the iPad isn't responding, but it clearly is as if you try to move the display with your finger, it moves just fine.
Again, the problem is clearly with iPadOS here. Sometimes if you scroll on a screen, it just keeps going, showing nothing on the display as you've scrolled far past the page's contents.
Considering mouse and cursor support is so new, a lot of these issues are going to be ironed out, but that is just the playground Brydge chose to play in when they started developing the Brydge Pro+.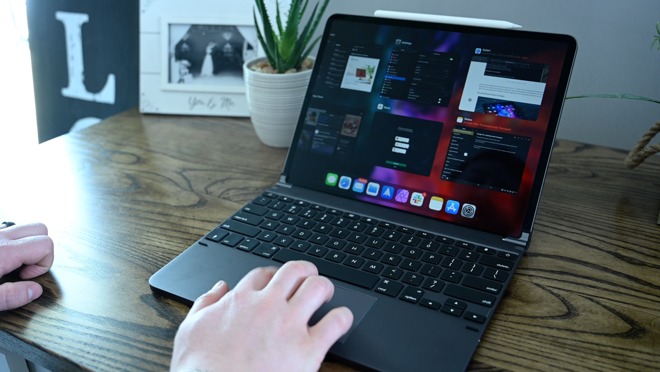 Brydge Pro+ trackpad in use
Another side effect of the iPadOS 13.4 update has been gestures. Brydge no longer now supports its own multi-touch gestures with three or four fingers. You can't swipe down with three fingers to open the app switcher and you can't slide left or right with multiple fingers to move between apps.
Instead, iPadOS has replaced many of those with its own native versions. To go back to the home screen, just swipe to the bottom of the display. To open the app switcher, repeat that same motion. To open notifications, move towards the top. To the right will open Slide Over apps. It all is very easy and doesn't require multi-finger input.
You can tap with one finger, secondary click by tapping with two fingers, and if you venture into the accessibility settings you can enable whatever you'd like for a three-finger tap. For ours, we open the app switcher but you can program this to open Control Center, go to the Home screen, run any Siri Shortcut that you've created, and much more.
The keyboard
Turning to the keyboard, there is a lot going on as well.
For the layout, it is a full, standard keyboard that also has a dedicated row of function keys along the top. In the lower-left corner where we traditionally see the localization globe icon, we have a Siri button. We like this as we are more often invoking Siri rather than switching languages.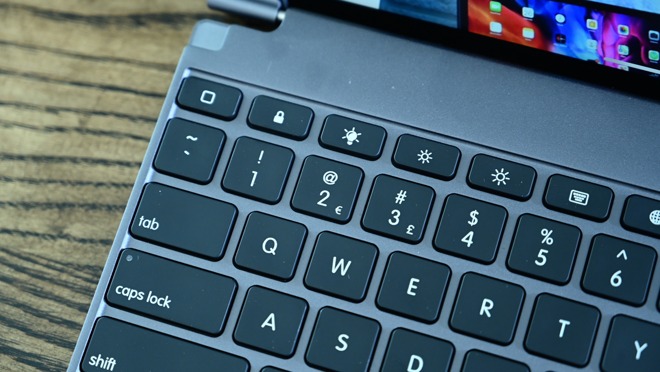 The keyboard of the Brydge Pro+
Fret not those who do use localization frequently, it is just in the row of function keys. From left to right we have the Home button, the quick lock, keyboard backlight control, iPad brightness controls, the onscreen keyboard, localization, media controls, volume, Bluetooth, and power.
This is a solid set of function keys and ones we will use frequently. We still aren't sure why Apple hasn't added a row of function keys to the Smart Keyboard Folios.
Typing feels very natural on the Brydge Pro+. The keys are tactile, easy to feel, and have a good amount of key travel. When pressed, there is a solid moment where you can feel the key is pressed, but it also feels a little soft. This isn't a bad thing necessarily because typing on the keyboard is very quiet.
If you work in a crowded space and are self-conscious about how loud you're being as to type away, Brydge is going to be great. We are thinking classes or work meetings where you'd not like to disturb everyone else as you take notes.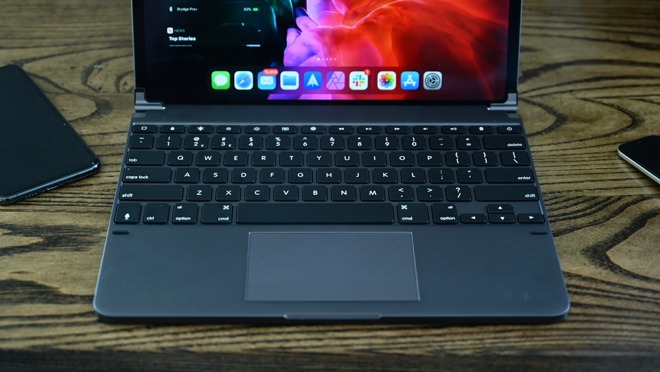 The entire keyboard of the Brydge Pro+
Brydge Pro+ has an integrated backlight to the keyboard which has varying levels of brightness that can be adjusted through the single function key. It doesn't adjust automatically but is easy enough to control. It lights up the glyph in the center of each key but it also has a lot of light bleed.
A ring of light can be seen glowing from behind each key which can be distracting. We'd prefer if the light was more contained and only light up the character or symbol within the keycap.
We tested out the 12.9-inch version of the keyboard and the keys felt nicely spaced and we didn't need any time to adjust to it coming from our desktop Apple wireless Magic Keyboard. If using the 11-inch version, it will be slightly smaller and the keys a bit tighter, so prepare for a slight adjustment if you go that route.
Should you buy the Brydge Pro+?
Brydge has put forward a very good case on why you should pick up the Brydge Pro+. The hardware feels excellent. The keyboard is pleasant to type on. The hinge is minimal and very easy to adjust at any angle. And the latest iPadOS update integrates the trackpad much further into the user experience.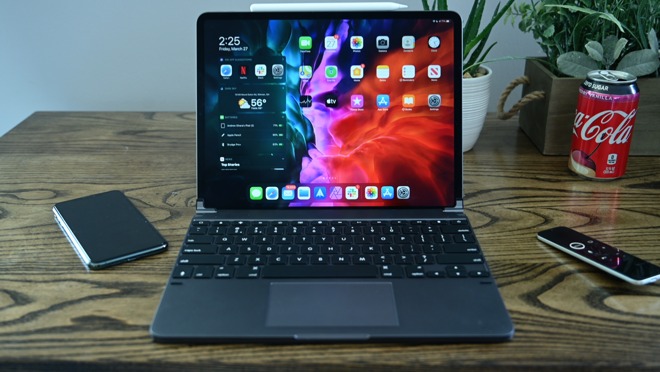 The Brydge Pro+ from the front
At the same time though, Apple is still ironing out the kinks and third-party hardware manufacturers have to work around Apple's limitations. The mouse has just a bit of drag as it moves around and scrolling can be quite awkward.
These drawbacks aren't huge, and the device is still useable. We created this entire review on a 2020 iPad Pro using the Brydge Pro+ and loved the ability to easily get to a trackpad when trying to precisely edit text. You notice the quirks and the minor glitches, but it wasn't enough to turn us off completely.
It is just disappointing that Brydge created such a steller looking and working product yet iPad doesn't want to all the way play nice.
We are certain this will improve, but for now, there will be minor tradeoffs while using the Brydge Pro+.
Pros
Sleep, iPad-like design


Space gray color matches perfectly


Keyboard feels great to type on, if not maybe a little soft


Function keys are very useful


iPadOS 13.4 makes the cursor a first class citizen


More affordable than Magic Keyboard


Variable backlight


180-degree hinge


Inlcuded back protection
Cons
More effort to remove than Smart Keyboard Folio or Magic Keyboard


Backlight has a lot of bleed around keys


Due to iPadOS, scrolling can be jumpy and awkward


Also due to iPadOS, the cursor isn't as smooth as Apple's Magic Mouse or Magic Trackpad


Still a premium price


Only space gray color available (at launch)
Rating: 3 out of 5
Where to buy
The Brydge Pro+ keyboard and trackpad will start shipping at the beginning of April and starts at
$199 for the 11-inch version, while the 12.9-inch version goes up to $229
.