Pixelmator Pro 1.6 adds new selection and color tools, boosts performance
A new update to Mac image editing app Pixelmator Pro revamps how colors are chosen, adds an improved selection tool, and increases performance.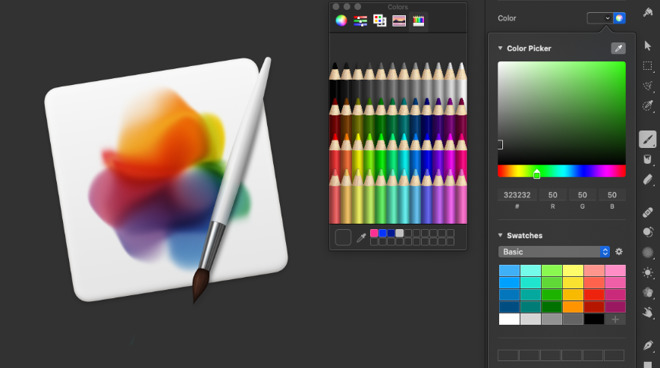 The old Apple-based color picker, the crayons in the middle, are still available. But Pixelmator Pro 1.6 has added more color control and (right) positioned them more conveniently, too.
Long-time image editor Pixelmator Pro has been updated to version 1.6 Magenta, with a revamp to selected controls, plus new features, bug fixes, and an overall performance boost. The Mac app now further exploits Apple's Metal technology to bring that added performance, which is specifically engineered to utilize multi-GPUs, and the
Mac Pro
.
The
Pixelmator Pro developer
has not released precise figures for the performance improvement, but claim that adding a stroke to a layer is now 10 times faster. As part of the performance, certain other graphics-intensive features have been reworked to use less memory. The Denoise and Super Resolution features which rely on Machine Learning, will now use up to 10 times less memory.
Pixelmator Pro 1.6's more immediately visible changes include an improvement to the selection of colors. Previously, clicking on the color picker button would solely open a separate window that displayed Apple's own color selection tools. In
AppleInsider
's use, we found that window would typically display at the edge of the screen, and so far from where we were applying color.
Now while that Apple color selection tool is still available, Pixelmator Pro 1.6 adds a dropdown version right in the control. So now accessing a new color requires less mouse or trackpad movement. The dropdown also offers much finer control over picking colors, including a new ability to enter hexadecimal codes directly.
These hex codes are displayed whenever any color is selected, so when you need to precisely match colors across objects, layers, or even other documents, you can copy and paste the codes as you need.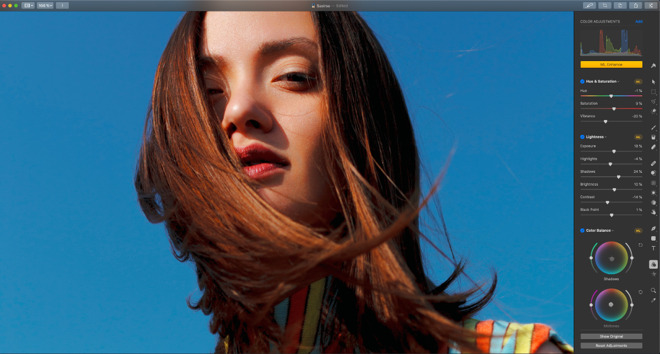 Pixelmator Pro's new color picker and greater performance improves color adjustments too.
There is a similar time-saving improvement to how fonts are displayed, with the most recently-used ones shown first. The makers say that a new tool lets you identify and replace any missing fonts within an image.
Bug fixes include ones correcting problems users were having exporting Pixelmator Pro images to Photoshop, particularly when using layers that previously might not be preserved.
Pixelmator Pro 1.6 Magenta is a free upgrade to existing users, and is available on the
Mac App Store now for $39.99
.