Apple Music gains new 'share to Instagram and Facebook' option in iOS 13.4.5 developer bet...
Apple has made sharing the music you love even easier with a feature that generates shareable images for Facebook and Instagram Stories.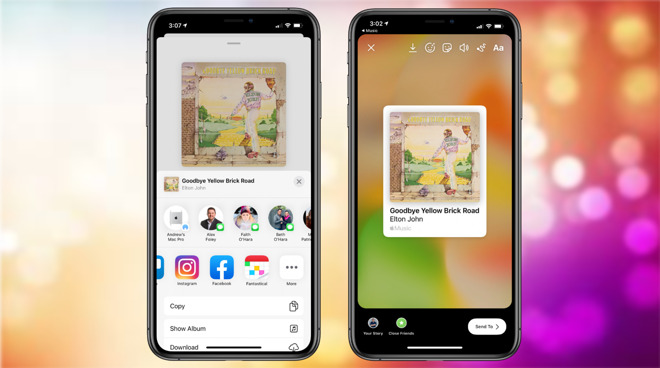 There's a new feature in the
iOS 13.4.5 developer beta
for
Apple Music
subscribers - the ability to share what they're listening to
Facebook
and
Instagram Stories
.
Before, a user would have to use a third-party tool to share music to Instagram and Facebook Stories. Now, Apple allows users to share to these social media sites directly.
To share a song they're listening to, users can select the "share" option. Both the Facebook and Instagram icon will appear below the Contacts and AirDrop share bar. Sharing to Instagram and Facebook will automatically generate an image that shows the Album cover, name of the song being listened to, and a background of the appropriate size.
If shared to Instagram, it will generate a link that allows other users to listen to the shared song on Apple Music.
As stated, the feature is currently only available in the new iOS developer beta, but will likely soon be open to the public in Apple's public beta program.
AppleInsider,
and Apple itself, strongly recommend users don't install the betas on to "mission-critical" or primary devices, as there is the remote possibility of data loss or other issues. Instead, testers should install betas onto secondary or non-essential devices, and to make sure there are sufficient backups of important data before updating.