Apple offers subsidies for Authorized Service Provider pick-up, dropoff repairs
Apple is planning on subsidizing repairs provided by Apple Authorized Service Providers (AASP), so long as they comply with social distancing measures in the U.S. and Canada.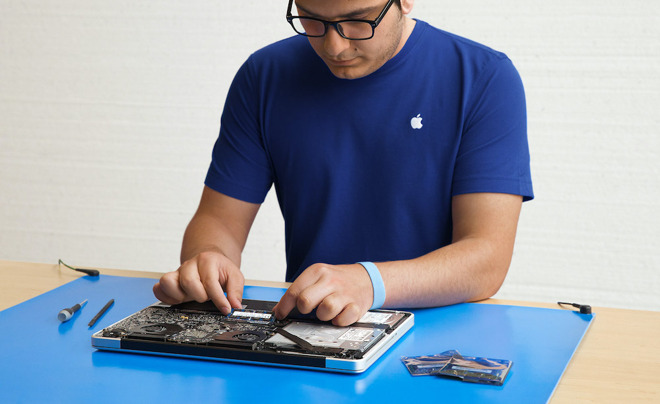 Apple Authorized Service Providers are filling in the gaps caused by shuttered Apple Stores due to COVID-19.
All Apple Stores -- and Genius Bars -- outside of Greater China remain closed due to the
COVID-19
pandemic. Because of that, many consumers have turned to third-party shops, including AASPs, to keep their Apple devices up and running during the lockdowns.
Now, in an effort to encourage social distancing measures, Apple told providers in its AASP network that it will begin offering subsidies for repairs provided on a pickup and drop-off basis in the U.S. and Canada.
The company made the announcement to service providers in an internal memo obtained
by
MacRumors.
According to the notice, Apple is providing $20 each for iPhone, iPad, Apple Watch and Beats repair and $25 for Mac repairs.
Apple added that it "encourages" pickup and drop-off repairs whenever possible, and will offer the subsidies indefinitely starting on Wednesday.
Many third-party repair shops across the country are keeping their doors open amid COVID-19 lockdowns. Some of them claim to be essential services, as they support communications and information technology,
according to
Motherboard.
Apple's move appears to be an effort to fill in the gaps as its own retail locations remain shuttered. But while customers won't be able to get their devices fixed at brick-and-mortar Apple stores for the foreseeable future, Apple has also encouraged retail staffers to become remote AppleCare tech support employees,
Bloomberg
reported
.
Customers can find local AASPs or initiate a repair on Apple's
support website
.
Apple chief of retail and people Deirdre O'Brien told employees in March that the company would begin
reopening some Apple Stores
on a case-by-case basis, depending on location, starting in April.