Apple News outage briefly impacted selected users [u]
A small number of users worldwide were reporting that Apple News was down for a period of time on Friday morning, but there was no consistency to which territories were affected, and devices on the same network could be working.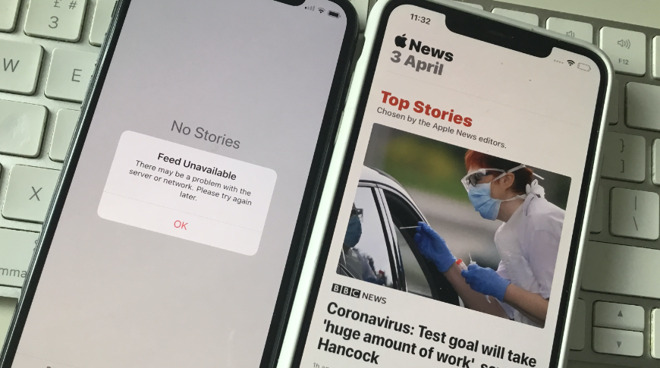 These two iPhones are on the same network and using the same Apple ID. The iPad that the shot was taken with also has Apple News running, but it did take longer than usual to load.
Reports overnight claimed that the
Apple News service
was down, with users worldwide saying that the app wasn't populated with stories, and then displaying an error message. That message said that the "feed is unavailable," and recommended trying again later.
However, not only was Apple's regular
service status
reporting no problems, Apple News is appearing as normal for most people.
More peculiarly, that included people who have multiple devices -- one may have said the feed is unavailable, but the other showed the regular service. In some cases, the feed is taking longer than usual to appear.
In
AppleInsider
testing, the majority of iOS devices, and Macs, were all working correctly. In one test of four devices on the same network and with the same Apple ID, two worked perfectly, one was slow, and only one failed to load Apple News at all.
Update 7:00 A.M. Eastern time
: Apple News appears to have been completely restored.