Morgan Stanley trims AAPL target to $298 as hopes for sharp consumer recovery dampen
Morgan Stanley said Friday it is reducing expectations for Apple through fiscal 2021 to better align with the bank's macro view that GDP growth will take a greater hit than previously expected, due largely to a prolonged consumer recovery.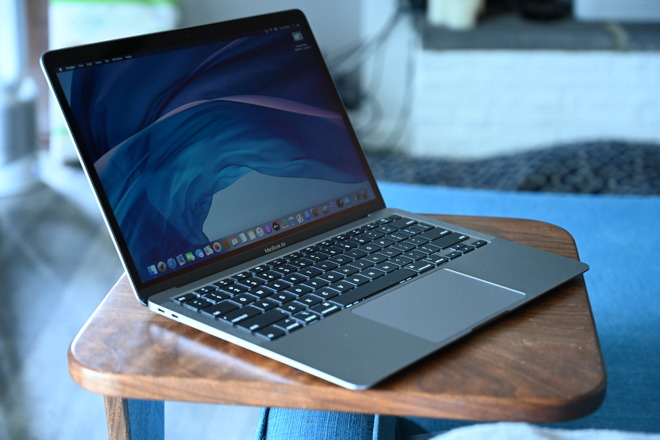 Apple's 2020 MacBook Air will be crucial to Apple's financial recovery, says Morgan Stanley
In a note to investors seen by
AppleInsider
, Morgan Stanley analyst
Katy Huberty
said she believes that Apple will "continue to outperform peers" in a challenging market and is "best positioned" to recover business performance to previously existing levels.
But the company faces a variety of short term challenges due to weaker consumer demand across the board, and was recently forced to
extend its Apple retail store closures
till at least May.
While Huberty believes that global retail foot traffic could resume in May, she expects it to remain at 50% of historical levels through the end of August. This would theoretically improve to 70% in the September quarter, and up to 85% through the end of the holiday 2020 season. Some of the lost sales are expected to shift online, but analyst assumes that Apple will inevitably only capture about 30% of them.
Citing a recent analysis by Morgan Stanley's economic team, Huberty said her latest estimates better align with emerging expectations that GDP growth in both the US and China will be lower than previously forecast, given a slower-than-predicted
coronavirus
curve-flattening across the world. The impact on Apple's bottom line will be compounded by three factors related to the GDP contraction.
First, North American retail traffic is expected to remain "lower for longer," which Huberty and her firm expect to drop by over 95% year-over-year through the end of May. Additionally, customers surveyed suggest that just 22% of consumers indicate that they are likely to upgrade their smartphone in the next six months, versus 53% that expected to do so in the year-ago quarter.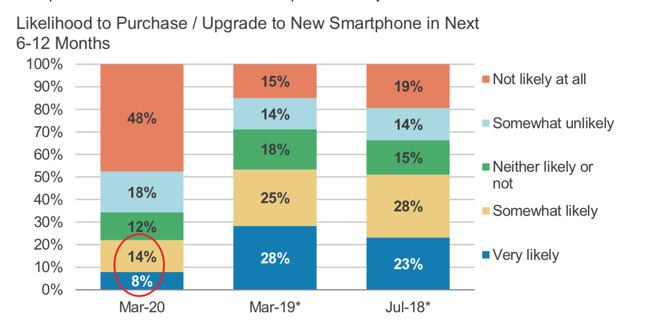 Smartphone purchase intent surveys, performed between 2018 and 2020 - source Morgan Stanley
And third -- perhaps the most problematic for Apple -- is Morgan Stanley's view that the world could see a further extension of smartphone upgrade cycles; partly as a result of the coronavirus pandemic, and partially from other factors. In this scenario, the iPhone replacement cycle could periodicity become about the same as the current PC market, she said, which is roughly one upgrade every 4.3 years.
As such, Huberty is now forecasting 181 million iPhone shipments in Apple's fiscal year 2020, which ends in September. The replacement cycle is predicted to shorten a bit to 3.9 years for fiscal year 2021 with the advent of the 5G "
iPhone 12
," which the analyst sees fueling 207 million iPhone shipments. Those figures are a revision down from Huberty's previous estimates of 192 million and 224 million, respectively.
In the meantime, Morgan Stanley expects Apple to
continue to pay
employees during the store shutdown while remaining heavily invested in research and development.
5G "iPhone 12" may ship later than expected, but still in 2020
Huberty also noted that there has been substantial supply chain chatter recently, specifically in regards to production of the "iPhone 12." She doesn't see the reports as inaccurate, but as more of a "catchup with expectations" and Apple adjusting production quantities in response to the economic condition.
While she predicts that the "iPhone 12" will ship in 2020, she also believes that it could arrive a bit later than September, with a ship date closer to that of the iPhone X in November, versus the September shipment of the
iPhone 11 Pro
.
Apple services, its balance sheet, and the App Store are positives
Huberty also said she expects a 20.6% revenue increase from the App Store through the end of February, ahead of previous predictions, thanks largely to global "stay at home" orders. Through March 29, revenue growth is estimated to be above 15% year-over-year, also an improvement. Other net positives for Apple include a "global uptick" for
Apple TV+
in recent weeks, demand for laptops because of work from home installs, and 5G smartphone demand in China.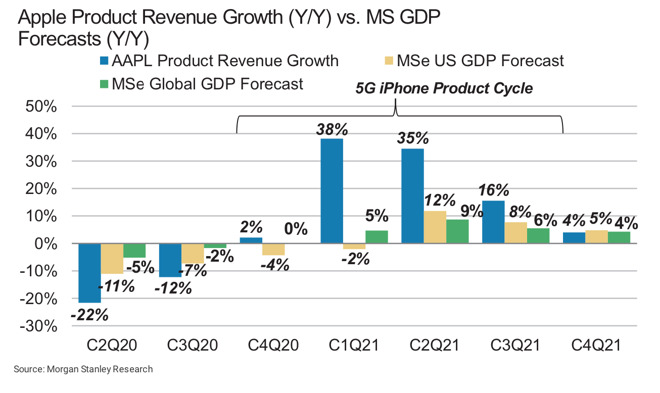 Apple product category revenue growth in 2020 and 2021 - credit Morgan Stanley
Cited factors that will contribute to Apple's recovery are Apple's leading customer retention rates, and a balance sheet that will allow Apple to invest disproportionately to its competitors even in a long market downturn. Huberty says she believes that Apple will continue its
stock repurchase effort
, and will buy back $20 billion of shares quarterly.
Weighing the current positives and negatives, Huberty trimmed her target price on shares of Apple to $298 from $328. Her new estimate is based on a 3.2 estimated value/sales multiple on mature hardware like the iPhone, iPad, and Mac; a 4.2 EV/sales multiple on wearables, home, and accessories (including the Apple Watch and AirPods), and a 6.9x EV/sales multiple on Apple's services. Overall, this resolves into a 4.1x target EV/sales multiple, and a 19.9 target profit to earnings multiple.
Shares of Apple were trading down 1.1% (or $2.30) to $242.63 per share Friday morning on above-average trading volumes. As a whole, the NASDAQ was also lagging, down roughly 1.1%.