Apple Music subscriber base grew 36% in 2019, second only to Spotify
Music streaming subscriptions were up 32% globally last year, with Apple Music maintaining a comfortable second place position behind Spotify, according to newly published estimates.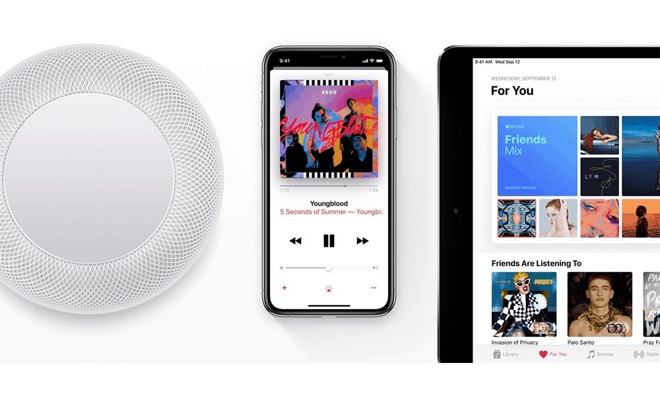 Though Apple Music trailed behind Spotify in global market share, the service's subscription base grew 36% in 2019.
Apple Music
, as part of the company's broader services push, has been steadily gaining ground in the streaming industry. But while the service's subscriber base has blossomed since its launch in 2015, Spotify remains the global market leader.
New data published on Friday backs that up. According to
research
from Counterpoint Research, Apple Music trailed behind Spotify in total market share throughout the 2019 calendar year. However, the research firm adds that Apple's total subscription base actually grew 36% year-over-year, echoing the broader increase across the industry.
Apple has been making improvements to its service, including "the introduction of night mode, curated playlists to target a group, etc," research analyst Abhilash Kumar said.
Spotify grabbed 31% of the total revenue and 35% of total paid subscribers globally. Apple Music was in second place with 24% of total streaming revenues and a 19% share of the total paid subscriptions.
In third place was Amazon Music, which has been slowly increasing its market share. It had 15% of the market, up from 10% in 2018. In January, Amazon Music announced that its streaming service had
55 million customers
worldwide.
While Apple hasn't released
exact figures
for its paid subscribers in 2019, Apple Services Chief Eddy Cue said in June of that year that the service had passed 60 million subscribers. That was the last official word from Apple, though it's likely that the number of subscribers has grown significantly since then.
As of October 2019, Spotify announced that it had 248 million listeners globally, though that includes the service's ad-supported free tier. Apple Music, by comparison, doesn't offer a free tier.
Counterpoint believes that global music subscriptions will grow more than 25% in 2020, with numbers exceeding 450 million paid subscribers by the end of the year.