March 2020 in review: Apple Stores close, but MacBook Air & iPad Pro launch anyway
Maybe 2019 was practice for Apple, as it was now used to releasing new products via a press release. That's what it had to do in March 2020 as the whole world self-isolated, and Apple Stores closed their doors.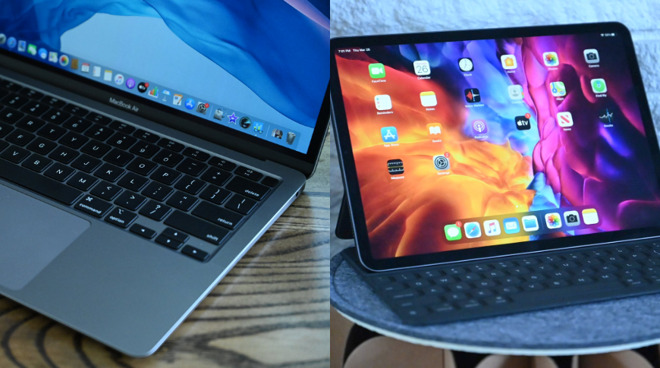 Yes, there's the coronavirus, but on the good side we got a new MacBook Air (left), and iPad Pro (right)
Apple had already closed its stores in China because of the
coronavirus
back in February, but then on March 1,
LG shut
its iPhone camera module factory after having its first COVID-19 case. It was the start of a month that saw the world shut down, but also Apple announce a series of products that ranged from lauded to criticized, with one in the middle being rather forgotten.
The lauded was the
new MacBook Air
, a machine whose new keyboard alone meant there was again a cheap -- for Apple -- notebook computer that could be unreservedly recommended. Curiously, since it really is the return to a scissor keyboard that got everyone excited about the MacBook Air, and seems to have got a lot of people buying them, it was also a keyboard that got Apple criticized.
Specifically the Magic Keyboard for the iPad Pro. We won't see it until May, so no one has actually used it yet, but everything about it looks fantastic -- including the price.
AppleInsider
caught the mood with its headline that went "Apple launches $350 iPad keyboard amid pandemic-fueled recession."
It's going to be $350 for the version that first the
new 12.9-inch iPad Pro
, and a mere $300 for the
11-inch version
. And it does truly look great, with its combination of proper keys instead of a fabric-covered keyboard, and its head-jolting ability to float over the iPad.
Speaking of the iPad Pro, though, March saw Apple elect to champion that new product above all others -- and the rest of the world nodded politely. The new 2020 iPad Pro models are unquestionably excellent devices, but what they aren't is significantly changed from the 2018 versions.
In comparison, the 2020 MacBook Air is hugely improved from its predecessor. The keyboard might be the obvious, big change, but it also increased the base storage, added new processor options, and reduced the price too.
Yet when launching it right alongside the iPad Pro, Apple did more than ignore its own MacBook Air, it came as close as it dare to criticizing it.
It's not surprising that Apple decided to concentrate its promotion on one product instead of trying to cover them all. But the company released a series of videos promoting the iPad Pro as a replacement for notebook computers, claiming that those were old hat.
Still, at least everyone noticed that the MacBook Air is out. You'd be forgiven for not realising that March 2020 saw a revamped
Mac mini
. Revamped is a generous word, really, since the sole thing that has changed is that the base model comes with double the storage it used to, while keeping the same price.
That is significant, though. Previously it was impossible to recommend the Mac mini without cautioning people that they'd need to spend more than the base $799 to get a workable computer. Back in March you could just point them in the Mac mini's direction and forget about it. By the end of the year, with an Apple Silicon M1-based Mac mini, you wouldn't point, you'd take people by the hand and lead them to the Buy button.
Launching products in the time of coronavirus
There's a decent argument that Apple's launching expensive Magic Keyboard for the iPad Pro was tone deaf when Americans are still losing their jobs, and the economy is under extreme strain. Perhaps, though, the Mac mini could be the counter argument as it is providing more Mac for people's money.
It's not as if Apple will have decided on March 1 to create the new keyboard, and it's not as if any firm can really afford to hang on to inventory. So these products were always due to come out in March, and Apple chose the best way to do this that it could.
Which means their launches were via press release. We got rather used to this throughout 2019 as most Apple hardware releases were reduced to an emailed press release, nice images on the website, and a couple of well-made YouTube videos.
We had expected Apple to revert to its more familiar hardware events now that, presumably, all of its services have launched. Apple probably expected to do that too, and maybe that's why it also dragged its heels throughout early March before finally coming to a decision.
On March 13, Apple announced that this year's WWDC conference would drop the usual events. There wouldn't be a gathering of thousands of developers, there wouldn't be a week of workshops, or at least not in the way we've been used to.
Instead, Apple announced that the regular June event would this time be conducted with "
a completely new online experience
". One thing does remain the same, however, and that's the way that Apple's promotional image for WWDC raises questions.
Usually that's about what clues are hidden in the cryptic artwork. This time it was more about what in the worldwide developers conference they were thinking, and how many seconds they had to throw this ugly image together.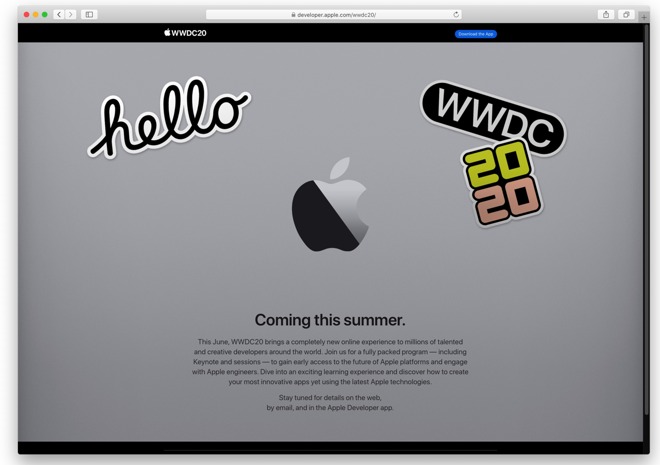 Maybe we just don't like stickers on our MacBooks. But, really, that's the WWDC graphic this year?
That's harsh, but then the entire month must have seen every part of Apple dashing to get things done, and rushing to just stay ahead of such a fast-changing situation with the coronavirus.
Apple supplier Qorvo
was one of the first to report it would miss revenue targets, but then
Google cancelled
its I/O conference, Foxconn saw its
worst revenue drop
in seven years, and then Apple was
closing its stores worldwide
.
Or rather, it was closing stores worldwide outside China. The good news was that China stores were slowly reopening. And then the better news was that Apple said it would
continue to pay
its retail staff while they were unable to work, and
unlimited sick leave
if needed.
The company also
banned non-official
COVID-19 apps from the App Store before
launching its own
in conjunction with the CDC.
Internally,
Apple restricted travel
to key countries, setting off rounds of debate about whether the then forthcoming
iPhone 12
would be delayed because crucial testing could or could not be done.
That back and forth was ceaseless in March, as some analysts claimed that the regular September iPhone launch could be
pushed back months
, while other analysts said no,
of course it isn't
. So far suppliers who have weighed in have
all said no
, things are on schedule.
The same can't be said for any of the many Apple TV+ shows in the works, as production on all of them,
including "The Morning Show,"
was shut down in March.
Apple did launch new Apple Music mixes, though, with an eye to how many people were suddenly working from home. Toward the end of the month, it debuted a "Get Up!" Mix, a "Come Together" one, and a Home Office DJ feature, all of which play upbeat music to
keep people positive
.
It did also seem as if every home worker in the country, or even the world, was suddenly using Zoom. That video conferencing service had bubbled along for years, but was instantly transformed into the backbone of myriad companies, which should have been great.
Doubtlessly, it is great for the Zoom company. And unquestionably, the ability for so very many people to seamlessly and instantly adopt video conferencing is a marvel. But with increased use comes increased attention, and Zoom's app turned out to be less than a golden citizen.
Through an "oversight," Zoom was
sending user data
to Facebook, even if that user didn't have a Facebook account. And it was helpfully subverting Apple's security systems to make installing itself easier.
Zoom has
since removed
both the Facebook data leak, and the shady installer.
The world has changed, and the world has changed fast. Zoom is now a key player, and Apple was adjusting to how very much different commerce, events and the economy are now.
The company would transition well to online events, and it kept releasing many devices throughout the year. It never matters how much Apple releases, though, there still a constant demand for rumors about the next releases.
Back in March, those rumors were focused on the successor to the
iPhone SE
which suddenly looked so very close. First a protective case went on sale
in Best Buy
, and then sketchy reports
claiming inside knowledge
, said it would be just weeks away.
We came into March really thinking more about the coronavirus, rather than new Apple products, but we left it for
April 2020
having seen a new MacBook Air, new Mac mini and two new iPad Pro models, plus the tantalising hint of an expensive new keyboard.
Keep up with AppleInsider by downloading the AppleInsider app for iOS, and follow us on YouTube, Twitter @appleinsider and Facebook for live, late-breaking coverage. You can also check out our official Instagram account for exclusive photos.