Review: Hogtalare Hi-Fi Wireless Bluetooth Speaker offers incredible performance but comes...
Morel has crafted a high-quality Bluetooth bookshelf speaker that comes as the total package -- minus the Wi-Fi, but does the performance justify the price?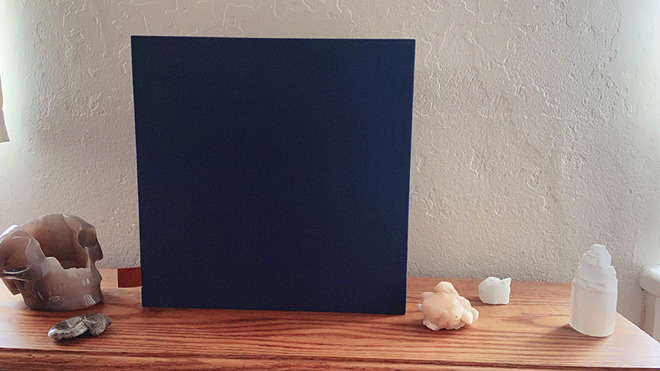 Hogtalare is Swedish for "speaker," and the simple name reflects the simple design. Perhaps one of the best features of the speaker is how it can easily fit into most spaces. The design is minimalist consisting of little more than a square with a magnetic grill on the front.
The simplicity lends itself nicely to most decor. You can easily toss it on a bookshelf, near a TV, or on a bedside table, and it'll look good wherever you put it.
It comes in a range of colors -- you can pick black or white to blend into your decor, or blue or red to add a pop of color to your space. Additional magnetic grills can be purchased separately if you'd like to change up your color options later.
One interesting fact about the Hogtalare speaker is it's proportioned to fit perfectly into any IKEA Kallax or Expedit shelving system, which can make for a particularly striking effect.
The speaker can also be wall-mounted, though you'll have to purchase the wall mount bracket separately from the manufacturer.
Sound and Performance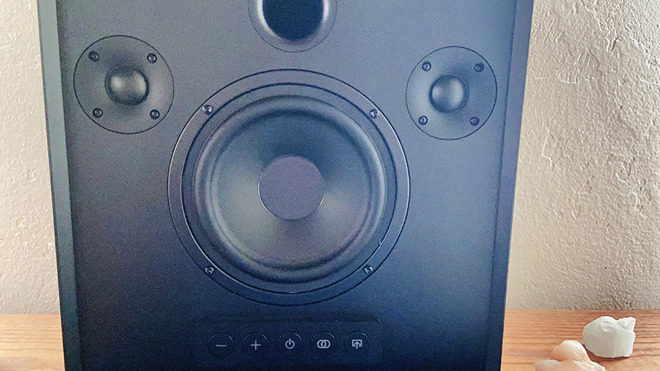 The speaker's controls are illuminated when in use and can be pressed through the speaker fabric
The speakers boast a 6-inch woofer and two high-resolution, 3/4-inch soft-dome tweeters. Each tweeter plays one channel, which creates a robust stereo experience.
The manufacturer states the Hogtalare has a 36hz-20khz frequency range, which makes for some exceptionally clear, full-sounding audio.
As far as the listening experience goes, we were extremely impressed with the Hogtalare speaker. It certainly fills up a space. The mids and highs are crystal clear, and the bass is appropriately rich and rumbly where it should be. Even at higher volumes, we didn't notice any distortion in the sound.
The volume itself on the speaker is also more than adequate, though, for our neighbors' sake, we didn't turn it up to maximum. Suffice it to say, it doesn't take much for this speaker to get loud. They'll be plenty sufficient for any house party you might want to throw.
We had no issues connecting the Hogtalare to either our
MacBook Pro
or our
iPhone
. If you purchase two speakers, you can pair them together for stereo sound, though as we had only received one unit for testing, we couldn't try out this feature.
If you so desire, you can also plug in analog audio sources -- or bypass the Bluetooth feature -- by plugging into the 3.5mm auxiliary input. We found this great for hooking up to a modern record player.
Price
The Hogtalare is not a cheap speaker. Coming in at
just under $350 on Amazon
, it's a decent chunk of change to spend on a device that is Bluetooth-only. The performance is outstanding, and Hogtalare met and exceeded all of our expectations.
We don't think that the price is too high, but this is not a Wi-Fi speaker, which we've come to expect at this price point. After all, Apple's own
HomePod
is $50 cheaper, offers incredible sound quality and volume, and comes with Siri built-in.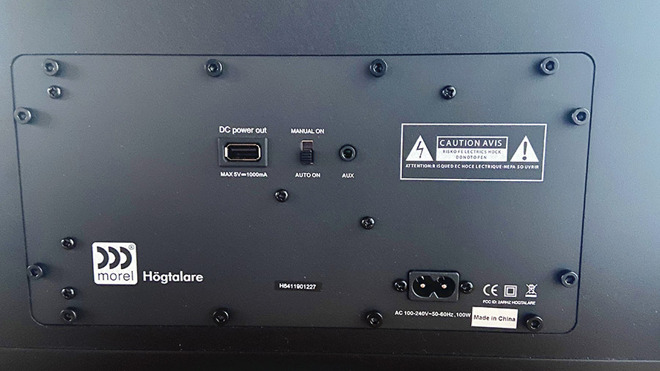 Morel notes the Hogtalare can easily be converted into a Wi-Fi Speaker by plugging a Google Chromecast ("or similar device") into the USB port on the back. However, for many people, a Bluetooth speaker that doesn't have smart features built-in may be preferable.
Overall
We loved the Hogtalare, and we think that most people would be impressed with its sound quality and simple design. Those who are in the market for a speaker with Wi-Fi connectivity will likely want to look elsewhere.
Where to buy
You can snag your own Hogtalare
from Amazon for $349,
where it ships for free.
Rating: 4.5 out of 5
Pros

Great sound quality

Attractive, simple design

Additional speaker grates available for separate purchase
Cons

Steep price with no Wi-Fi features