FaceTime, Zoom used to film episode of CBS show 'All Rise'
CBS drama series "All Rise" will return May 4 with a virtual episode recorded using FaceTime, Zoom and other video conferencing apps, a reflection of the daily lives of those who are working from home amid the COVID-19 pandemic.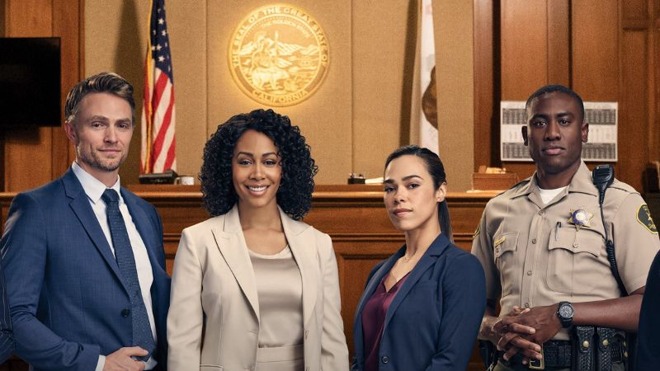 CBS drama 'All Rise' will return on May 4 with a new social distancing episode.
Due to widespread stay-at-home orders and social distancing mandates, most television productions have been put on hold as the new
coronavirus
continues to spread in the U.S. and beyond. That includes all production of Apple's
current Apple TV+ titles.
At least one television show is using the current situation as an actual plot device, however. CBS announced Monday that an upcoming episode of its courtroom drama "All Rise" will actually focus on the pandemic's "impact on the criminal justice system."
The episode will be filmed using Apple's FaceTime, Zoom, Cisco WebEx and other online media tools in a way that abides by social distancing rules. A solo cinematographer will also capture footage of the "desolate environment" around locked-down Los Angeles from a vehicle.
Executive Producer Greg Spottiswood called the episode a unique opportunity to "tell a story about resilience, justice and the power of community."
The plot centers around Judge Lola Carmichael, played by Simone Missick, presiding over a "virtual trial." But it will also show characters managing the "new normal" that COVID-19 has forced upon them. At least one character will deal with the struggle of being a food delivery driver during the pandemic, CBS said.
Consulting producer and former L.A. County District Attorney Gil Garcetti will "provide insight into how the justice system continues in Los Angeles, even during the pandemic."
"All Rise" isn't the only show leveraging technology to create new content during the ongoing pandemic. In March, Conan O'Brien
announced
that he would continue filming his late-night show "Conan" from his home using an iPhone. Beats 1 celebrity DJs are also leveraging Apple's FaceTime to conduct interviews with special guests.
The new episode will air at 9 p.m. (ET/PT) on Monday, May 4. Apple users will be able to catch the episode using the
CBS app
on iOS, iPadOS or tvOS.