2020 iPad Pro lacks Apple's U1 chip, report says
After weeks of speculation and claims to the contrary, a report on Monday supposedly confirms Apple did not integrate its U1 Ultra Wideband chip in the 2020 iPad Pro.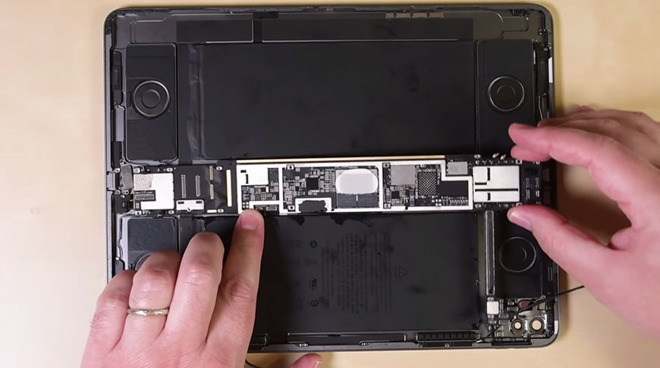 iFixit's teardown of the 2020 iPad Pro found no trace of Apple's U1 chip. | Source: iFixit
Citing a "little birdie,"
Daring Fireball's
John Gruber
confirmed
"there is no U1 chip in the new iPad Pro." The reported validation from a reputable insider seemingly snuffs weeks of back and forth on the subject.
Introduced with iPhone 11 last year, the U1 enables UWB features like directional AirDrop and was expected to see integration in subsequent Apple devices. Indeed,
9to5Mac
in March claimed to have
discovered evidence
of an
iPad Pro
with U1 chip in a then-current
iOS 13.4 beta
release.
Apple itself did not mention the U1 in iPad Pro's press release or subsequent marketing materials, including a webpage detailing the tablet's technical specifications. As Gruber writes, "[I]f there were one, Apple would have told us so."
An initial hardware teardown conducted by iFixit found no trace of the UWB silicon, and a
final de-shielding
of the iPad Pro's logic board last week appeared to confirm the chip's absence. The repair specialist told
AppleInsider
it concluded work on the device and would not investigate further.
In its own testing,
AppleInsider
confirmed both
2020 iPad Pro iterations
, running the latest iOS 13.4 software, are incompatible with iPhone 11's directional AirDrop feature.
There are a number of reasons why Apple decided not to include the U1 in the latest iPad Pro variant, from supply chain availability to incompatibility with the A12 processor family. That said, the UWB hardware should show up in a future , as it is expected to play an important role in the support of upcoming products and services like
AirTags
.
While mere speculation, the U1 could surface in a
forthcoming iPad Pro model
with mini LED backlighting rumored to see release later this year.