Pixelmator Photo for iPad brings color matching, plus trackpad support
Pixelmator Photo for iPad has been updated with support for trackpads and other input devices in iOS 13.4, plus new machine learning-powered features that you can use to match colors between two photos.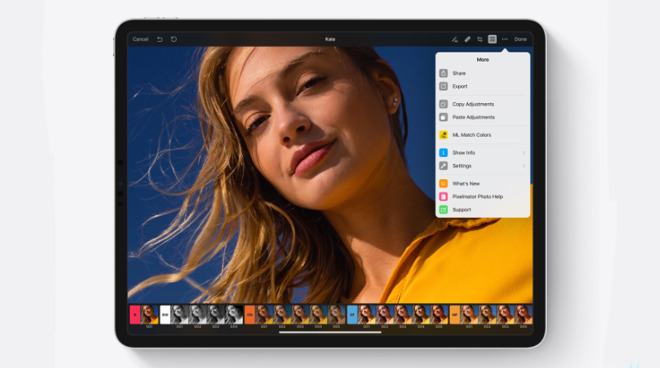 Edit an image in Pixelmator Photo and you can choose ML Match Color. It lets you pick any other image and then applies its color and tone to the first image
Following the recent update to
Mac image editor Pixelmator Pro
, the iPad-only Pixelmator Photo 1.2 has gained more of that app's Machine Learning features, plus new iPadOS-exclusive ones like trackpad support.
The major change for version 1.2 is the adoption of support for Apple's new
Magic Keyboard for the iPad Pro
, trackpad, and mouse. Alongside the ability to swipe and select with the trackpad or mouse, Pixelmator Photo 1.2 has added support for Split View. When two apps are now on an iPad screen at once, an image can be dragged into Pixelmator Photo.
As well as being a quick way to open an image for editing, this drag and drop works with the new Machine Learning-based feature for matching the colors between two photos. If an image is opened in Pixelmator Photo 1.2 and the Edit button is tapped, a dragged image will then automatically trigger the ML Match Color feature.
This attempts to take the look and feel of one image -- its colors, saturation, and over all image tone -- and apply those to the target image. In
AppleInsider
testing, the effect is subtle but significant. It's similar to grading in video, where shots taken at different times of day are altered to appear the same.

L-R: Dragging an image from Photos into Pixelmator Photo 1.2 and having the ML Match Color feature work automatically
It's also now easier to manually copy adjustments made to one photo and apply to another. Plus those adjustments include an improved intensity one, which lets you alter the degree of colors being changed.
More details are
on the Pixelmator blog
, and Pixelmator Photo 1.2 is
available on the App Store
. It's a free download for existing users or $4.99 for new customers.