Review: Peak Design's Travel Tripod is unmatched in quality for traditional & mobile photo...
Posted:
in iPhone
edited January 2021
The attention to detail, thoughtful features, and consideration of mobile photogs needs made clear in the Peak Design Travel Tripod make it essential for any photographer, regardless of skillset or camera choice.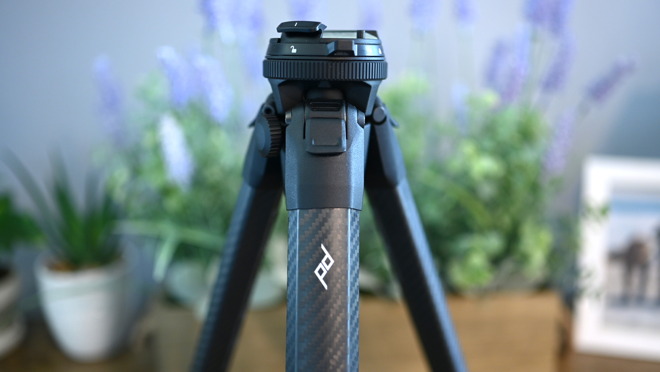 Peak Design Travel Tripod
We've tried out many tripods over the years, given our typical two-device setup. As a general rule, we use one heavier tripod for in the studio and a second for travel. The latter of the two is often full of compromises yet still will carry a significant price tag.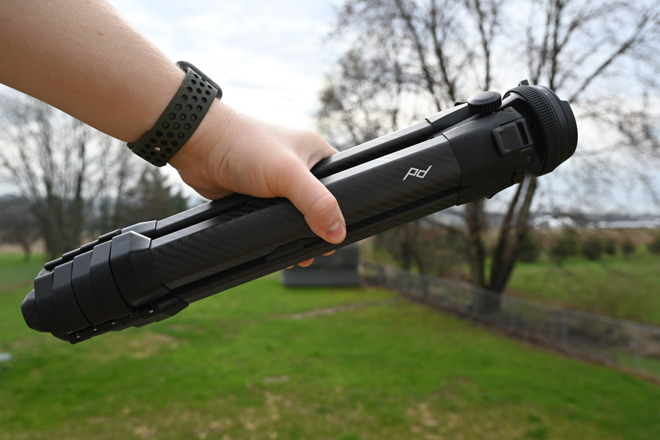 Holding the Travel Tripod in hand"
That isn't the case with the Peak Design Travel Tripod.
Design
The most noticeable aspect of the Travel Tripod is the design. It is small and stylish available in both an aluminum and a carbon fiber model.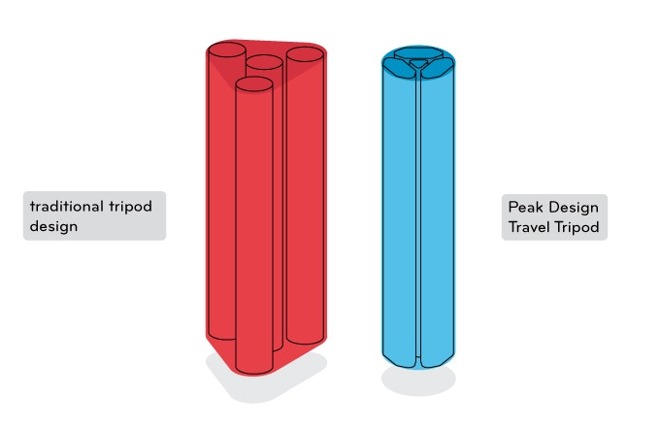 Peak Design uses custom aluminum or carbon fiber tubes to craft the Travel Tripod
Peak Design took a different path with its custom tripod. It tore down tripod tropes to reimagine how a tripod should be constructed.
Most tripods are a series of tubes that are stacked together, but this causes a lot of wasted space. Instead, Peak design is using a rounded trapezoid shape for its legs. This may single-handedly be one of the largest cost contributors of the tripod.
It is much easier to extrude a cylindrical aluminum tube than it is for this custom shape. Crafting it from carbon fiber is also even tougher.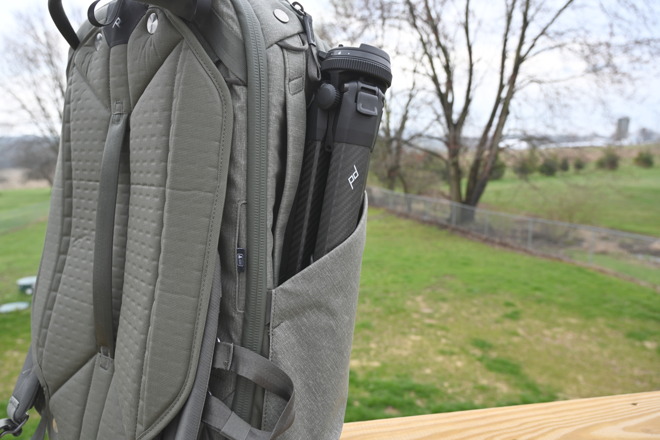 Travel Tripod in the Peak Design Travel Pack
Thanks to this design, the whole Travel Tripod gets no wider than a water bottle and can easily fit into the side pockets of many backpacks, including Peak Design's travel packs or Everyday Backpack.
Not only is the tripod ultra-compact, but it is sturdy. The tolerances between parts are so small that when properly deployed, the tripod barely moves at all. It is incredibly surefooted and holds its own better than our studio video Manfrotto tripod. Because it is both light and sturdy, when deployed -- even with a camera on the end -- you can grab all the legs and pick it up one-handed and move it around.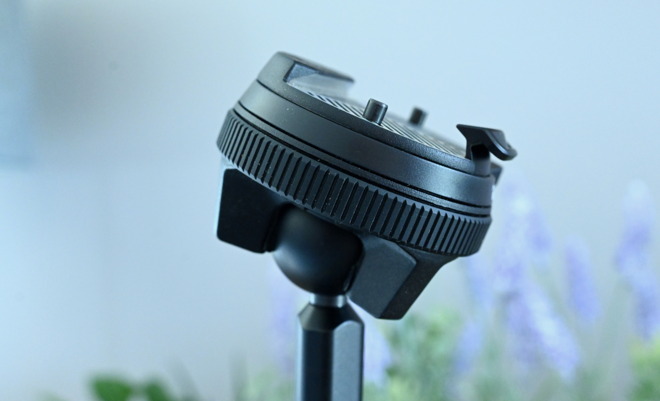 Peak Design's custom ball head for the Travel Tripod
Atop the tripod is the custom ball head. This is hugely important as it allows you to line up your shot, attach your camera or phone, and needs to be easy and comfortable to use.
Peak Design has done a few things here. When collapsed, it fits right between the legs of the tripod, allowing it to collapse much more than a unit with a normal ball head that sticks out of the top.
It is also controlled via a smooth adjustment wheel. A twist to the left loosens it and allows the head to rotate freely before a twist back to the right tightens it right back up. It is incredibly quick to loosen, adjust, and tighten without having to even think about it. Grooves make it simple to rotate down into portrait mode as well.
As a whole, the tripod is very quick to deploy. Peak Design says the internal office record is below 10 seconds, and while we couldn't match that, it wasn't far off.
To deploy and extend the legs, you can grab the four locks for one leg all at once and pull them back to open. Then you can rotate the tripod 120 degrees, grip the next set of locks, open them, rotate once more, and unlock the last leg. Then all of the leg segments can extend at once. To lock open, rotate the tripod around while pushing the locks back into place for each of the opened segments.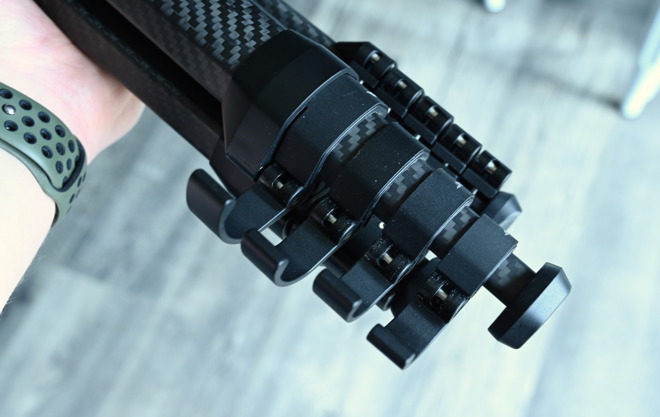 Grip and unlock all leg segments at once
Being able to deploy quickly can be key to capturing a shot, especially while traveling. You may not be expecting to stumble upon that perfect scene and you want to get shooting as fast as you can before the subject moves, the sun sets, or your shot is blocked.
Those custom legs serve another purpose -- maintenance. If you've ever shot in a dusty environment or perhaps on a sandy beach, you know what it can do to your equipment. Just as you'd protect your camera, you should protect your tripod. After shooting, sand can easily get within the legs, grinding up and ruining the tripod.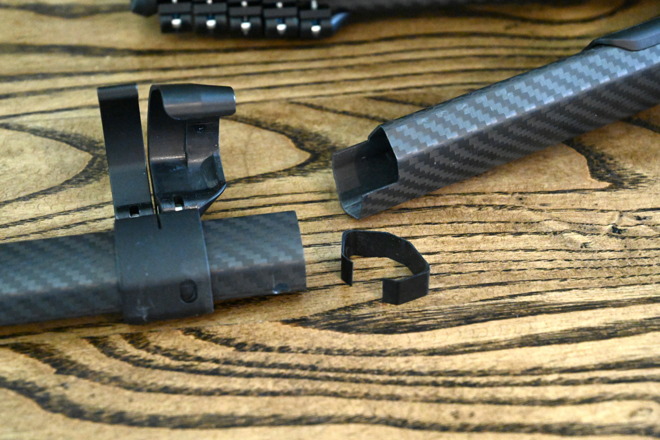 Cleaning the Peak Design Travel Tripod
For the travel tripod, the uppermost segment has an additional clip that can be loosened. When undone, the bottom segments can be removed. It comes then entirely apart for you to diligently clean between each piece. This is also how the bottom sections are removed to use the ultra-light conversion kit.
Dedicated cam, mobile, and everything in between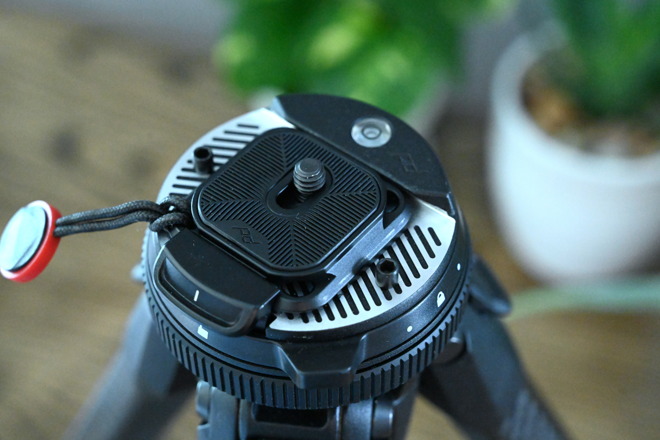 Arca Swiss universal quick release plate connects to the custom ball head and works with Peak Design straps and anchors
This tripod isn't designed just for mobile devices, but near any device that you'd like to shoot on, be it a dedicated DSLR, a compact mirrorless shooter on the go, or just your iPhone.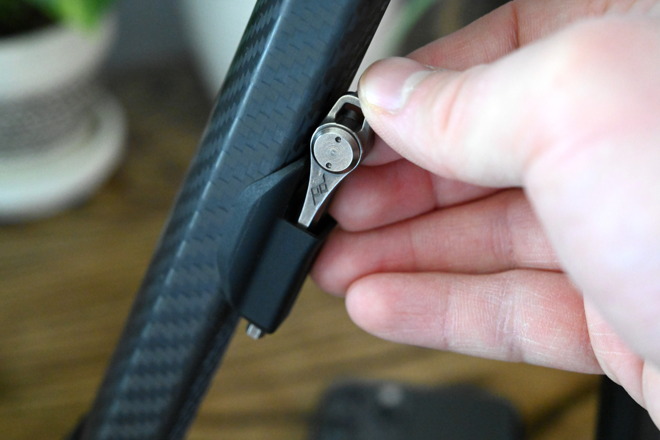 A useful hex wrench is clipped to the side of one of the three tripod legs
For your camera or shooting rig, the Travel Tripod relies on the industry standard Arca-Swiss quick release plate. There is a hex bolt on the underside of the plate to securely affix to your gear. Peak Design sticks by the hex choice rather than a finger-tightened screw due to its stronger hold. The tripod has a 20lb weight limit, so even the heaviest full-frame DSLRs and telephoto lenses will feel comfortable.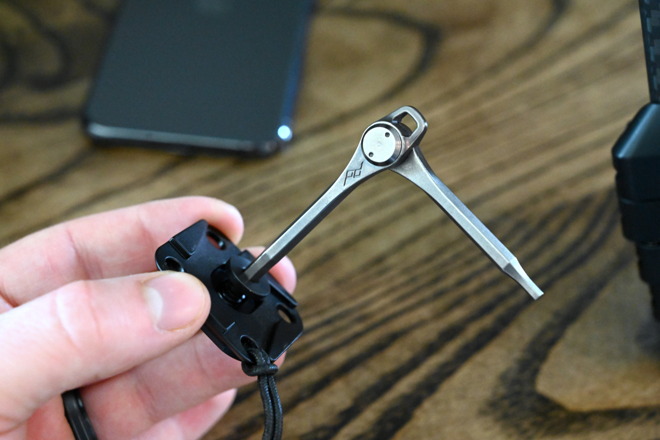 The hex tool can be used to connect/remove the quick release plate or to go into ultra-low mode
When you rely on it for your gear in sometimes perilous locals, we get it. The biggest thing Peak Design did in support of the hex screw is added a hex tool to one leg that is always on hand to swap out the plate. This tool has a plastic clip that snaps onto the leg, and the tool effortlessly slides out when necessary.
During the times you are shooting mobile, Peak Design has you covered with the Travel Tripod. The center column has a secret -- a stow away mobile mount. To access, pull back a leg or two of the tripod and look for the cofounder-weight hook. Grab the base, pull down, and twist. The hook magnetically connects to the mount hidden within.
Peak Design made sure with attention to detail and design that everything is precise and well-balanced. The mobile mount itself is spring-loaded, popping out as soon as you twist the cap free -- but not so much that it comes flying out.
That mount can be stored in either direction, making it easy to put back. When ready to shoot, the mount folds open and then clips right into the Arca mount on top of the tripod. It too is spring-loaded to fit various sizes of phones, in or out of cases.
Accessories
The Travel Tripod is an accessory on its own, but Peak Design does have additional parts to customize the device to each user. Due to the modular design of the tripod, it is very easy to swap out parts when necessary.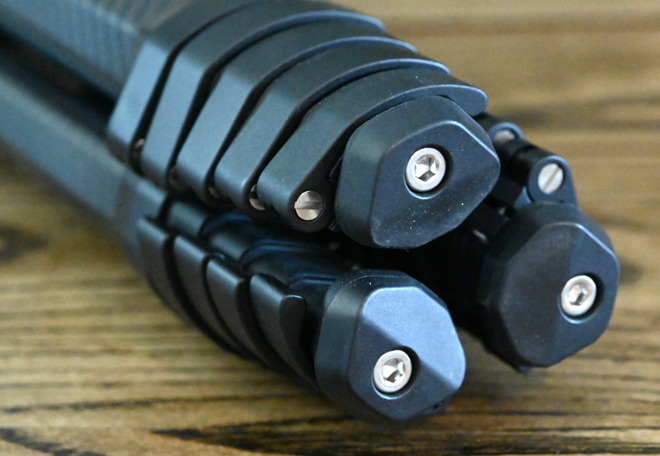 he TPU feet on the Peak Design Travel Tripod can be removed and swapped for spikes
Take the feet of the tripod -- out of the box, the feet are standard rubberized feet that do a decent job of not slipping. If in treacherous terrain, you can swap out the feet for the spike feet for additional grip.
While the ball head is great, if you want to change it out for one of your choice, you can do so with the universal head adapter -- like for a fluid motion head for videography.
The ultralight conversion kit removes the bottom four sections of the tripod and adds feet to the remaining section. The tripod can no longer expand as far as it could be, but with the kit, it is now as light as it can possibly be.
Should you buy the Peak Design Travel Tripod?
This isn't the cheapest tripod on the market, by far, and fits squarely in the realm of premium photography gear. It sits there for a reason.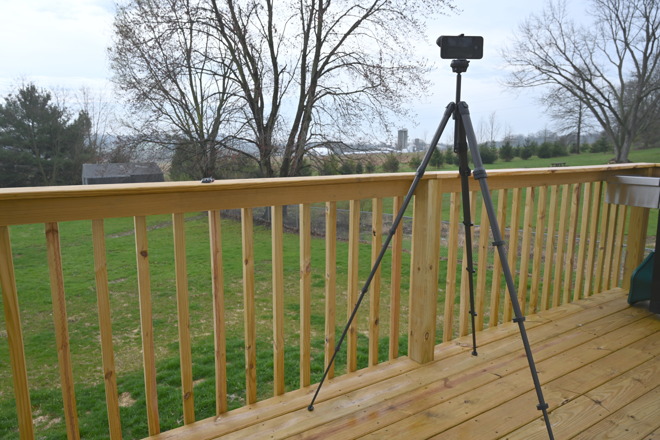 The Peak Design Travel Tripod fully deployed
The Peak Design Travel Tripod is by far the most capable of tripod we've ever tested. For who its aimed at, the design and build quality are unmatched. It more than holds its own when it comes to other tripods in the industry but far outpaces them when it comes to additional features.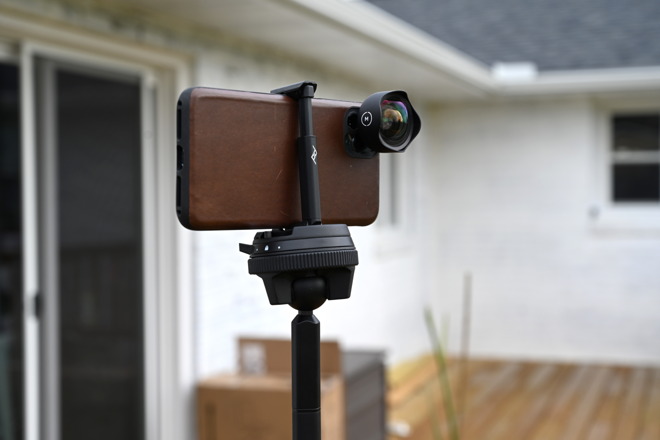 iPhone 11 Pro Max with Nomad Moment case and the Moment 18mm lens
It has a tiny form factor, an easy to use custom ball head, a near-instant setup process, a hidden mobile mount, an integrated hex tool, a carbon fiber build option, and a soft carry pouch. Add on the fact the quick release plate works with all of Peak Design's other gear such as clips and mounts, and the tripod and plate can be carried with Peak Design's straps while the whole tripod can fit into the side pockets of Peak Design's backpacks.
Then take into account the inverted mode that lets you shoot upside down, ultra-low mode that lets you shoot completely flat against the ground, and support for Arca "L" brackets.
That is a lot of tech in such a compact, simple product.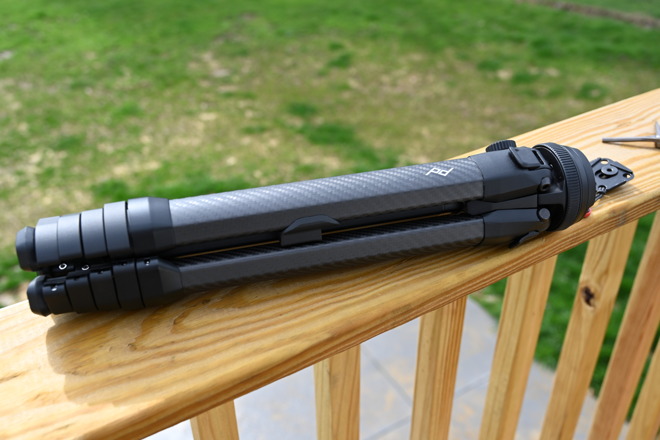 The Peak Design Travel Tripod is quite compact
Mobile and travel photography has risen in popularity in recent years, thanks to the better cameras included on smartphones and accessories escalating in quality to keep up. Smartphones also have the software to create stunning time-lapses and other effects that are harder to pull off with a dedicated camera.
Regardless of what you are shooting on, if you want to step it up and take it to the next level, then invest in the Peak Design Travel Tripod.
Pros
Includes soft case with anchor mounts on ends


Custom ball head is easy to use and works with Arca Swiss plates


Designed to work with other Peak Design gear


Incredibly compact and sturdy


Lightning fast to deploy


Stylish aluminum and carbon fiber options


Well worth the investment


Hidden mobile mount is always within reach


Easily accessible hex tool


Supports inverted mode for ultra-tight shots and ultra-low mode for staying flat to the ground


Easy to dissamble to clean


Accessories allow it to have more funcitonality
Cons
Not as high as other tripods


Too light for an overhead mode


Premium custom design comes with premium price
Rating: 5 out of 5
Where to buy
The Peak Design Travel Tripod launches today, April 7th, and until April 10th, Peak Design will be donating 100% of every tripod sold to COVID-19 disaster relief and combatting climate change. Funds will be distributed to the CDC as well as Climate Neutral. Peak Design is a carbon-neutral business so giving back and caring about the environment is in its DNA.
To pick up the tripod, head
over to Peak Design's website
. The aluminum Travel Tripod runs $349 and the carbon fiber model runs $599.
Update
: Peak Design's charitable promotion has now ended. During the campaign, Peak Design sold 2,265 tripods in total with most customers choosing the pricier carbon fiber option. That led to a pair of checks, each for $109,075, making their way to the CDC Foundation and Climate Neutral. It's great to see Peak Design not just following through with the giving back, but being so public with results. If you pick up the Peak Design Travel Tripod you can trust the company it is coming from.