Foxconn steps up COVID-19 precautions as iPhone production restarts
As Apple partner Foxconn restarts iPhone production in China, a report on Wednesday takes an in-depth look at the protocols the contract manufacturer has in place to prevent a resurgence of COVID-19.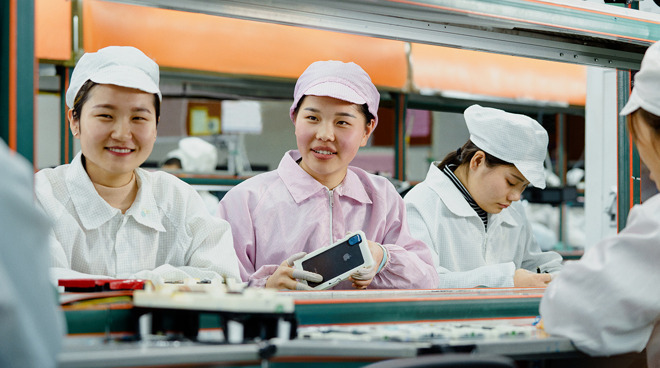 Foxconn workers assembling iPhone.
Foxconn is taking
unprecedented steps
to ensure its employees stay healthy and coronavirus-free as the important iPhone launch season approaches, according to a
Washington Post
report
picked up
by
Business Insider
.
At the firm's Zhengzhou plant, responsible for a large portion of iPhone production, employees are broken off into groups of 20 in an attempt to minimize potential exposure to and spread of the SARS-CoV-2 virus that causes
COVID-19
. These worker clusters must eat, sleep, work and travel together, the city's government said in a notice.
Public areas are being closely monitored, with one employee saying Foxconn has installed dividers at cafeteria tables to prevent worker contact. The company is reportedly using QR codes placed on cafeteria seats, which workers must scan, to track employee movement.
Beyond working groups, Foxconn is taking employee temperatures daily and is utilizing infrared cameras to track body temperatures in real time. High temperatures are an early sign of infection.
To prevent transmission of the virus, the company is producing some 2 million surgical masks each day for internal use.
In a statement to
The Post
, Foxconn said it is following "all recommended health and hygiene practices ... including the use of nucleic acid tests and chest X-rays when required."
In January, Foxconn said the then-burgeoning coronavirus
would not impact
production in China. Those early predictions shifted dramatically as the situation worsened. Roughly a month later Foxconn closed its plant in Shenzhen and shuttered the Zhengzhou facility, putting a crimp in global
iPhone 11
supply.
Production is now ramping up as factories
take on new staff
, and mass production of an expected "
iPhone 12
" series is reportedly
on schedule
for a fall release. Foxconn itself supposedly confirmed the timeline to investors
in early April
, assuaging fears of a delayed launch.