Apple Maps simplifies submission of COVID-19 test sites
Apple will be making it easier to travel to testing sites for COVID-19 in Apple Maps, with the opening of a dedicated Apple Business Register page for healthcare providers and related organizations to add testing locations to the navigation app.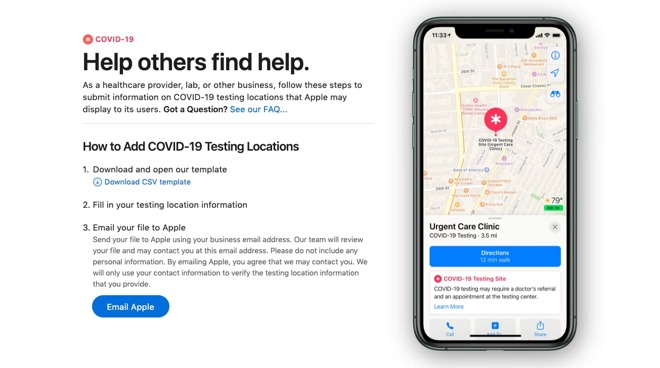 Launched on Saturday, the Apple Business Register site for
Apple Maps
' dedicated
COVID-19 listings
provides a way for healthcare providers, laboratories, and other businesses to submit information about testing locations. Once submitted, the
coronavirus
test site will be added to Apple Maps, where it will be searchable and allow users to navigate to the location just like other businesses.
The register page advises firms to download and fill out a CSV template, listing the location and related information. The data required in the template includes the provider name, where they are located, contact details, a COVID-19 Specific URL, a status, a category for the location, testing hours, if they require referrals or appointment, if they offer COVID-19 testing, and the type of testing location it is.
Once filled in, the form is to be sent to Apple from a business email address, then it will be reviewed by Apple's team. It is unclear how long it will take for listings to appear once submitted, but Apple reserves the right to contact the submitter for further queries.
Approved listings are added to Apple Maps with a red medical logo, and will show a card providing more information about it as a COVID-19 Testing Site.
The opening of the page follows an announcement on Friday where Apple and Google revealed they were working together on a COVID-19
'contact tracing' system
, one which could help
reduce the spread
of the coronavirus.