Editorial: Who wants the new iPhone SE 2020?
Posted:
in iPhone
edited January 2021
Apple's latest iPhone SE release represents a basic, familiar, and affordable "classic" model of iPhone that wouldn't normally be expected to garner too much attention. Yet it has, due in large part to Apple's use of its most advanced A13 Bionic chip in what is now its least expensive
new iPhone
, just six months after initially launching the A13 in its most ultra-premium iPhone 11 Pro. Why is Apple shaking up the status quo, and who is this new model for?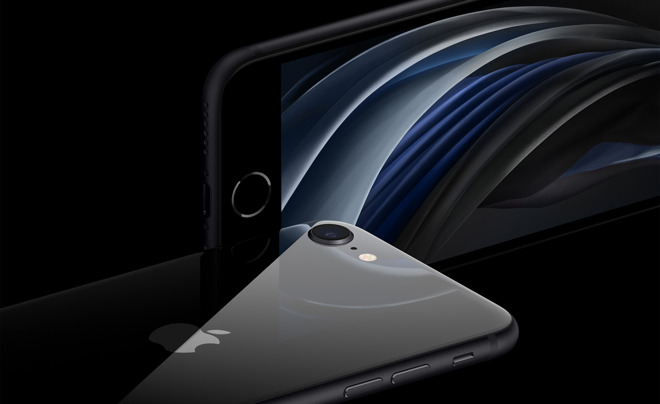 Apple's 2020 iPhone SE will have a wide audience, despite early detractors
The COVID-19 iPhone?
Given the global shakeup of the coronavirus pandemic and the economic distress that will inevitably follow, It's tempting to say that this new
iPhone SE
model was tailor-made to deliver Apple's best technology in an inexpensive model that people in this post-apocalyptic "new normal" could afford. It is a huge pivot away from the expensive
iPhones
that media bloggers keep saying that nobody can afford -- despite all the evidence showing they are wrong about that.
But that's simply impossible. Apple's planning and engineering to develop this new model were completed far in advance of even the first discovery of the novel coronavirus in December 2019. And that occurred months before the complete understanding of what kind of impact the rapid spread of COVID-19 would have, as governments around the world hesitated to overreact and largely dismissed the unprecedented outbreak as being little more than another seasonal flu.
Apple did not whip up a cheap new iPhone model in the last couple of months to survive the pandemic--although it does acknowledge the current situation by making a charitable contribution to COVID-19 relief for each Product(Red) version sold. Apple pretty clearly intended to launch its new $399 iPhone SE after sales of its $699 iPhone 11, and the $999-and-up iPhone 11 Pro models satiated peak demand after the holiday season. It appears clear that Apple -- and everyone else -- expected the economic status quo to continue full-steam ahead into 2020.
On January 28th, as the novel coronavirus was beginning to cause turmoil in China and raise concerns about how Apple's supply chain and assembly partners might be affected, Apple's chief executive Tim Cook made two mentions of the issue during the company's quarterly earnings report.
"We are closely following the development of the coronavirus. We are donating to groups that are working to contain the outbreak, "Cook said. "We are working closely with our Apple team members and partners in the affected areas, and our thoughts are with all of those affected across the region."
Later, Cook was asked about the unfolding "health crisis" in China by Cross Research analyst Shannon Cross.
"First and foremost, our thoughts with all of those that are affected across the region and as I had mentioned, we're donating to groups that are working to contain the outbreak," Cook added. "We're also working very closely with our team and our partners in the affected areas, and we have limited travel to business-critical situations as of last week. The situation is emerging, and we're still gathering lots of data points and monitoring it very closely. As Luca [Maestri, Apple's chief financial officer] had mentioned, we have a wider-than-usual revenue range for the second quarter due to the greater uncertainty."
Cook's remarks on China were given in the context of the huge resurgence Apple had just experienced.
For the results from last quarter, we had double-digit growth for iPhone in Mainland China. So that was an important change from where we had been running. We also had double-digit growth in services in Mainland China, and we had extremely strong double-digit on wearables.

And so, really there were a number of different factors. In terms of the things that customers are responding to, iPhone 11 is doing particularly well there. The product has been very well received with its battery life and the camera is unbelievable. We also, as you probably know, have certain trade-in programs going and financing programs. These have also been well received.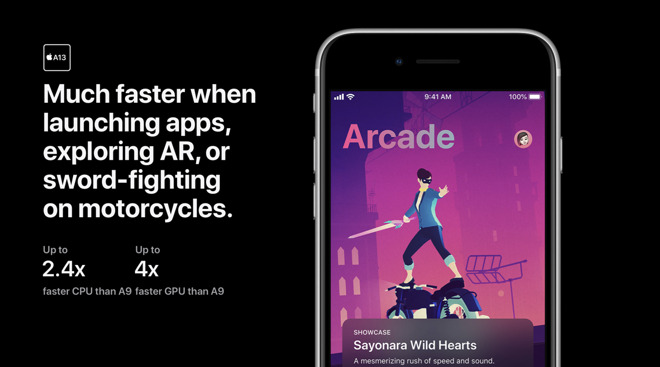 It wasn't until February 17th when Apple issued its update on quarterly guidance that acknowledged that the company was "experiencing a slower return to normal conditions than we had anticipated. As a result, we do not expect to meet the revenue guidance we provided for the March quarter."
Apple's restatement was made well in advance of most other companies, but that still didn't provide any time to switch things up or really customize its strategy for releasing the new iPhone SE, a product that was clearly already substantially complete even before iPhone 11 shipped last fall. While it certainly might look like Apple adeptly responded to COVID-19 by delivering a cheap yet very attractive new base model iPhone, the reality is that Apple largely just lucked out with its timing.
The company was even more fortunate to have successfully introduced its premium iPhone 11 cycle last fall, which it comfortably sold over its holiday quarter just before the global economy tanked. Had that launch been tripped up by an earlier outbreak in November or December, Apple's stock would never have hit its all-time highs in the first calendar quarter. More importantly, the company would never have proven wrong the media narratives that suggested that Apple was decisively losing its sales to Huawei in China because of "patriotism," nor countered the tired blogger trope that customers globally can't afford $999 phones and don't even really care about smartphones anymore because they are boring commodities now.
Today, it's clear that the hunger and excitement for new iPhones with splashy new features are as high as they ever were all around the world-- even in China, the home of Huawei and OnePlus. Of course, the new reality of the economic turmoil that will be caused by this pandemic, which will hit some groups of people and segments of the industry far more harshly than others, will have a massive impact on what many people can afford to spend in the near term.
The NYT begs you to believe that "Apple's new phone doesn't matter"
Despite the phenomenal success of iPhone 11, we are still seeing absolutely absurd word salad served up by outlets like the
New York Times
telling us the opposite of observable reality with the confidence of a press conference without any experts. Yesterday, that paper
published
its latest assault on reality by Shira Ovide claiming that "smartphones have been a tough sell for some time," that "many people don't want to pay the going rate of $1,000 or more" and claiming that "we've lost our zing" for buying smartphones. Oh the humanity!
In response to Ovide's piece published yesterday under the headline "Why Apple's new phone doesn't matter," noted analyst Neil Cybart stated on Twitter, "as long as people feel the need to proclaim smartphones aren't 'exciting' (such a subjective term), that probably is a good sign that many people do view them as 'exciting.' How many 'refrigerators aren't exciting anymore' articles have you come across lately?"
As long as people feel the need to proclaim smartphones aren't "exciting" (such a subjective term), that probably is a good sign that many people do view them as "exciting."

How many "refrigerators aren't exciting anymore" articles have you come across lately?
Ovide attempted to shore up the piece by adding a recommendation to reread the disparaging iPhone 11 review written by her colleague Brian X. Chen in the fall of 2019.
"You should definitely upgrade if your current device is at least five years old," Chen confidently wrote last fall at the launch of iPhone 11, before adding the translucent understatement of the year that "the iPhone 11 models are all a significant step up from those introduced in 2014." He then concluded that it didn't make sense to upgrade a four-year-old iPhone.
Chen's advice against upgrading your smartphone
more than twice in a decade
wasn't made as part of a post-corona survival guide for individuals economically devastated by the pandemic. It was issued at the peak of an economic expansion that had been in progress in the U.S. since June 2009. It was merely Chen's latest stab in his blogging career centered around desperately hating on Apple ever since iPhone first shipped.
After all, it was Chen who, writing for
Wired
in 2009, invented the idea that
Japan "hated" iPhones
because they were not technically impressive enough.
Chen and Ovide are wrong about smartphones, at least in the high-end market segment where Apple has been selling its latest $999-and-up models to tens of millions of buyers who regularly upgrade without any "tough sell." Apple has an installed base of around a billion iPhones and it has been consistently selling around a quarter-billion new iPhones each year at an average selling price close to $800.
There is no indication that Apple "can't sell" high-end models anymore; quite the contrary. Apple is selling all those new iPhones despite a parallel thriving market for second-hand iPhones.
The only real "tough sell" occurring in premium-priced smartphones is happening at Samsung and Huawei, which are struggling to sell their premium models (usually defined as being priced above $400 in Android circles), while introducing extremely expensive showboats that have no chance at finding a substantial market -- $2,000 and up folding display prototypes.
By referring to "smartphones" in generalized sophistries and equating Apple's iPhone with $400 Androids, bloggers at positions like the
New York Times
are deceiving their readers and hiding the truth in a desperate bid to bend reality to their own personal outlook. Those strident efforts haven't been working across the last thirteen years of iPhones so they really should give up.
Audiences to whom iPhone SE actually matters
Apple's latest phone shares its name with the original iPhone SE that debuted back in 2016, but it's a wildly different product. That's because in 2016 Apple only sold two kinds of iPhones: its newest, larger models introduced with iPhone 6 and a previous, and in retrospect small, 4 inch version that ended with iPhone 5s.
Commentators at the time suggested that Apple was offering the original iPhone SE as a small phone for ladies and people with small hands, but that wasn't its real intent. Apple only began selling a smaller iPhone SE because that was the only substantial way to differentiate the new model from its flagship iPhone 6s without creating an entirely new form factor.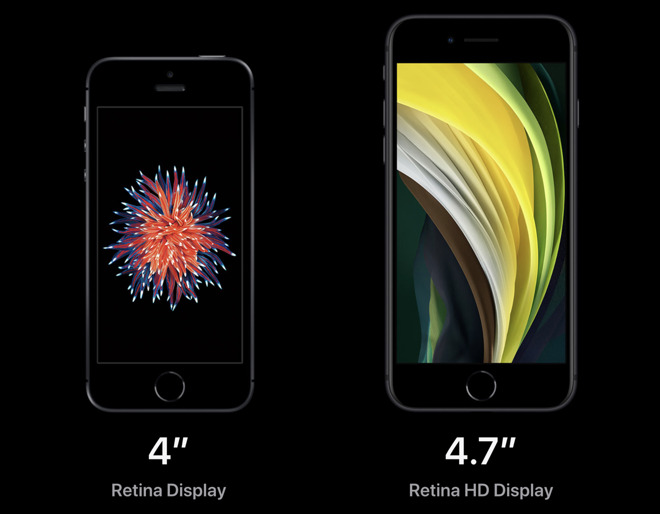 iPhone SE 2016 vs iPhone SE 2020
There may have been some users who did like its small size, but the primary appeal of the 2016 iPhone SE was its price; it gave Apple an iOS product to sell near typical Android pricing. Its size was actually a complication and burden for iOS developers, who were required to maintain their apps' compatibility with smaller, older iPhones that would otherwise be going away.
The misinterpretation that Apple was building a small iPhone "for small hands" continues in the speculation that maybe someday Apple will again launch an even smaller Steve Jobs-sized iPhone, or that maybe the company will even reduce its Face ID form factor to fit in a tiny, single-handed device someday. Spoiler: It won't
Neither of these things is going to occur because the trend is clearly moving toward larger smartphones. Samsung did
extensive work many years ago
to promote the idea of small phones "for ladies" with displays even smaller than iPhone 3G. At the time, Samsung comically referred to Apple's iPhone as being "monstrously large," in parallel with its efforts to also experiment with much larger phablets.
The results were conclusive and inarguable. Virtually everyone wanted larger phones, even if they said they didn't. There was no real demand for smaller smartphones, which went away with the allure of flip-phones for the same reason: in order to be functionally smart, a display had to be sufficiently large. Small stationary TV sets similarly shrank out of existence and never came back.
Once Apple released its next major shift in iPhone form factors with the Face ID-based iPhone X, the company finally had a new set of form factors it could use to differentiate the same basic brains in two clearly different models. So while the new iPhone SE does indeed put 6-month-old brains in a smaller, nearly two-year-old package just like last time, it's not about size but rather about product segmentation by features.
Apple can put its best A13 chip in its cheapest new iPhone SE without worrying about premium-tier erosion because its more expensive models still have very compelling exclusives like even better camera sensors, more lenses, advanced Night Mode shooting, a higher-end display and case with greater water resistance, fancy Dolby Atmos sound, Apple's emerging UltraWideBand chip, and of course all of the features associated with TrueDepth including Face ID, Animoji, and other face-anchored Augmented Reality.
At the same time, the new A13-based iPhone SE gets a series of advanced features including Apple's "third-generation Neural Engine" for AI processing, WiFi 6, and Gigabit LTE that make it very modern. Using an older chip would degrade its value without really saving significant component cost.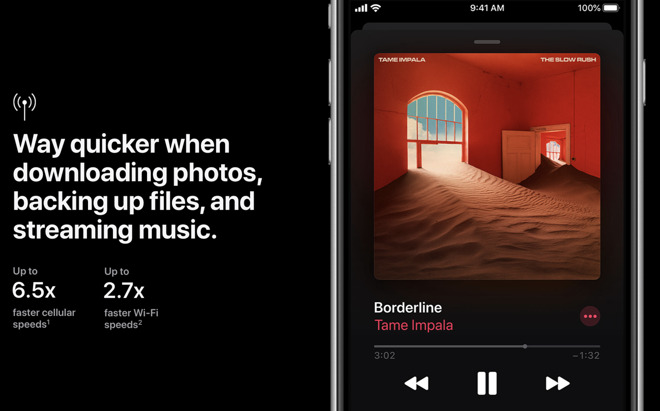 The new iPhone SE inherits the single-lens Portrait mode Apple created for iPhone XR, and it also delivers last year's new "advanced bokeh and Depth Control" features for adjusting the virtual aperture, as well as Portrait Lighting with the HighKey Mono effect and advanced HDR that are both lacking on the original iPhone X. It also gets eSIM support for hosting a secondary mobile line, another feature that iPhone X lacked, along with audio sharing with AirPods or Beats headphones.
Something else the new $399 iPhone SE gets from its fresh silicon that the once $999 iPhone X doesn't have is the pointer authentication Apple first introduced in its A12 Bionic to make it much harder to crack a device's security. Because a full jailbreak exploit exists for previous chips, Apple will never use A11 or earlier chips again in a production iPhone. Going with the very latest A13 in the new iPhone SE further provides the latest gains in processor efficiency that help to preserve battery life, as well as other elements of the latest tech that will make it easier for Apple to support it longer across future versions of iOS.
All of this adds up to a phone aimed at two primary audiences: price-sensitive buyers who want a basic but very good and reliable phone, who would likely otherwise go with an Android; and enterprise users buying large numbers of cost-effective devices for fleet use.
iPhone SE substituting for Android
The notion that Apple's hardware is just more expensive without merit is falling out of favor even among Android users. Around seven years ago, it was often accepted that Samsung's Galaxy III was just as good as an iPhone 5, but offered some really fresh and compelling features Apple lacked, ranging from 4G LTE data service to NFC Google Wallet support to a larger, fancy AMOLED screen, in addition to exciting-sounding initiatives Google was announcing for Android.
Today things are radically different. Samsung's premium edge in hardware has evaporated, while Apple has introduced a series of solid firsts from Touch ID to better silicon to easy to use camera features that deliver great photos and exceptional video. True Android fans don't even care about Samsung anymore, having moved on to like Pixel or OnePlus, both of which abandoned the cheap allure of Android to scale prices upward. What hasn't scaled up in parallel is the Android usable lifespan of software updates.
For users who don't care so much about smartphone platform rivalry or wild new consumer features like face detection cartoon avatars, iPhone SE delivers a modern, value-priced phone that buyers know will be supported for much longer than just a year or two. Apple has also highlighted the value proposition of iPhone SE by stating that customers can get the new phone "for $9.54 a month or $229 with trade-in from apple.com," although that assumes the user is trading in a nice phone in good condition. Buyers will, however, end up with a decent phone that can be traded in again later, an idea foreign to most basic Android users who expect to basically throw away their old phone.
The $399 price supports wireless charging and rapid 18watt Lightning charging, real IP67 water resistance, a much more powerful processor than typical low-end Androids provide, along with the best physical fingerprint sensor available anywhere. It is also expected to deliver very good battery life, making it an all-around strong competitor to generic Androids.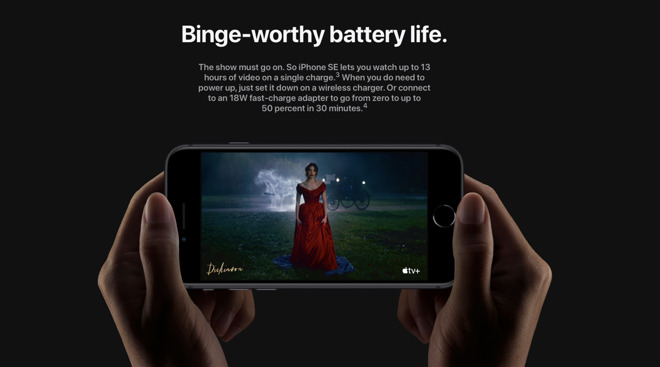 Since the introduction of iPhone X, Apple has focused its attention on its
vision for the future of smartphones
. Over the last three years, Apple has scaled down that initial $999 vision to deliver the more affordable iPhone XR and then this last year's base model iPhone 11 at $699. Those models have consistently remained Apple's top-selling iPhones, despite their relatively premium pricing that pundits keep wailing about in consternation. However, looking at estimates of product mix in the install base of iPhone users, it appears that there continues to be a sizable number of people still using an iPhone 6, 6s, 7, or 8.
They may prefer Touch ID, or simply be attracted to the more affordable price of earlier phones. For these users, an iPhone SE upgrade offers a welcome alternative to looking at options outside of iOS. While it's possible that Apple expects to recruit significant numbers of Android users to iOS with its new iPhone SE, it is also likely that Apple is introducing it to prevent defection and keep its remaining classic iPhone users on its platform. This also applies to users in developing countries, where Apple's price premium is greater and likely to get even more significant as the pandemic causes the U.S. dollar to strengthen, effectively raising the prices of Apple's products internationally in a way that doesn't benefit Apple at all.
The consumer group Apple is targeting with the new iPhone SE also includes parents who buy smartphones for their dependent children, and want something they can manage, can easily afford, and which still takes good photos and is capable of playing games without exposing their kids to malware and privacy issues. It may not be a major consideration, but Face ID seems to have the most difficulty in correctly recognizing the faces of younger children, especially as they rapidly grow and change. A very good Touch ID phone in a slightly narrower and shorter form factor is ideal for kids at the $399 price.
iPhone SE for enterprise
The new 2020 iPhone SE is also ideal for cost-effective enterprise deployment. Even though
Bloomberg
and the
Wall Street Journal
,
New York Times
, and
Nikkei
have been screaming for years that consumers certainly can't in any way possibly ever afford to cough up $999 for a new iPhone, individuals have made it clear that it's not a big deal to pay that premium for a personal device they use daily.
For consumers, the price of a premium handset is typically lower than the ongoing price of their mobile service, so all the tech blogger outrage over handset device pricing-- while ignoring the high fixed cost of paying for monthly service, something that is only going up with the rollout of even more pricey 5G service-- is quite clearly not related to cost but is more about virtue signaling and a populist intent of trying to say what these writers imagine the audiences of their outrage-blogging want to hear. That's why they can relentlessly cheerlead for 5G while disparaging iPhone prices, even though those two ideas are wildly contradictory in logic.
If these folks had any understanding of the world around them, they'd be noting instead that Apple's high device premiums for its fanciest iPhone are a problem in enterprise deployment. Unlike consumers who are shopping for themselves in an exercise in personal luxury, companies buying handsets for their rank and file employees or for use by temporary contractors are going to be far more sensitive to device cost, particularly because they're buying in bulk and seeing the clear difference in unit costs add up.
Additionally, enterprise deployments are likely to be using handsets that are either tied to a more cost-effective corporate data plan or largely used on their own internal WiFi networks, meaning that the device unit cost is likely going to be a greater proportion of the total cost of ownership.
For individuals, the ongoing price of owning a fancy iPhone is on the level of taking a date out to a movie once or twice each month. For the corporate enterprise, providing the fanciest iPhones is like renting out an entire theater complex to take the whole company to a film every other week. Corporations are the real entities that don't care so much about the new consumer-centric features Apple can invent, and they actually are price-conscious despite their access to capital being a lot higher than the typical consumer.
Enterprise deployments are also going to like that the new iPhone SE delivers modern silicon in a budget device. That results in higher device security compared to the outdated handset hardware they would get from buying lower-end Androids, and also translates to a longer supported device lifespan. Pairing an A13 with a 4.7 inch screen also means the new iPhone SE will be super fast and fully able to handle even significant custom corporate apps across an extended product lifespan. The only thing companies dislike more than spending money is wasting money.
The fact that the new iPhone SE uses Apple's standard Touch ID form factor is also a benefit to enterprise users because it doesn't require any training to deploy. Corporations were also a primary target market for iPhone 8 when it arrived, in large part because enterprise deployment managers were least likely to want to gamble on the uncertainty that Apple's new Face ID would work without any unanticipated issues related to reliability and user familiarity.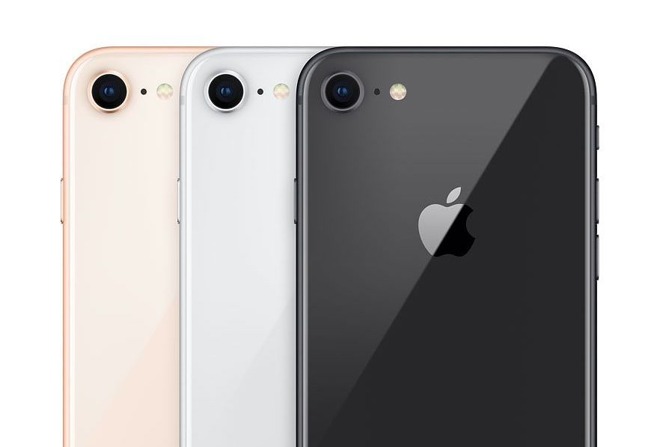 U.S. Census Bureau is deploying a half million iPhone 8 devices for the 2020 census
The new iPhone SE also delivers another plus for enterprise: it's not a small factor iPhone like the previous model, so it runs apps identically to iPhone 8. That means enterprise developers can limit their testing to modern iPhone form factors, something that mainstream developers will also appreciate.
Apple's understanding of what government and corporate enterprise users want and need in mobile devices is informed by years of high volumes of iOS device use by large institutions. Apple itself has large numbers of mobile-device employees in its own retail operations. In contrast, Android makers are largely building devices aimed primarily at price-sensitive consumers shopping largely for low pricing rather than really understanding value.
The super-low cost of new Android phones and tablets is often betrayed by their much shorter supported lifespan and subsequently lower resale values. Apple's iPhones and iPads are often a better deal amortized over time, and companies have been aware of this longer than many consumers because companies making purchases typically look at long term plans and TCO closer than consumers wooed by a large glossy screen with oversaturated colors offering a very low price tag.
The new iPhone SE isn't a reaction to the global recession or a new shift in pricing. It's Apple's basic new iPhone for the buyers outside its mainstream -- the users who don't demand the future and who don't really care to pay for its development. Around six months from now, Apple will refocus on its most demanding customers -- the majority of its users who are thirsty for innovation and who have no problem paying a premium for iPhone 12, regardless of the tired opinions of newspaper columnists insisting Apple's customers don't exist and that smartphones are the new refrigerator that nobody is excited about.