Review: Logitech Combo Touch is like the Magic Keyboard for iPad Air & 10.5-inch iPad Pro
Posted:
in iPad
edited January 21
AppleInsider tests out the new Logitech Combo Touch for iPad Air and iPad Pro. It is a combination case and keyboard that also includes an integrated trackpad for the first time -- all via the Smart Connector.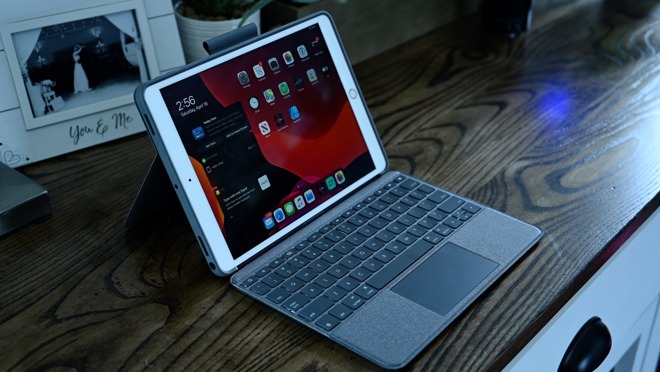 10.5-inch iPad Pro in the Logitech Combo Touch
Apple's
Magic Keyboard
. The gold standard for iPad Pro accessories that fully takes advantage of the
cursor support
that arrived as part of
iPadOS 13.4
.
The rub is though, it is exclusive to the
iPad Pro
and what's more, carries a steep price tag. Fortunately, Apple partnered with Logitech to cater to other markets and it has carried it out in a big way.
Enter the
Logitech Combo Touch
. This is a iteration on the Logitech
Slim Combo case
we reviewed in the past. Namely a shell case with a magnetic keyboard that affixes to the edge of an iPad and connects via the Smart Connector, but they've improved it in countless ways.
With this new model, the build quality is elevated and it has integrated that trackpad, mimicking Apple's own Magic Keyboard to some degree.
Logitech's Combo Touch shell case
This new case, as with the Slim Combo, is comprised of two parts. A removable keyboard and a shell. If you don't need the keyboard, don't use it and stick with the shell.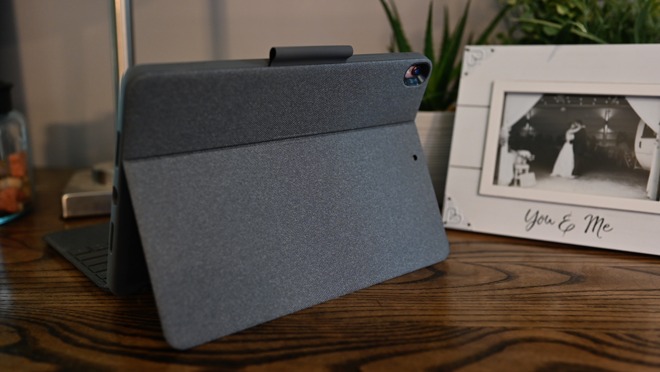 You can use the stand of the Combo Touch on its own without the keyboard
The Combo Touch feels great. The shell is made of a soft, rubberized plastic material that can quickly snap onto the iPad. It fits both the iPad Air 3rd-generation and the 10.5-inch iPad Pro. A version is also available for the iPad 7th-generation as well.
There is a clear camera cutout in the rather thick backing and a loop on the side fit for the Apple Pencil. Openings in the top and bottom make way for the speakers as well as the Lightning port and there is an additional opening for the rear microphone.
We mentioned the back of the shell is on the thicker side, and while that does add protection, its primary function is the integrated stand. The stand stays closed via magnets but opens up easily with a rigid hinge, and it can be opened to various angles and stay there to accommodate your work. When opened all the way, the iPad can be leaned back to be used as a sketch pad or for typing.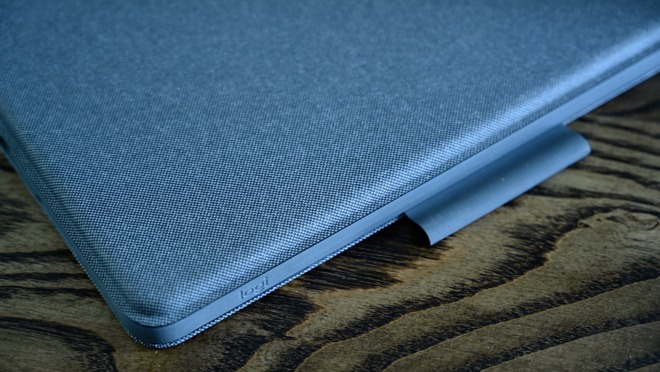 The material used is great
The exterior of the shell is a soft, heathered grey fabric that looks fantastic, provides good grip while being held, and is neutral enough to fit anyone's style. It can also look casual or professional depending on its environment.
The new keyboard on the Combo Touch
That same material is found on the front and the back of the keyboard. It is cut all around the keys providing a very seamless look and feel.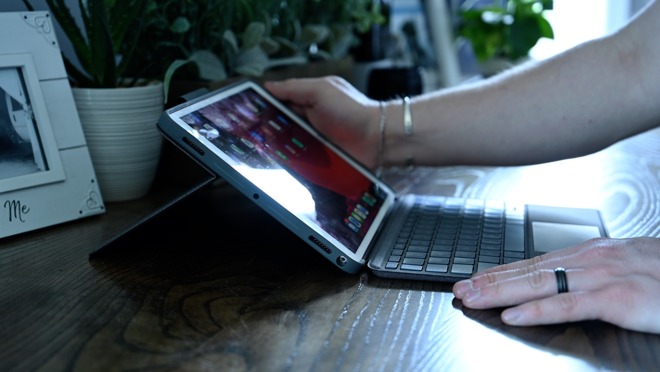 Adjusting the stand on the Combo Touch
Logitech uses the Smart Connector for the keyboard which is our preferred method of connecting. As a physical connection, there is little-to-no lag while using it compared to Bluetooth. It also means there is no need to charge the keyboard as power is drawn from the iPad itself. Just one more device that doesn't need to be charged.
Function keys on the Combo Touch keyboard
The keyboard has a good amount of key travel, roughly the same as Apple's Magic Keyboard or perhaps slightly less. Regardless, it feels good to type on and is tactile enough for us to keep the keys being pressed but not shallow enough to feel like typing on glass.
Like the Magic Keyboard, the keyboard is backlit which assists when working in low light. It can be controlled via function buttons within a dedicated row of function buttons. The function row includes a Home button, brightness controls, opening the onscreen keyboard, opening spotlight, keyboard backlight controls, media controls, volume controls, and a quick-lock button.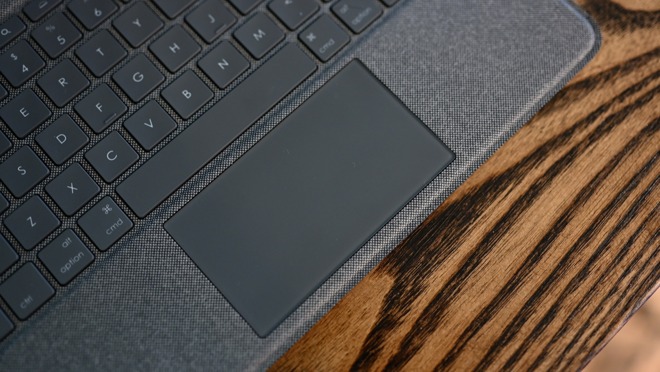 Large glass trackpad on the Combo Touch
Below the keyboard is what really sets this keyboard apart. That is the new trackpad. Trackpad and mouse functionality is new to iPadOS and full cursor support is even newer. Because the functionality is so new, there are almost no alternatives so far when it comes to keyboards with integrated trackpads.
The most notable alternative is the
Brydge Pro+
, but it is again just for iPad Pro. Brydge is also using Bluetooth which can have mild lag when using the cursor and doesn't feel as seamless as the Logitech model is.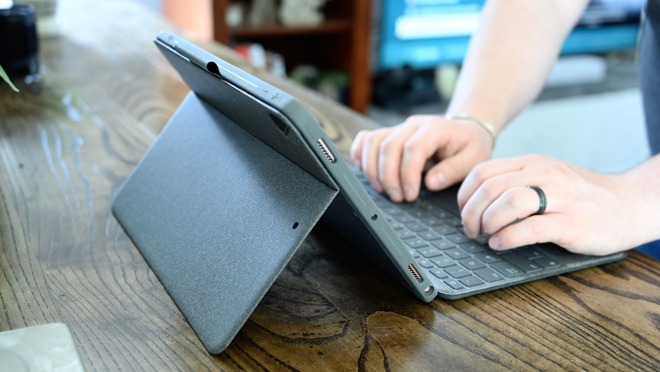 Essentially what it boils down to for 3rd-gen iPad Air and 10.5-inch iPad Pro users, the Logitech Combo Touch is your only real option.
The trackpad on the Combo Touch is nice and wide, providing ample tracking surface. It has a matte glass surface that feels comfortable to track on and can be depressed with a physical click. It does utilize a diving board design which means the far side is fixed and the rest can move -- like a diving board -- so you can't click the trackpad towards the top. Brydge had a similar drawback.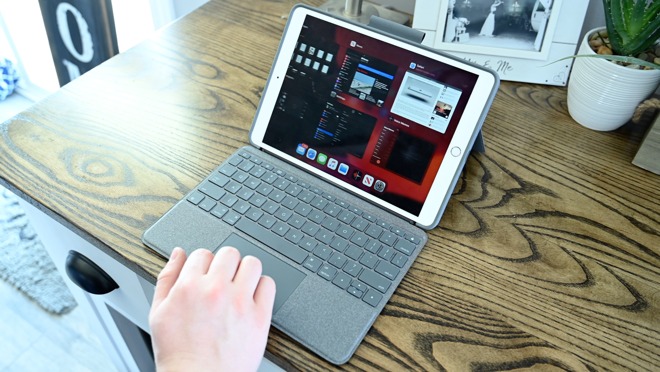 Logitech's Combo Touch supports multi-touch gestures
This trackpad supports multi-touch gestures, similar to Apple's own. Use two fingers to scroll, swipe back and forth with two fingers to go forward and back in apps or Safari, push forward to go home with multiple fingers, or push forward and hold with multiple fingers to open up app expose.
When connected for the first time, your iPad will prompt you to download the accompanying app. It isn't necessary but it does allow you to install firmware updates and adjust the delay on the backlit keyboard.
The most common feedback we heard preceding this review was how thick it was all going to be.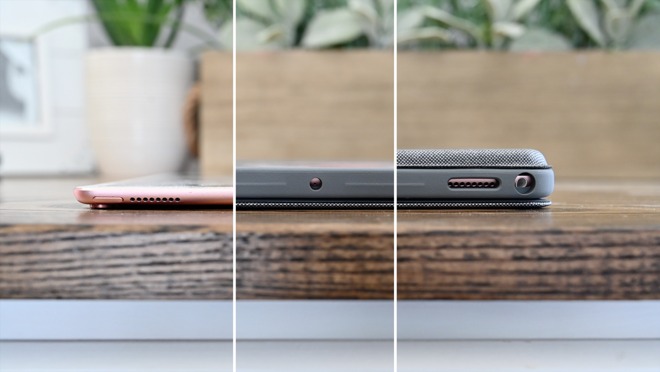 iPad Pro without any case, with the case, and with the case and keyboard attached
With the case and the keyboard attached it does get rather thick, but not so much to be limiting. Plus, the keyboard can always be removed when not in use making it far easier to carrying around.
Should you buy the Logitech Combo Touch?
If you want the best typing and productivity experience around on your iPad, then absolutely invest in the Combo Touch.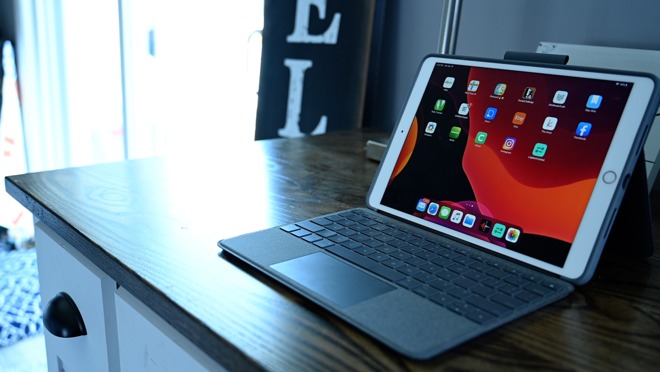 iPad Pro in Logitech's Combo Touch
You need to have a supported iPad, and if you do, you won't be disappointed. It has everything you need between a light protective case, a built-in stand, an integrated glass trackpad, backlit keyboard, and an Apple Pencil holder.
Pros
Keyboard is detachable


Keyboard has variable backlight


Keyboard and trackpad connect via Smart Connector and don't need charged


Glass trackpad is smooth and responsive


Best and only option for 3rd-gen iPad Air and iPad Pro 10.5-inch


Heathered fabric looks and feels great


Case is protective and has integrated stand


Loop for Apple Pencil


App for additional settings and firmware updates


Full support for multitouch gestures
Cons
While cheaper than Magic Keyboard, still pricey


Case can be bulky if you want minimalism
Rating: 4.5 out of 5
Where to buy
Logitech's new Combo Touch keyboard for Apple's iPad Air 3 and 10.5-inch iPad Pro is available for purchase now
at Apple for $149.95
as well as the version for th 7th-gen iPad. Logitech itself states the Combo Touch is coming soon on
its direct website
.
Deals on compatible iPads can be found in the
AppleInsider
iPad Price Guide
.