Apple Store break-ins down & a pop star's MacBook mugging on the Apple Crime Blotter
Posted:
in iPhone
edited April 2020
Phishing operations target Apple customers, an Apple Watch found in a stolen car, and other news from the Apple crime blotter.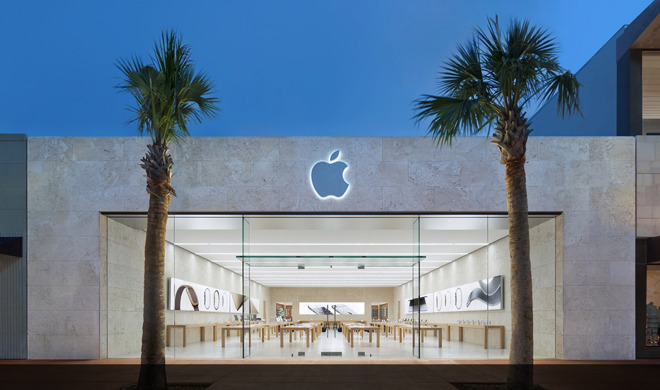 The Lincoln Road Apple Store in Miami Beach
The latest in an occasional
AppleInsider
feature, looking at the world of Apple-related crime:
No Apple Store break-ins reported during first month of closures
With the
coronavirus
epidemic leading to a shutdown of much of the U.S. economy, all Apple Stores in North America have been closed since March 13. Since the closures, there has not been a single news report of a break-in or robbery at any of those closed Apple Store locations.
There was an
armed robbery reported
in early March behind the Lincoln Road Apple Store in Miami Beach, per
WSVN
, but that took place a couple of days before the shutdown and was not a theft at the store itself.
Apple users targeted by phishing scams
A new report from
IBM X-Force Incident Response and Intelligence Services
has uncovered a "large scale operation" of more than 600 phishing domains, aimed at robbing Apple users' iCloud credentials.
The scam works by attackers stealing iPhones, and then sending bogus emails to their owners. If they take the bait, the thieves can then unlock the phones. Some thieves have specifically sought to target iPhones belonging to high-level corporate executives, often while they are drinking at bars.
Meanwhile, a quarterly study of
phishing behavior
found that Apple has risen to the top spot among imitated brands. According to Check Point Research, Apple came in first for the first quarter of 2020, after it was seventh in the fourth quarter of 2019.
The big difference, according to the study, is that criminals have exploited "online buzz" about a new Apple Watch to fool users. Netflix was second, followed by PayPal and eBay.
Lev Parnas associate sent lawyer his iPhone from oversees
A co-defendant of Trump impeachment figure Lev Parnas found a clever way to get around having authorities check his devices at the border- he sent them to his lawyer beforehand. According to
reporting
by national security journalist Marcy Wheeler, David Correia, who was brought up on drug charges in the same indictment as Parnas, sent several items -- an iPhone, a Microsoft Surface Pro, a hard drive, and two notebooks -- to his attorney before he returned to the U.S. to answer the charges. The government, however, ultimately seized the package.
Correia claims that he sent the items "for the purpose of seeking legal advice," and the courts are examining the question of whether some or all of the items are subject to attorney-client privilege.
Man wanted for pawn shop maneuver involving Apple Watch
A man is wanted in Florida after police say he entered a pawn shop in Fort Lauderdale, tried unsuccessfully to negotiate the sale of an Apple Watch, then
snuck a gun
from the display case.
The Miami Herald
reports the man then went to a second pawn shop, where he presented false identification and sold the Apple Watch. The gun incident was caught on security video.
Apple Watch found in councilman's stolen car
A South Carolina city councilman's car was stolen, part of a spate of recent car break-ins in the Gaffney area, and an Apple Watch was found in the car once the accused thieves
abandoned it
. According to
The Gaffney Ledger
, police chased the stolen 2008 Chrysler Sebring, after which the thieves drove off the road into a tree.
The thieves ran off, leaving behind the Apple Watch, and a container with "a substance believed to be marijuana."
Rock singer hospitalized after mugging that took his prized MacBook
Zach Lount, frontman of the English alternative rock group King No-One, was hospitalized after he was
hit by a crowbar
by muggers who stole his MacBook.
Manchester Evening News
writes Lount, who was "left unconscious in a pool of blood," has asked for the return of the computer, which contains more than 2,000 songs that he has written.
Thefts of iPhones from delivery boxes investigated in Missouri
Thefts of items from Amazon and UPS boxes on residents' porches are clearly emerging as a frequent crime in the social distancing era. Reported by
My Leader Paper
, police in Eureka, Missouri, are examining a
series of thefts
of iPhone 11 devices from UPS delivery boxes. As of the end of March, police had no suspects.
Kits, equipment and iPhones being stolen from ambulances in U.K.
Ambulance drivers in the Midlands have been complaining that life-saving kits, as well as protective equipment and such
personal items as iPhones
, have been stolen from ambulances, while paramedics are out on calls, informs
The Coventry Telegraph
. In one incident, "an electronic patient record and a drug pouch and mini jet' used to administer drugs" were stolen from a single ambulance.
Man robbed 76-year-old woman, used money to buy iPhones
Police in Surrey, in the U.K., are looking for a man who they say robbed a
76-year-old woman
in a supermarket toilet, before going to buy iPhones at a store. Authorities say the man, who was caught on security cameras, stole the woman's wallet, made two cash machine withdrawals, and then used the woman's credit cards to buy two iPhones.
He later headed to another store and attempted another purchase.
Have an Apple crime story for us? Email
AppleInsider
and tell us about it.