Review: Marshall's Tufton speaker brings rock 'n roll to the outdoors
Posted:
in iPhone
edited January 2021
The Marshall Tufton speaker is a powerful, imposing rock-focused speaker that has great sound while maintaining the rugged style of the historic amp-maker.
Marshall Tufton wireless speaker
In Marshall's lineup, there is a variety of portable and stationary speakers. The portable tends to be smaller than those that must be perpetually plugged into the wall.
Tufton takes the portable line to the next level with a larger size, 360-degree sound, and a massive battery.
Design
Marshall's speakers have a clear and established design and the Tufton refuses to deviate. The front is consumed by a massive woven metal grille with the Marshall wordmark in script emblazoned in the center.
The outside of the speaker is a tough, rubbery material that Marshall uses on its larger amps known as Tolex. There are also reinforced corners which add to its drop protection. Very akin to all of its other speakers we've reviewed such as the
Stanmore II
or its
multi-room Acton and Stanmore
.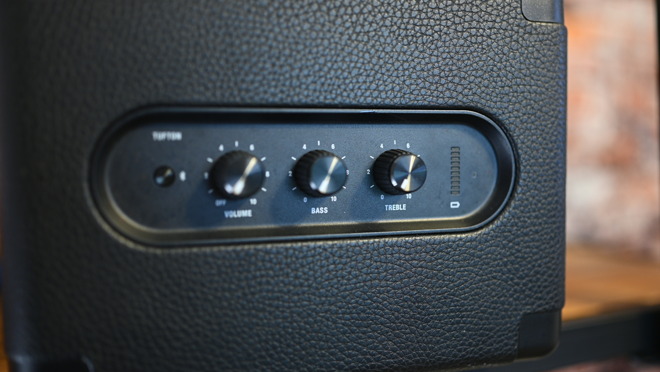 Three physical knobs are used to control volume, treble, and bass
A trio of physical knobs sit atop, allowing for more granular control of the volume, bass, and treble. The knobs feel great and have just the right amount of tension as you rotate them.
Adjacent to the knobs is a bar of LED lights representing the battery life. Instead of just four as we usually see, there are ten increments for much more specific feedback on the battery percentage remaining.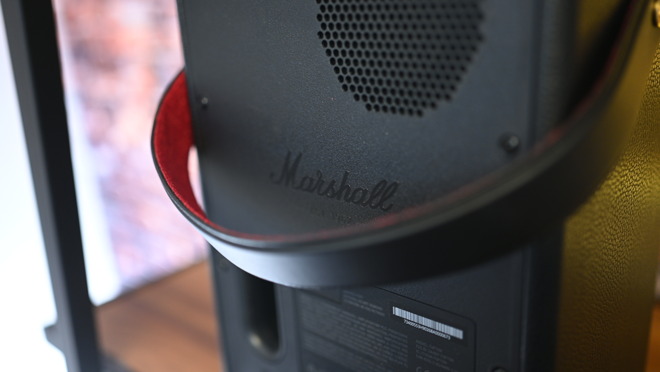 A velvet-lined strap is atop to array the nearly 11 pound speaker
To add to the durability, the Tufton is rated IPX2, which is a low level of water resistance. This means the speaker should be able to cope with drops of water while moving around for up to ten minutes. You can't drop it in a pool, but if you get caught in the rain you should be just fine.
Sound quality
For sound quality, we turn to our reliable Apple Music testing playlist, though we did supplement it with a bit more rock. Due to the nature of this particular speaker.
Tufton's sound is accomplished via a four-way Class D amp. That encompasses a 40-watt 5.25-inch woofer, dual 15-watt 2-inch mids, and a 10W .63-inch tweeter.
The tweeter and woofer aren't focused while the dual mids are oriented one towards the front and the other towards the back. This helps drive that 360-degree sound many users look for in an outdoor speaker.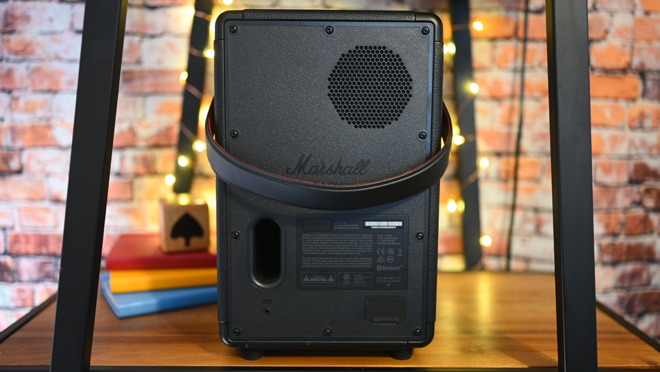 The mid-range sound also comes out the back and it is also ported for better bass response
Unfortunately, splitting the mids between the front and back and not having dual tweeters, the stereo separation is fairly minimal and unless you are bouncing the rear sound it isn't as pronounced.
The sound you do get is powerful, bass-strong, and clear. At high volumes -- of which is very high -- there is minimal distortion and makes this a great speaker for a party.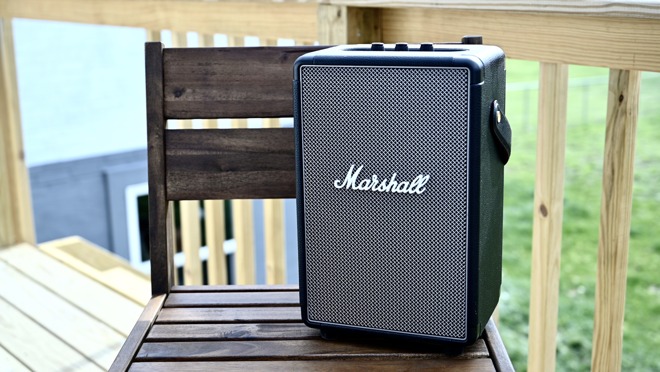 Marshall Tufton is a great speaker for the outdoors
Marshall is known for quite an iconic sound, one we've noticed it in all other Marshall speakers we've tested. It causes the speaker to do best with rock music or anything with strong guitars and lyrics. It is almost a raw, slightly gritty sound that is distinct from most speakers.
Versus Sonos Move
Few really good portable Bluetooth speakers can put out ample volume while maintaining battery life, style, and audio quality. Our previous champion of this realm was the
Sonos Move
.
After comparing it to the Marshall Tufton, Sonos gets to keep its crown for another day. At least for most people.
Acoustically, Sonos Move is a bit more balanced than the Tufton, representing a larger variety of genres with even appeal whereas the Marshall clearly shines brightest with rock and highly instrumental mixes.
For audio quality -- due to our preference of classic rock -- we prefer the Marshall and it does increase to a higher total volume. Your preference may differ.
Sonos also has the benefit of working over Wi-Fi while on battery power and
AirPlay 2
support.
Should you buy the Marshall Tufton?
We very much like the Marshall Tufton. It is far more powerful than Marshall's other battery-powered speakers. It has a presence in a room, pumps out room-filling (or yard-filling) audio that keeps it together even at those higher volumes.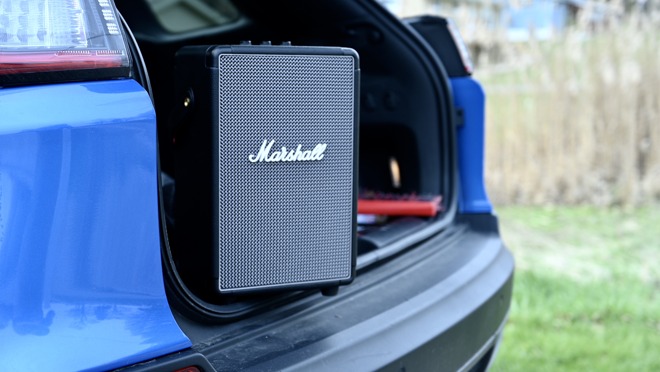 Take the Marshall Tufton on the road
It has solid battery life, in our testing going a bit over 20 hours. When in a hurry, only a 20-minute charge will give you about four hours of listening time.
When it comes to deciding on whether or not to pick up the Tufton, you know to know what you're paying for. The price tag isn't cheap hitting $399 at full MSRP as you're paying for the style, the brand (as well as its history), and the iconic Marshall sound. Those are things that you simply can't get with other speakers.
If you like listening to rock and want a speaker that looks and sounds the part,
and
you want one that is as loud as possible, then Marshall is here for you.
Pros
Stylish and iconic Marshall look


Well built with rugged design and water resistance


Great, loud audio with minimal distortion


Physical controls to tune audio


360-degree sound


Bluetooth 5


Good battery life
Cons
No mic for phone calls


Poor stereo separation


No AirPlay


Lacking mids
Rating: 3.5 out of 5
Where to buy the Marshall Tufton Bluetooth speaker
Retailing for $399, the Marshall Tufton speaker is available from
B&H Photo
and
Amazon
with free shipping.