Apple dominating India's premium smartphone market
Apple's attempts to grow market share in India is continuing to bear fruit, with iPhones seeing 79% year-on-year growth in the first quarter, as well as being the leading brand in the ultra-premium smartphone segment.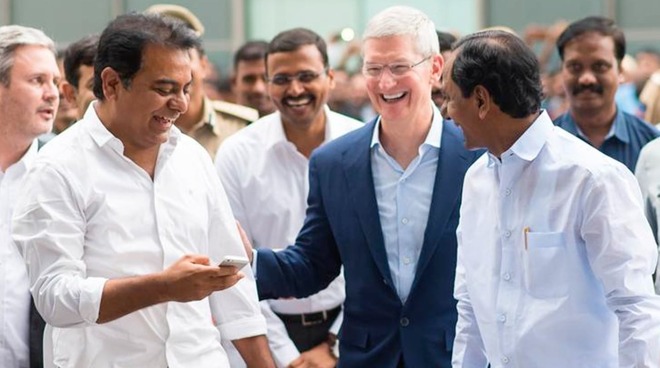 Apple CEO Tim Cook on a visit to India in 2016
India is an important emerging market for Apple, with the iPhone producer making
considerable efforts
to make headway in a market dominated by cheaper rivals. In a new report analyzing the market, Apple's work is seeing results, but it still has a considerable way to go to become one of the most-used mobile devices in the country.
According to
data
from Counterpoint Research, the smartphone market in India grew just 4% year-on-year in the first quarter to just over 31 million units. Overall shipments in the country grew annually in January and February from a combination of device launches and aggressive promotions, but a 19% decline was observed in March due to the
coronavirus
pandemic.
It is thought the slowdown will continue for a while longer, as the Indian government put the country into lockdown from the last week in March, with an expected lifting of some restrictions on May 3. "Any signs of recovery will likely only start from the third quarter onwards," Counterpoint suggests, prompting an estimate that overall smartphone shipments "will decline by 10% for the full calendar year."
For Apple, despite the industry as a whole suffering at the hands of COVID-19, it has managed to see some improvement in India during the quarter. Counterpoint's figures suggest Apple was the third-fastest growing brand in the period with 79% growth, beaten by realme with 119% and OPPO at 83%.
Strong shipments were observed for the
iPhone 11
, with multiple discounts on Flipkart, Amazon, and other areas likely to have driven sales.
One area Apple is dominating within is the "ultra-premium segment," deemed to be valued at 45,000 rupees ($592) or more. Figures suggest Apple was the leading brand, with a market share of 55%.
Apple's interest in India has led to the company trying to open its first regional Apple Store
in Mumbai
sometime in 2021, while simultaneously
supplying the market
with iPhones produced within the country.