'Parks and Recreation' reunion special shot on iPhone
Posted:
in iPhone
edited April 2020
Popular NBC sitcom "Parks and Recreation," which last aired in 2015, is set to broadcast a special reunion episode this week to raise funds in aid of coronavirus response efforts, with the half-hour show filmed entirely on iPhone.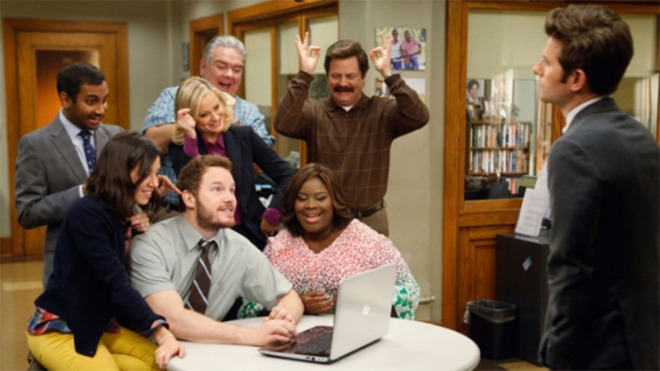 The "Parks and Recreation" cast returns Thursday for a reunion special that was shot on iPhone. | Source: NBC
As can be expected, coordinating the scripted event while much of the U.S. is under strict quarantine orders was "
very difficult
," "Parks and Recreation" co-creator Mike Schur told
Variety
.
First Schur contacted a handful of writers from the show, who wrote the script in less than three days, then the team sent a "little rig with a tripod," iPhone, light and microphones to cast members. Directors and executive producers Morgan Sackett and Dean Holland, along with script supervisor Valeria Collins, helped develop the episode.
Schur and the ad-hoc production group directed and helped actors with camera framing and adjustments over Zoom. "The Good Place" graphics and effects team was also enlisted "to make it not look like everyone was just sitting alone in their houses staring at a computer," Schur said.
The episode was shot in four days.
While iPhone helped make the reunion episode a reality, Schur does not believe the process represents a shift in how television is made.
"Is there anything about this that points the way forward for TV production? And the answer is a resounding no," Schur said. "For me, this is not the way TV is be supposed to be made. It required an incredible amount of basically goodwill volunteer work, or guild minimum, union minimum volunteer work from from sound designers and editors and supervisors and all sorts of people really just doing it, because it's a fundraiser, because it was fun to get the cast back together. But, you know, TV is a team sport. From the very beginning to the very end, it's about groups of people functioning in holistic ways with each other, and collaborating and being in the same room at the same time. And, you know, I don't think there's any way that this is a sustainable method for making television."
The special stars many of the show's original cast including Amy Poehler , Rashida Jones, Aziz Ansari, Nick Offerman, Aubrey Plaza, Chris Pratt, Adam Scott, Rob Lowe, Jim O'Heir, and Retta. Guest stars will also make appearances.
Schur said he "didn't think that Parks and Rec' was ever going to reunite," but the ongoing
coronavirus
pandemic presented a "compelling reason" to bring the cast back together. Proceeds from the special will go toward Feeding America's COVID-19 Response Fund.
NBC will air the "Parks and Recreation" special on Thursday.
A few other productions are using iPhone to film segments during the coronavirus lockdown, including
American Idol
and late-night talk show "
Conan
".