Don't count on reports of a delayed 'iPhone 12'
Posted:
in iPhone
edited December 2020
Parallel reports have all recently claimed that Apple has decided to "delay the mass production" of its upcoming "iPhone 12", but these reports don't offer any meaningful evidence that this could result in a materially late launch. Here's a look at why.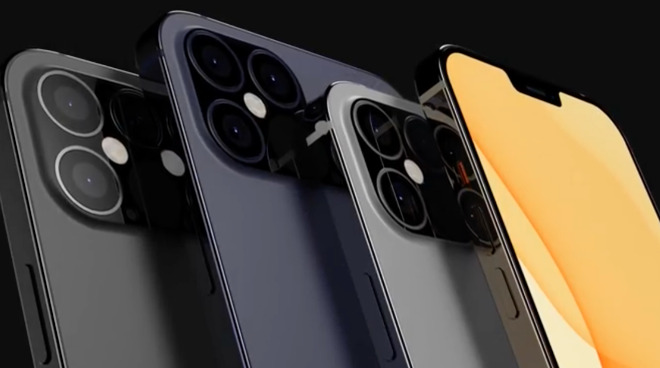 "iPhone 12" renders from a combination of leaked CAD designs and allegedly leaked information
Apple's plans for 2020 have certainly run into a perfect storm of challenges. The COVID-19 pandemic is introducing complications into the planning and production of new hardware and the
complex component supply chain
that feeds its production lines, as well as stoking a challenging global economic situation that will have a significant negative impact on everyone's sales globally.
However, these alarmist reports confidently claiming inside knowledge of Apple "delaying the mass production" of
new iPhones
have cautiously limited their remarks to a supposed "ramp-up" period where phones are prepared for launch, reportedly starting in July. The idea that the beginning of the "mass production ramp" of "
iPhone 12
" could be delayed by weeks is hardly material, even if it could be established to be true.
Apple can accelerate its subsequent pre-launch production to deliver an adequate supply to make up for a slower than usual start. In previous years, Apple has frequently boosted or shifted around its production plans in response to greater than anticipated demand for specific models. Increasing or decreasing production is an art Apple has proven to be extremely proficient at, even under challenging circumstances involving prior economic downturns or
supply chain crises
.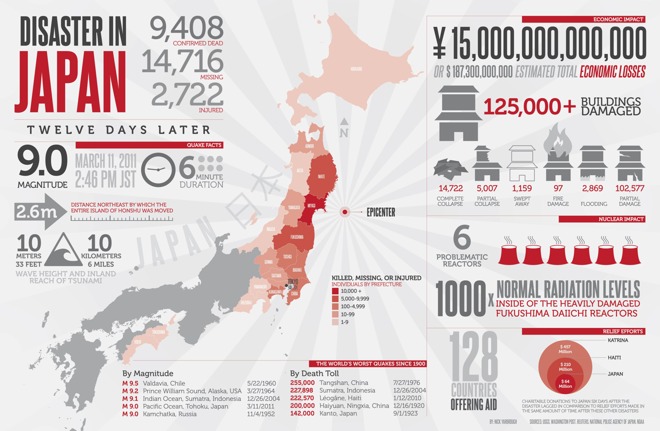 Apple launched iPad 2 despite the supply chain devastation that hit Japan in 2011. Source: BHPEnglish
Apple's executives have commonly noted this in the company's quarterly conference calls, specifically highlighting greater than expected demand for a particular product, or a specific model in a range of devices. There is no indication that Apple's assembly plant partners will be unable to operate at normal production volumes in the second half of this year.
Further, the pressure to build up an adequate launch supply before "iPhone 12" goes on sale is also reduced this year simply because demand is likely to be weaker than usual. Rather than racing out "iPhone 12" in a desperate bid to catch up with 5G Android handsets as these same sources had been predicting, this year's smartphone sales have already slowed significantly, and the financial impacts to potential buyers around the world will almost certainly repress peak demand.
Rather than resulting in a delayed launch that might threaten Apple to miss the holiday season entirely as some analysts have floated as a "worst-case scenario," it appears that Apple is comfortably positioned to launch "iPhone 12" as planned. Apple has done this before with previous launches and handling of previous supply chain disasters, and it can manage it because it has the resources to arrange for priority access to testing, production, and shipping services.
The same can't be said of manufacturers of lower-tier phones that were barely making a profit while the economy was thriving, and demand was reaching all-time highs. Will Samsung and Huawei continue to focus their resources on building whimsical folding prototypes that cost thousands of dollars and sell to only a tiny audience of users? Compare that to Apple, which has been selling tremendous numbers of its highest-end iPhones every year, even during cycles of economic downturn.
The recession in 2008 and its "global macroeconomic headwinds" caused many pundits to worry about Apple's prospects, given that it was just beginning to sell its new iPhone at a price significantly higher than other competing handsets that sold in large numbers. However, it wasn't Apple that was hit hardest by that recession. It was the manufacturers of lower-priced commodity products, who experienced a drop in their sales volumes that crushed their thin margins of profitability.
Similarly, the devastating economic impact of so many workers not being able to work will more severely impact budget phone makers, because economic problems are not going to be fairly spread out. As unfortunate and unfair as it is, the hardest hit will be the poor and those already struggling.
The reason why Android has a greater unit market share is not solely a result of buyer preference, it's because a lot of people can't afford an iPhone. The vast majority of Android handsets sell for very little, at an average of less than $300.
Apple is now offering a very high-quality budget phone in the new
iPhone SE
, priced at $399. This will be attractive to users of older iPhones and some Android users who are looking for a good phone at a good price.
The iPhone SE is significantly more than most Androids. The brunt of the financial impact will hit other phone makers harder than Apple because there is not one big market for phones. There are low-end markets, middle-tier markets, and premium markets, with buyers in each behaving differently and not jumping up and down the economic scale and not rapidly shifting between platforms.
How can anyone afford a $999 iPhone?
Over the last holiday season, Apple's product mix of phones was nearly evenly split into thirds between the middle-tier
iPhone 11
; the two models of
iPhone 11 Pro
; and all of the other iPhones it continues to sell, including iPhone XR and earlier models with a Home button. This wasn't an anomaly; Apple's sales have consistently tilted toward the high end, resulting in the average selling price of iPhones to reach nearly $800 in recent years.
Apple only has a toe in the middle-tier market. Its sales of iPhone that cost around $400 are a very small slice of its overall sales. This runs completely contrary to the media narrative that insists that nobody cares about smartphones anymore, that they are all a commodity, and that buyers all behave alike in wanting to pay as little as possible for the device they use more often than any other possession. That's not true at all.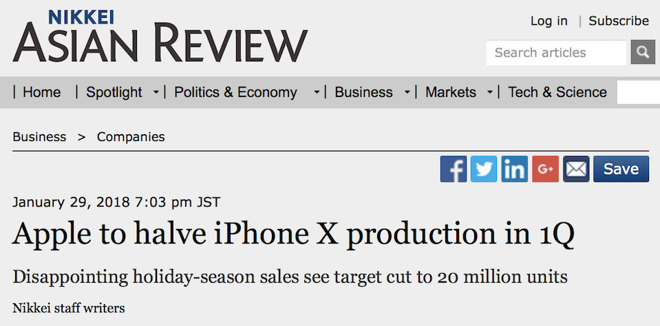 iPhone X sales were not dissapointing as Nikkei has predicted
In fact, the same media sites pushing the idea that iPhones "might be delayed" this year-- attributed only to "people familiar with Apple's plans"-- were also using that same kind of anonymous sourcing as the basis for earlier claiming that Apple had been "slashing its production" in previous years in response to "disappointing" demand for its new iPhones. That was false, as well.
But how was it that ordinary people were buying hundreds of millions of iPhones at premium prices? In part, some of Apple's audience of buyers are people who don't really care about pricing, and for whom $999 is easy to afford. Samsung and Huawei also have some less price-conscious buyers, albeit far fewer in number.
But the bigger answer to how Apple has been selling so many expensive iPhones is that a $999 purchase that lasts two years is pretty easy to justify at $40 per month. It is even less if you consider that it will still have significant trade-in value after those two years are up. Most people are paying more than that for their mobile service.
The personal connection people have with the mobile device they carry with them most often is tied directly to how much value it brings them in terms of being able to access information, find directions, look up resources, find jobs, meet people, play games and so much more. That makes it far easier to justify the cost of regularly upgrading an iPhone. Apple's sales of expensive iPhones are far higher than its sales of similarly priced Macs or of iPads and Apple Watches that start off at much lower prices.
Despite it sounding so "reasonable," the media-stoked outrage over premium iPhone pricing is really just nonsense. Apple isn't forcing buyers to pay for increasingly expensive iPhones. In contrast, low priced iPhones have never been cheaper or of better quality. Apple has introduced new higher price tiers with features that have attracted buyers; its customers have voted with their dollars for fancier iPhones, signaling that they want to spend more if the quality is there.
The same hasn't been happening for Android makers. In fact, the trend among Androids has been a retreat to middle-tier phones around $300. Android makers have also focused on high volume but very low-value sales to emerging countries, where many users can barely afford to pay the equivalent of $99 for a phone. These markets are likely to be hit very hard by economic distress, slowing the replacement cycle and delaying purchases.
Apple's installed base won't be the hardest hit by economic turmoil
As the impact of economic turmoil caused by the current pandemic begins to unfold, it sure appears that that hardest hit will be those already struggling to justify any new purchase of any kind, rather than those who can finance a new purchase and easily afford to have the nicest phone they want while their other spending plans on vacations, restaurants, sporting events, concerts, and other discretionary spending on entertainment is curtailed by quarantines and lockdowns.
Apple's segment of the market that has been paying an average of nearly $800 for new iPhones, including almost a third of its buyers who sprung for a $999 and up iPhone 11 Pro over the last quarter, are the least likely to be materially affected by a temporary economic downturn occurring this spring.
That suggests a continuation of trends we've already seen that show that people overall are spending much less on many things while continuing to spend about the same -- or more -- on consumer electronics and related purchases. Being stuck at home has reinforced the value of having access to remote learning, video communications, entertainment, and social interaction that many people get from their smartphone or iPad.
Apple has also been perfectly positioned to benefit from increased App Store sales of games and productivity apps as users are forced to work at home and entertain themselves in isolation. The timing of all of Apple's new Services offerings seems brilliant in retrospect, with Apple Card, TV+, News+, and Apple Arcade all reaching solid completion just prior to the world locking down with pandemic restrictions.
So while many are expecting and perhaps even hoping that the COVID-19 pandemic will be ruinous to Apple, it's useful to recall how well Apple performed in 2008, and in particular how well it performed in comparison to its peers. Apple would rather have the global economy humming along without these problems, but it sure appears to be far better positioned than any other consumer tech company.
Further, unlike companies that were barely making money before the pandemic struck and are now unable to sell or offer much of anything, Apple has an installed base of nearly a billion users who are already signed up for a variety of ongoing subscriptions. And while many of its retail stores are closed, it's still easy to order new hardware. Apple didn't even have much difficulty in attracting attention to its launch of a series of new products over the last few weeks of the pandemic. Other companies can't claim that.
Shifting optics of "iPhone 12" launch
Over the last several holiday seasons, the same sources that are now trying to suggest that "iPhone 12" might be delayed were working to suggest that cheaper phones from Huawei and others were causing buyers to shift to Android. They have even promoted the idea that buyers in China were actively boycotting iPhones out of patriotism. But these supposed trends didn't materialize as predicted.
Instead, Apple's statements on the matter were correct: buyers were delaying their purchases because of economic uncertainty and unfavorable currency exchange rates. When Apple and its carrier and retail partners introduced more favorable pricing with lower taxes and new options for financing, Apple's sales in China rebounded, even despite a big push by Huawei to ship more phones into the domestic Chinese market to make up for slower sales elsewhere.
Economic uncertainty and the increasingly strong dollar will continue to work against Apple and make its business challenging. But the pandemic also offers a reprieve from the pressure to constantly sell more iPhones than the previous year. Simply performing as well as possible will be more acceptable this year given the circumstances. Additionally, it will set up Apple with an even more favorable comparison next year, once the world begins to get a better handle on how to cope with pandemics, even if the novel
coronavirus
continues to come back seasonally.
So rather than being seen as a do-or-die "supercycle" that is entirely dependent on 5G or Apple's LiDAR or some other feature, this year's launch of "iPhone 12" has the relaxed pressure to simply be a success for being held on time.
In parallel, the recent launch of iPhone SE means that Apple will be attracting increased numbers of upgrades from older phones and from Android users, an impact that might dilute its average selling price, but will likely increase its unit volumes. Because so many market groups focus on unit volumes over the more important revenues and size of the installed base, this could further blunt negativity directed at Apple's lower sales.
In reducing the expectations of Apple's "iPhone 12" launch, it will be incrementally easier for Apple to bring its new 5G phone to market and begin rolling out an installed base of devices using A14 chips and LiDAR sensors capable of enhancing augmented reality features. Any deferred purchases will very likely shift to the
next iPhone
cycle, rather than shifting to Android, just as we saw over the last two years of economic uncertainty focused within China.
Apple's "iPhone 12" launch will also be supported by mobile carriers globally who have been working to roll out initial 5G coverage. Because Apple's installed base of buyers represents the cream of the market-- users who are most likely to spend more for faster mobile data service-- carriers will continue to promote iPhones out of their own interest, beyond that already contractually obligated by Apple.
Further, retailers hoping to juice their holiday sales after a disastrous year will no doubt be promoting Apple products just as they have in previous years, knowing that getting people in the door to buy an iPhone or iPad will likely also result in other sales. This helps to clarify why Apple won't be casually delaying its "iPhone 12" launch into 2021 -- it's not really an option.