Coronavirus pandemic has forced record smartphone production cuts
Posted:
in iPhone
edited April 2020
Even as the China supply chain lurches to life after a shutdown for most of the first quarter, the global smartphone market is expected to post a record contraction in the second quarter because of ongoing coronavirus impacts.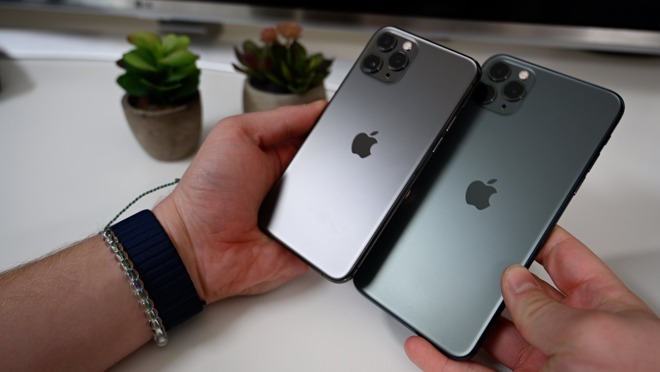 Apple's iPhone 11 Pro line was a large percentage of what Apple built in the first calendar quarter of 2020
The first calendar quarter of 2020 was impacted by the smartphone supply chain effectively shut down by the
coronavirus
pandemic. However, that virus is going to have demand effects carrying forward in the second quarter, according to new research by Trendforce.
In a report published on
Thursday morning
, Trendforce believes that global smartphone production for the first calendar quarter of 2020 fell 10% year-over-year to 280 million units across the industry. If accurate, this is the smallest global volume of smartphone production in five years.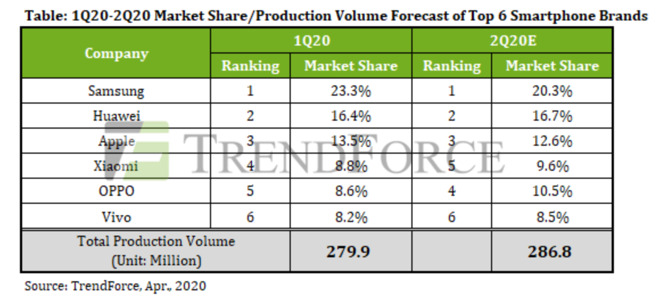 Smartphone volume forecast for first and second quarters of 2020
While the firm acknowledges that the supply chain is recovering now, demand destruction and major economic meltdowns will further impact consumer demand. As a result of the combined impact will result in a bigger year-over-year drop in the second quarter of 16.5% to about 287 million units produced.
Apple-specific impacts on demand and shipments
Apple's overall shipments are in third place, behind Samsung at number one, and Huawei. Trendforce believes that Apple's shipments in the first quarter fell 8.7% year-over-year to 37.9 million units on the quarter.
Apple's $399
iPhone SE
was released -- and mostly produced -- in the second fiscal quarter of 2020. The firm believes that Apple will ship about the same volume of iPhones quarter-over-quarter in the second quarter that started on April 1, which comes out to roughly the same as it shipped in 2019 in the same quarter.
The company doesn't say much about the 5G "
iPhone 12
" expected in the fall. It does say that potential decreased demand for the model is a "noteworthy concern" but doesn't elaborate beyond that.
Impact on Apple competitors
Samsung was expected to experience "constrained growth" in 2020, even prior to the coronavirus outbreak. Samsung's normal production of its entire line of smartphones, ranging down to $99 retail pricing, totaled 65.3 million units on the quarter, a year-over-year drop of 9.9% despite having launched the flagship Galaxy S20 line in the quarter. The company is expected to see a 10.7% drop quarter-over-quarter drop to 58.3 million units.
Domestic China market demand for Huawei phones offset the global decrease for Huawei, given the absence of Google assets, with the firm shipping 46 million units in the first quarter of 2020. According to Trendforce research, Huawei may benefit from other players' impacts locally, with the company potentially shipping 48 million units in the second quarter of 2020.