Apple TV+ review: 'Trying' is a charming sitcom about fertility and adoption
The new Apple and BBC comedy series "Trying," starring Rafe Spall and Esther Davis as a loving couple who want a baby, puts a funny spin on well-trodden material.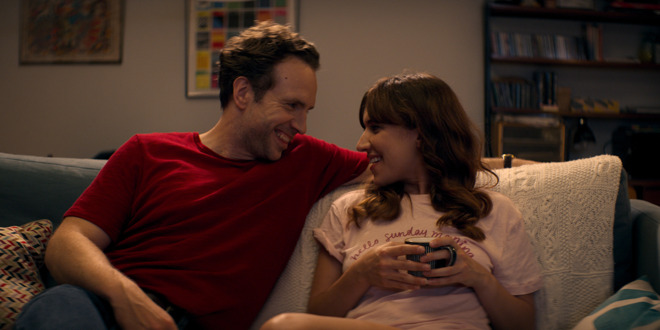 Rafe Spall and Esther Smith in Trying, premiering May 1 on Apple TV+. (Apple)
If you didn't think Apple shows could put sexuality front and center, the very first scene of
Trying
will quickly disabuse you of that notion. About one minute after we meet Jason and Nikki (Rafe Spall and Esther Smith), they're engaged in a quickie on a London public bus, in order to take advantage of a likely moment of fertility.
This very funny opening scene tells us most of what we need to know about
this show
. The couple has fantastic chemistry, they seem to genuinely like one another, and their struggle to have children is the primary topic of both their lives, and also of the show about them.
Jason and Nikki are early-30s professionals who live in the Camden section of London. After a long period of trying, they've been unable to conceive a child, so they decide to pursue adoption.
This leads to some funny adventures, such as the couple failing to fit in with a group of other prospective adoptive parents, and a confrontation they have in a park that leads to multiple phones getting tossed in the water.
Not quite new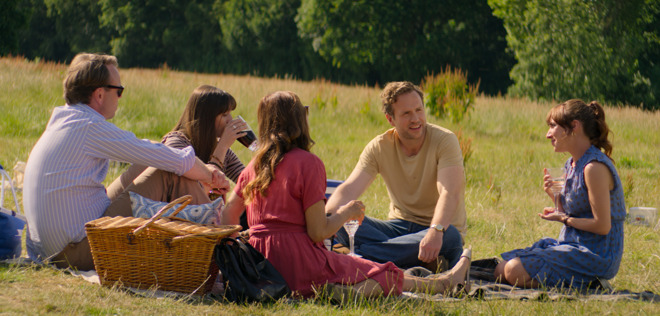 Rafe Spall, Esther Smith, Bruce MacKinnon, Susannah Wise and Karina Fernandez in Trying, premiering May 1 on Apple TV+.
None of this is particularly original, and
Trying
avails itself of quite a few old-as-the-hills sitcom plots. The bit in the fourth episode in which Jason and Nikki have to redecorate their house on the fly because an adoption agent is coming to visit wouldn't have been out of place on an NBC sitcom from 1992.
Furthermore, the story of a couple struggling to conceive and considering adoption has been all over television the last few years.
This is Us
did it, and so did
A Million Little Things
,
Parenthood
, Hulu's recent
Little Fires Everywhere
, the Netflix show
Friends From College
, and (most disastrously) the Fox drama
Almost Family
.
It's certainly a worthy topic, one that is extremely painful and personal for many viewers. But
Trying
didn't exactly get there first.
They make it work
Despite all of those caveats,
Trying
makes its premise work. And it starts with the outstanding chemistry between its two leads.
Spall is been in several prominent movies, including
The Life of Pi
The Big Short
and
Jurassic World: Fallen Kingdom
. Smith has mostly starred on British shows and is mostly unknown to U.S. audiences, although she did appear in the Harry Potter stage play,
Harry Potter and the Cursed Child
.
If we weren't rooting for this couple to accomplish their goal, the show wouldn't work for a minute. But luckily, Spall and Smith are just great together, and
Trying
will be the kind of show whose fans frequently praise it as "cute."
While a couple being jealous of their friends having babies with relative ease is certainly something we've all seen before,
Trying
makes us feel for the central couple. We could also sympathize when they realize, in their early 30s, that they can't party the way they used to.
The show also photographs its area of London beautifully, making the neighborhood feel lived in. And the songs and score, from Guy Garvey, Peter Jobson and Paul Saunderson, are first rate.
Behind the camera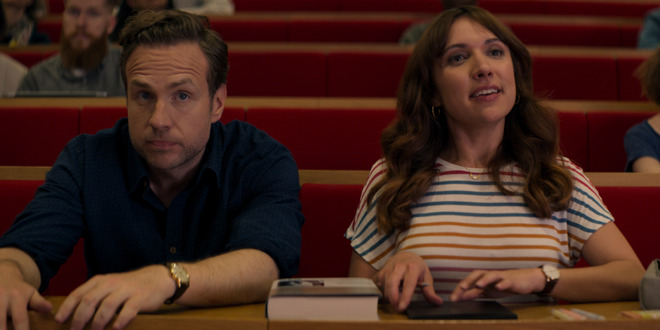 Rafe Spall and Esther Smith in Trying, premiering May 1 on Apple TV+.
The creator and executive producer of
Trying
is Andy Wolton and the other producers are Chris Sussman and Emma Lawson. All of them are British TV veterans who are little known in the United States, although Sussman is credited on a few episodes of the acclaimed series
Fleablag
.
Trying
is the first coproduction between Apple and BBC Studios, and just the second live-action, half-hour comedy series to debut in Apple TV+'s first six months, after
Mythic Quest: Raven's Banquet
. The first season has eight episodes, all of which debut May 1; we've seen the seen the first four.
When the series
was first announced in mid-2019
, it was called
Alabama
and Staunton -- who played Dolores Umbridge in the
Harry Potter
series -- was announced as the star. Announced at the same time was a Jon Favreau-produced Apple/BBC coproduction called
Prehistoric Planet
, although nothing has been heard from about that project for at least a year.
And while the Britishness of the show is evident all along, there's plenty of reminders of the Apple side of the partnership too. At one point, a character gives a pep talk about how "Steve Jobs never went to university."
Trying, and succeeding
Trying
isn't the best streaming sitcom about a funny couple in London dealing with pregnancy. That would be
Catastrophe
, which began with the opposite problem of a couple getting pregnant accidentally, and that show's four seasons can be streamed on Amazon Prime.
But even so,
Trying
is a sweet show with a sweet tone, and a successful first venture together for Apple and BBC Studios. It shows that Apple TV+ can be the place for different types of shows than those that have brought them success in the past -- and also can find new and exciting ways to tell familiar stories.