AirPods Pro versus Jabra Elite Active 75t -- Best workout earbuds
Posted:
in iPhone
edited May 2020
AirPods competition has stiffened in the past few years with more models to hit the market than can be quantified, and Jabra has been a persistent rival with steadfast quality making it a worthy alternative to Apple's audio devices. We compared the new Elite Active 75t with AirPods Pro, as well as AirPods, to see which is the best workout earbuds.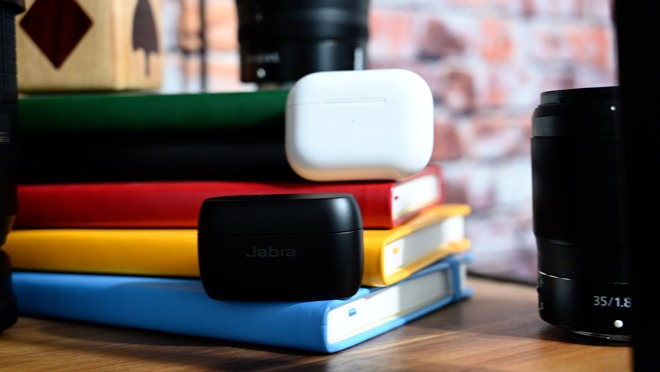 AirPods Pro and Jabra Elite Active 75t true wireless earbuds
Here, we are talking about
AirPods
and
AirPods Pro
rather than Apple's
Powerbeats
or
Powerbeats Pro
. These are specifically Apple's and Beats fitness-focused options, but they aren't quite as popular and aren't of the same style as the Jabra Elite Active 75t.
AirPods Pro particularly are well suited for in and out of the gym, as are the Elite Active 75t.
Battery and connectivity
For AirPods and AirPods Pro, Apple has unsurprisingly utilized Lightning as the charging input port, while Jabra has chosen USB-C. We don't mind the Lightning input, but when it comes to third-party accessories, USB-C is a must.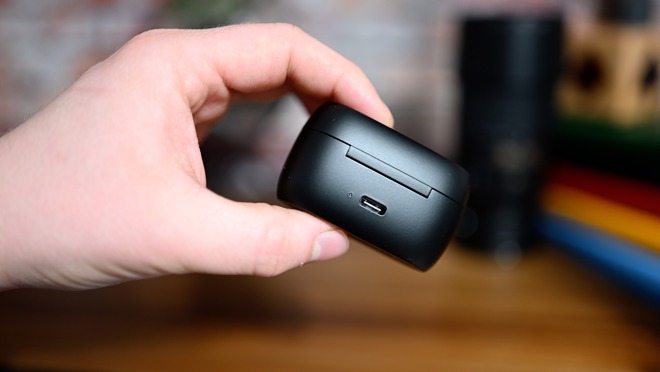 USB-C charging port on rear of Jabra Elite Active 75t
Jabra does sell a wireless charging case for $20, but it's not included by default.
Both AirPods and AirPods Pro support Qi wireless charging, though it is an optional add-on for standard AirPods while AirPods Pro has a supportive case. Wireless charging is so convenient that we seldom pay attention to our AirPods battery life, as we just toss them on the charger while at our desk or at night and they are always ready to go.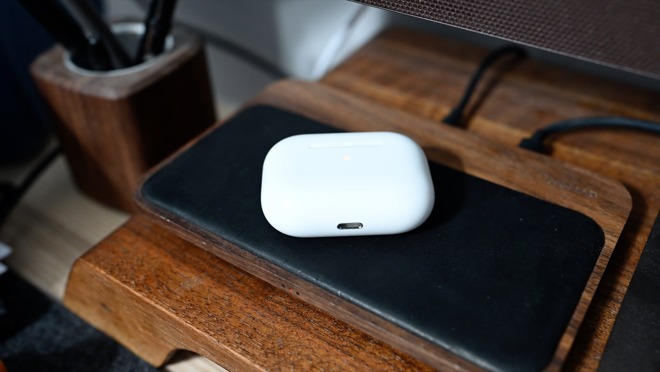 AirPods Pro on the Nomad wireless Base Station next to Grovemade pencil cup
Apple needs this advantage because one of the weakest parts of AirPods and AirPods Pro is the battery life.
Regular AirPods are rated for five hours while AirPods Pro is only rated four and a half hours. That can increase to five hours if transparency mode and noise cancellation are turned off. In our use, our AirPods Pro lasts a bit less than that rated battery life.
Jabra happens to excel here, with seven and a half hours of use on a single charge. If you consider the case, Jabra totals up 28 hours while both models of AirPods cap out at 24.
Both offer a form of "fast charge" which yields an hour of usage after a short charge, though AirPods eke out a win here. AirPods only takes five minutes for an hour of use whereas the Jabra model needs 15 minutes of charge.
AirPods and AirPods Pro features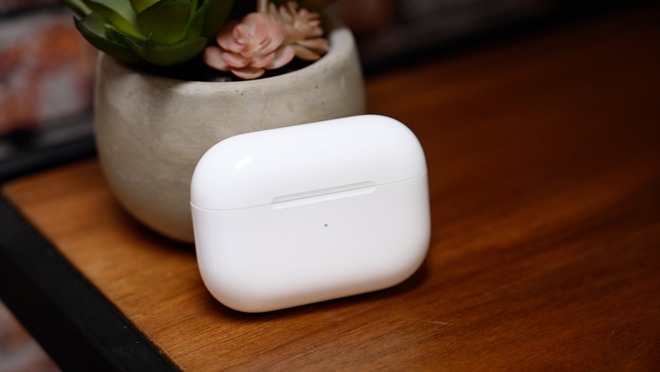 AirPods Pro case is roughly the same size as that of the Jabra Elite Active 75t
Each set of headphones are packed with features, some unique, while others they share.
For example, both sets of headphones can access Siri, will auto-pause content when they are removed from your ear, and transparency mode (or HearThrough as Jabra calls it).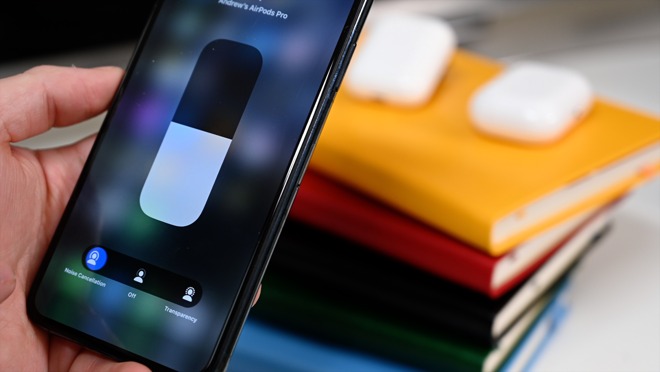 Controlling transparency mode and nosie cancelling on AirPods Pro
Beyond that, AirPods Pro has an automatic adaptive EQ that tunes itself to your individual ears. This is the only tuning available and it piggybacks another useful feature, active noise cancellation. Adaptive EQ listens to the audio in your ear to be sure the ANC isn't messing with the music's sound, and ensuring it is being heard as intended.
Active noise cancelation is a much-sought-after feature found in AirPods Pro and those that need active noise canceling will pay handsomely for it. It is great for busses, planes, or other areas where there is a lot of monotonous background noise.
Live Listen is also an AirPods and AirPods Pro feature designed for those who are hard of hearing to be able to use their iPhone's microphone and their AirPods to amplify the sound around them, such as someone speaking.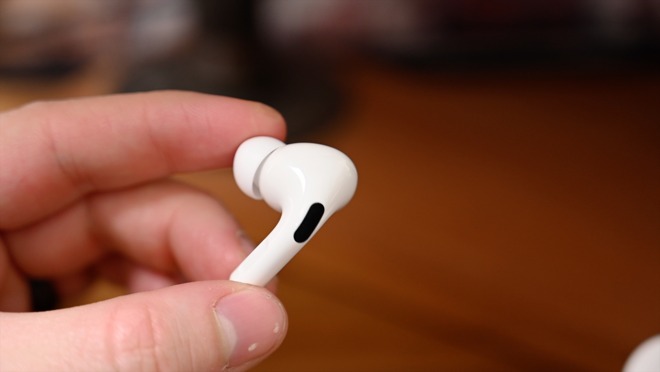 AirPods Pro earbud
Apple also uses its impressive H1 chip in AirPods and AirPods Pro. This uses class 1 Bluetooth audio for a most robust signal and crazy 100-foot range, triple the standard 33-foot range found on the Jabra earbuds.
That chip is also what enables the simple one-tap setup, audio sharing, and iCloud sync across all of your devices including Apple Watch, iPhone, Apple TV, iPad, and Mac.
Elite Active 75t features
Comparatively, the Jabra Elite Active 75t aren't resting on their laurels. These earbuds are packed with their own unique features.
For one, instead of just Siri, the Elite Active 75t supports Google Assistant and Amazon Alexa as well. This is great if you aren't using them on iOS to have an assistant built-in, with the option of Alexa available for both iOS and Android users.
Jabra also includes a fully customizable EQ. You can choose between several audio presets or you can customize the EQ to your own tastes.
These earbuds don't have active noise cancellation but passive. This isn't as strong as the ANC on AirPods Pro but better than the seal created on the standard AirPods.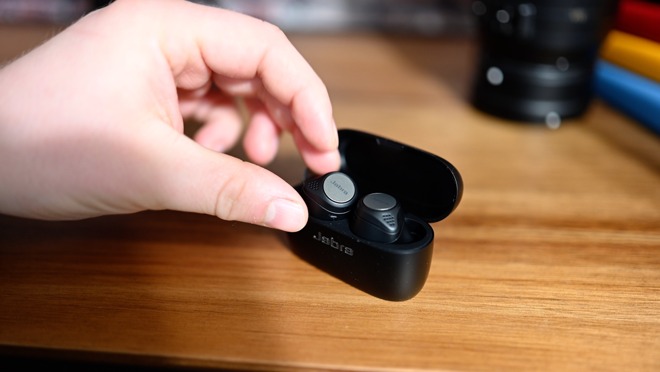 Putting the Jabra Elite Active 75t back in their case
Unlike AirPods, the Jabra Elite Active 75t can connect to multiple devices at once. With multi-connect, up to eight devices can be connected to the earphones with two actively connected at once.
Jabra also boasts improved durability as they are certified with an IP57 rating, which withstands the ingress of solid particles as well as submersion in one meter of water for up to 30 minutes. AirPods Pro only received an IPX4 resistance rating, which means it isn't tested against dust but can withstand water bursts hitting it from any angle.
That is backed up by a two-year warranty while AirPods and AirPods Pro go with the industry standard one year warranty, though they are covered by your iPhone's AppleCare.
Audio quality
Features may not matter if audio quality isn't up to par, but fortunately, both sets are well equipped, though different.
AirPods are the weakest of the bunch when it comes to audio. AirPods Pro is a big step up and has a much more impressive sound, though they don't push any extremes. It is a very center of the road approach.
Jabra does have more impressive bass, which is likely due to the larger volume of the earbuds themselves. If you are looking for the earbuds that are punchier for bass-heavy workouts, the Elite Active 75t are better suited than the AirPods Pro. Due to their ability to control the EQ, this can also be adjusted to exactly your liking.
Between the two, Jabra may have the upper hand when it comes to sound, both with that added bass, as well as with overall volume.
Which do I choose?
As with most comparisons, which is better for you is going to be entirely subjective and depend on what is most important to you.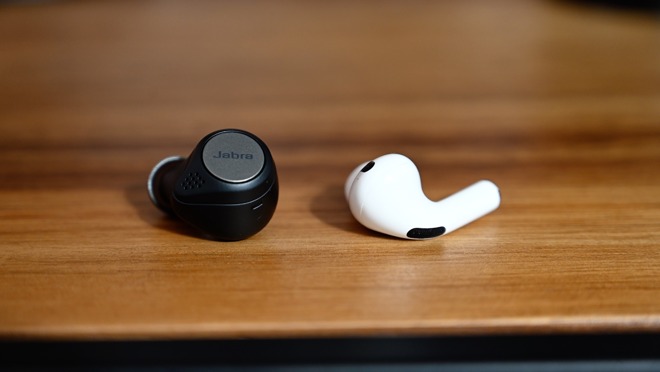 AirPods Pro and Jabra Elite Active 75t
Jabra Elite Active 75t is the choice if you want the best battery life, adjustable EQ, choice in virtual assistant, better durability, and the best audio.
AirPods are the choice if you want the cheapest of the bunch but still want the legendary Apple ease of use afforded by that H1 audio chip.
Then AirPods Pro is there when you want that H1 chip but high-end features such as active noise canceling, transparency mode, adaptive EQ, some level of water resistance, and better audio than standard AirPods.
| | Jabra Elite Active 75t | AirPods Pro | AirPods |
| --- | --- | --- | --- |
| Price | $199 | $249 | $159 ($199 w/ wireless charging case) |
| Wireless Charging | No | Yes | Optional |
| Battery Life | 7.5 hours (28 hours with case) | 4.5 hours (24 hours with case) | 5 hours (24 hours with case) |
| Water Resistance | IP57 | IPX4 | N/A |
| Noise Cancelation | Passive | Active & Passive | N/A |
| Transparency mode | Yes | Yes | No (though lack of seal acts as transparency mode) |
| Digital Assistant | Siri, Google Assistant, & Alexa | Hands-free Siri | Hands-free Siri |
| EQ | Adjustable EQ in companion app | Adaptive EQ tuned to ears | N/A |
| Charging port | USB-C | Lightning | Lightning |
| Wireless Range | 33 feet | 100 feet | 100 feet |
| Unique Features | Adaptive listening, multi-connect up to 8 devices (two simultaneously), physical multi-function buttons, auto-pause when removed, two year warranty, Jabra 4th-gen True Wireless | Live Listen, Announce Messages with Siri, force stems, auto-pause when removed, iCloud sync, Apple H1 chip, one-tap setup, track with Find My app | Live Listen, Announce Messages with Siri, tap gestures, auto-pause when removed, iCloud sync, Apple H1 chip, one-tap setup, track with Find My app |
Where to buy
Find the best prices for AirPods and AirPods Pro in this
AirPods savings guide
where we collect the most up to date deals on the popular earbuds. Find the Jabra Elite Active 75t
on Amazon for $199
in grey, navy, gold beige, and titanium black.