Escobar's iPhone rival trouble & a British MP iPhone theft in the Apple Crime Blotter
Posted:
in iPhone
edited May 2020
An iPad stolen from a FedEx truck, a Sam's Club theft scheme, and more news from the brother of Pablo Escobar's iPhone competitor.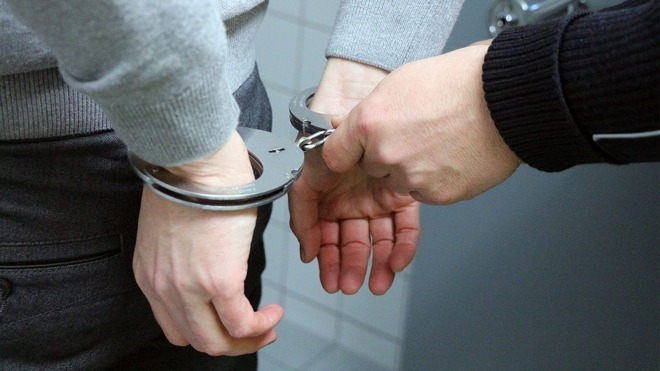 A man in handcuffs (image courtesy of Pixabay)
The latest in a regular
AppleInsider
series looking at the world of Apple-related crime.
$4,000 in Apple products stolen from Maryland Target
Police are looking for two men who
they say stole $4,000 worth of Apple products
from a Target in Aberdeen, Md. According to
The Baltimore Sun
, one of them asked a store employee to open a cabinet, at which point the other suspect began shoveling the products into a bag.
The same two men are tied to two other similar thefts elsewhere in Maryland. The report said that the two thieves were "keeping their distance from each other" during at least part of the theft, which was caught on video:
Three in Georgia arrested in iPhone theft scheme
State police in Georgia
have arrested three people who they say attempted to $9,500 worth of new iPhones from a Sam's Club in the Atlanta area
.
Trib Live
reports the accused conspirators attempted to open a fake Visa account to buy seven iPhone Pro Max phones.
But in the middle of the incident, one of the accused was recognized as someone who had been fired from a Sam's Club-associated firm, and told to leave the store. The trio fled, but later caught and charged with access device fraud, theft, identity theft, retail theft, and theft by deception.
iPads stolen from school in Arkansas
With most of the nation's schools closed, some thieves have seen an opportunity to steal electronics equipment from them. According to
KATV
, thieves broke in and
stole $54,000 worth of iPads
from a classroom at an elementary school in Little Rock, Ark, in early April. The thieves also reportedly took five Walkie-Talkies.
The police report says the thieves took "Logi brand iPads with keyboards," but presumably the iPads were equipped with Logi keyboard accessories.
FedEx truck stolen with iPad inside
A FedEx driver doing deliveries in the Sacramento area
had his truck stolen
.
CBS 13
reports the truck was recovered five minutes later, with everything accounted for except an iPad.
British politician tackled "drunken lout" who took his iPhone on train
A man who has since been elected to British Parliament
got into fisticuffs with a man on a train
who attempted to steal his iPhone X.
Manchester Evening News
writes Robert Largan, who was elected last year as a member of the Conservative Party, described the physical altercation in court.
Largan said that in the incident, which took place last year, he pursued a "drunken lout" who took his phone, which led to Largan being punched in the face and receiving the threat "I'm going to murder you." The man, who had been recalled to prison after the incident, admitted responsibility to the court.
iPhone included in counterfeit electronics seized in Philadelphia
The U.S. Customs and Border Protection (CBP) office in Philadelphia said on April 14
it seized two shipments from China
consisting of 20,000 pieces of counterfeit consumer electronics. The release included a picture of what CBP described as an "Apple iPhone."
CBP says the electronics, if genuine, would have had a total value of $519,510.
Escobar brother's iPhone rival company sues ex-CFO
Last year Roberto Escobar, the brother of the late Colombian drug lord Pablo Escobar announced plans to launch what it called a
foldable and "unbreakable" gold smartphone
. The phone was meant as an iPhone competitor, with Escobar also declaring an intention at the time to sue Apple, for "cheating the people and selling worthless phones."
In March,
a YouTuber discovered
that the "gold phone" was actually a Samsung Galaxy Fold covered in gold stickers.
Now,
The Register
reports that Roberto Escobar
has sued the company's former COO
, alleging that he has both run off with money belonging to the company and took control of the passwords of its YouTube channel.
iPad and two ovens stolen from Texas restaurant
Police in Huntsville, Tex.,
are investigating a theft at a bar and restaurant
that took place in mid-April, in which thieves took an iPad, a sound machine and two commercial ovens. According to
Item Online
, the theft took place at After Hours on the Ave, and while the ovens were taken from the parking lot, the thieves are believed to have then entered the business and taken the other items.
Have an Apple crime story for us? Email
AppleInsider
and tell us about it.