Tim Cook references Spanish Flu, Lincoln in Ohio State commencement speech
Apple CEO Tim Cook has delivered a "virtual commencement address" to graduating Ohio State University students, with the video address offering life advice to viewers, as well as urging graduates to build a "better future than the one you thought was certain."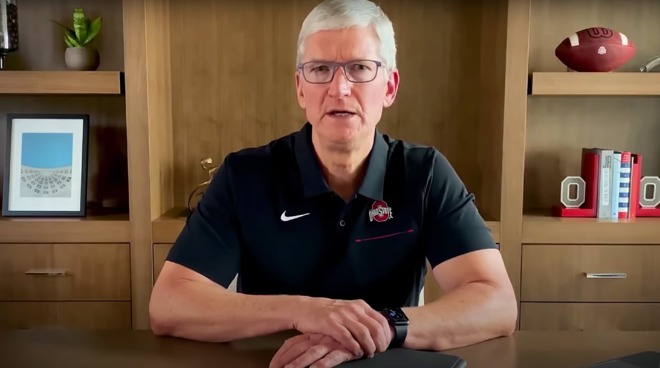 Released on Sunday via YouTube,
Tim Cook's
Ohio State University commencement address shows the Apple CEO sat at home, wearing a shirt bearing the Ohio State logo and an
Apple Watch
, rather than the usual gown attire of graduation ceremonies. The virtual commencement is an alternative to the typical in-person speeches delivered by Cook, necessitated by the continuing
COVID-19
crisis and announced
one month ago
.
In the 7 minute 55 second video, Cook starts his speech by referring to the Spanish Flu, and the fortunes of Franklin D. Roosevelt, T.S. Eliot, and Amelia Earhart after recovering from their infections.
"Graduates, I am sorry that we're not celebrating together today. Your class is a special one -- marked by history like few others in OSU's 150 years," Cook offers. "It can be difficult to see the whole picture when you're still inside the frame, but I hope you wear these uncommon circumstances as a badge of honor."
"Those who meet times of historical challenge with their eyes and hearts open -- forever restless and forever striving -- are also those who leave the greatest impact on the lives of others," he continued, before suggesting people have a choice "when our glittering plans are scrambled." Either people can "curse the loss of something that was never going to be," or they can "see reasons to be grateful for the yank on the scruff of the neck, in having our eyes lifted up from the story we were writing for ourselves and turned instead to a remade world."
Cook refers to his joining of Apple in 1998, expressing his luck at getting to "spend the rest of my professional life working for
Steve Jobs
," a period caught short by Jobs' death. "The loneliness I felt when we lost Steve was proof that there is noting more eternal, or more powerful, than the impact we have on others."
Abraham Lincoln is also referenced, a person Cook has found time to read while staying at home, recommending books about the former president "to anyone who wants to put these times into perspective."
As for the graduates, Cook tells them "your case is new. For you, the old dogmas have never been an option. You don't have the luxury of being enthralled. You enter a world of difficulty with open eyes, tasked with writing a story that is not necessarily of your choosing but is still entirely yours."
Cook signs off by urging the Class of 2020 to "Think anew. Act anew. Build a better future than the one you thought was certain. And, in a fearful time, call us once again to hope."