Compared: Apple's 2020 13-inch MacBook Pro vs 2019 13-inch MacBook Pro
On Monday, Apple confirmed rumors by updating its 13-inch MacBook Pro, but this refresh isn't as radical as speculation suggested it might be. Here's what's different in the 2020 model versus the 2019 13-inch MacBook Pro.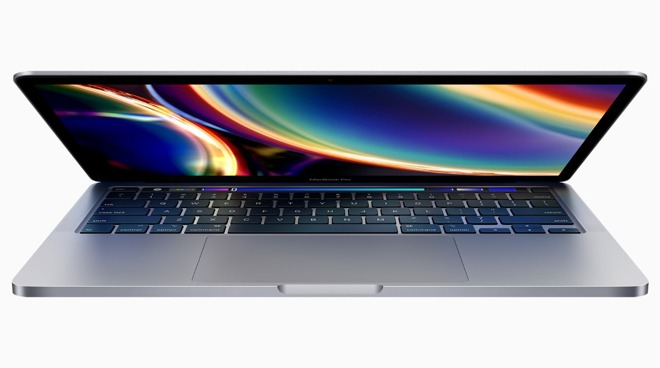 The rumors and speculation about the
13-inch MacBook Pro
refresh put forward the idea that Apple was going to replace the screen with a 14-inch model, along with other alterations like using the new Magic Keyboard. Apple's launch of the
updated model
on Monday was seemingly predicted correctly by leaks, but at face value it seems Apple leaned more to a specifications bump than issuing any major changes to the design.
Let's take a closer look at the new model's specifications and compare them to the 2019 iteration, to highlight what's new and whether it's a decent upgrade for existing MacBook Pro owners.
2020 13-inch MacBook Pro versus 2019 13-inch MacBook Pro - specifications
MacBook Pro 13-inch 2019
MacBook Pro 13-inch 2020
Price (Starting Configurations)
From $1,299 to $1,999
Latest 2019 13" MacBook Pro prices
From $1,299 to $1,999
Latest 2020 13" MacBook Pro prices
Dimensions
304.1mm x 212.4mm x 14.9mm
304.1mm x 212.4mm x 15.6mm
Weight
1.37kg
1.4kg
Processors
Quad-core Intel Core i5 1.4GHz,
Quad-core Intel Core i5 2.4GHz,
Quad-core Intel Core i7 1.7GHz,
Quad-core Intel Core i7 2.8GHz
Quad-core Core i5 1.4GHz,
Quad-core Core i7 1.7GHz,
Quad-core Core i5 2.0GHz,
Quad-core Core i7 2.3GHz
Storage
128GB, 256GB, 512GB, 1TB, 2TB SSD
256GB, 512GB, 1TB, 2TB, 4TB SSD
Memory
8GB, 16GB 2133MHz LPDDR4
8GB or 16GB 2133MHz LPDDR3,
16GB or 32GB 3733MHz LPDDR4X,
Display
13.3-inch 2,560x1,600 IPS Wide Color (P3) display with True Tone
13.3-inch 2,560x1,600 IPS Wide Color (P3) display with True Tone
Graphics
Intel Iris Plus Graphics 645, 655
Intel Iris Plus Graphics 645
Keyboard
64/65-key backlit keyboard with Touch Bar
65/66 backlit Magic Keyboard with Touch Bar
Connectivity
2 or 4 Thunderbolt 3 ports
2 or 4 Thunderbolt 3 ports
Networking
Wi-Fi 802.11ac, Bluetooth 5.0
Wi-Fi 802.11ac, Bluetooth 5.0
Webcam
720p FaceTime HD camera
720p FaceTime HD camera
Audio
Stereo speakers, three microphones, headphone jack
Stereo speakers with Dolby Atmos support, three microphones with directional beamforming, headphone jack
Battery
58 or 58.2-watt-hour battery, 10-hour battery life, 61W charger
58 or 58.2-watt-hour battery, 10-hour battery life, 61W charger
Butterfly keyboard versus Apple's Magic Keyboard
Those who spend time typing away on their MacBook Pro may be aware of the butterfly keyboard mechanism that has plagued Apple for years. The mechanism's issues prompted Apple to
introduce
a new Magic Keyboard in the
16-inch model
, which it has brought over to the 13-inch version.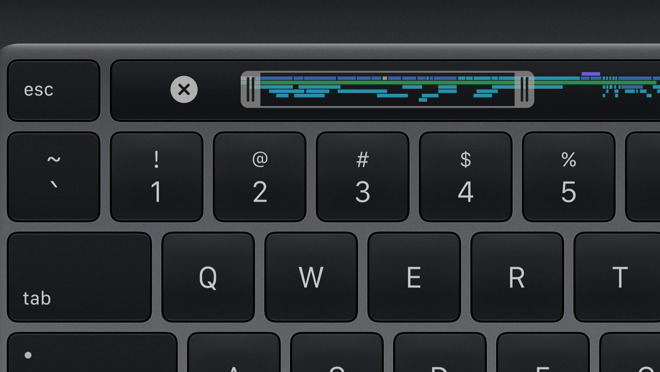 Using an updated scissor mechanism with 1mm of key travel, the Magic Keyboard is believed to be potentially more reliable than its butterfly counterpart. It also uses a rubber dome to store more potential energy for a more responsive key press.
The Magic Keyboard also has one more physical key than the previous version: a physical Escape key. The change was welcomed by developers who prefer a dedicated Escape key, instead of relying on the software version in the Touch Bar.
The arrow keys are also altered to an "inverted T" arrangement. While the earlier keyboard had the four arrow keys taking the space of three full-size keys, with full-size left and right arrows and half-height up and down versions, Apple has instead made all four arrow keys half-height.
In theory, the extra space above the left and right keys will help more distinctly mark out the arrow key region to users, both visually and when touch-typing.
13-inch MacBook Pro processors
One of the key changes to the 13-inch MacBook Pro is an upgrade to the processor options. Specifically, the shift from eighth-generation chips to newer variants.
The 2019 models offered default processors of a 1.4Ghz quad-core Intel Core i5 with a Turbo Boost clock of 3.9Ghz and another quad-core Core i5 with 2.4GHz and 4.1GHz base and boosted clocks. Options were also available to use a 1.7GHz quad-core Intel Core i7 with a 4.5GHz boosted clock speed and a 2.8GHz quad-core Core i7 which hits 4.7Ghz under Turbo Boost.
All of the 2019 processors were eighth-generation "Coffee Lake" chips. In 2020, there's a mix of 8th-generation chips alongside tenth-generation variants, divided between its two variants.
The less expensive models use the same eighth-generation chips, with the base consisting of a 1.4GHz Core i5 with a Turbo Boost of up to 3.9GHz, with a configuration available to use a 1.7Ghz quad-core Core i7 with a 4.5GHz Turbo Boost.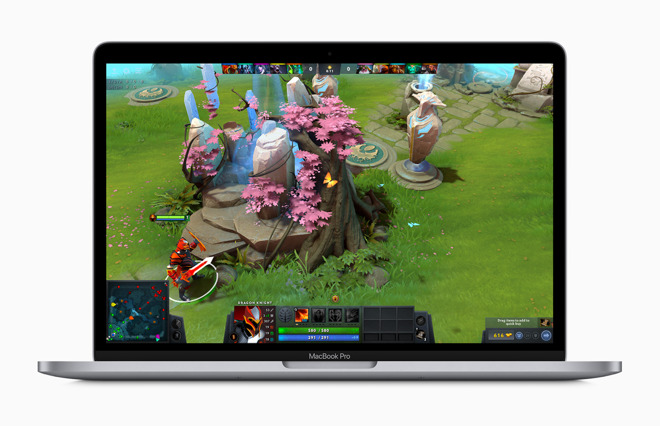 The more expensive version starts with a 2GHz quad-core Core i5, a tenth-generation chip with a Turbo Boost of up to 3.8GHz. This too can be upgraded to a better 10th-generation processor, a quad-core Core i7 clocked at 2.3GHz, or up to 4.1GHz under Turbo Boost.
While the reuse of the eighth-generation chips in some configurations may not excite potential buyers, electing to add tenth-generation chips that effectively skip an entire Intel architecture generation is likely viewed as a considerable improvement for power users.
The tenth-generation chips have another advantage: graphics performance. While the eighth-generation processors in the 2020 models use the same Iris Plus Graphics 645 as those in the 2019 edition, the tenth-generation equivalent have a more powerful Intel Iris Plus Graphics version.
Memory
To go with the new processors, Apple has increased the amount of RAM being used in its higher-specification version.
As with the 2019 release, the lower-end 2020 model starts with 8GB of memory, which can be configured to have 16GB instead. For the upper configurations, Apple has shifted to offering 16GB of memory from the start, with a configuration option to bring it up to 32GB of RAM.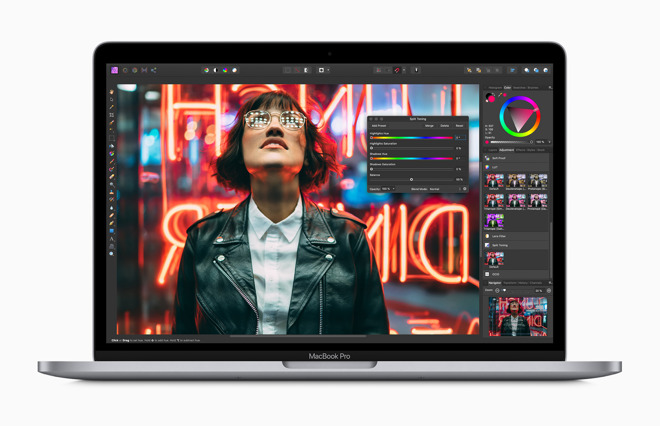 Furthermore, the higher-end tier also uses faster memory. Instead of the 2133MHz LPDDR3 modules as used in the lower-end model and the 2019 versions, Apple has instead opted for 3733MHz LPDDR4X memory.
For end users, this results in further performance gains, both from having potentially more memory available, and that it is almost twice as fast.
Storage
Storage has also been given a considerable boost from 2019, which offered base configurations of 128GB, 256GB, and 512GB SSDs and options for up to 2TB.
The new generation starts off the improvements by doubling the base configurations to 256GB, 512GB, and 1TB respectively. Though the lower-tier configurations can be upgraded to 2TB as before, there is a 4TB option on the higher-up models.
Like the memory changes, it is seemingly those willing to spend the money on the higher-tier versions gaining the potential benefits.
Minor changes
There are quite a few other smaller changes Apple has made to the 13-inch MacBook Pro, tweaking an already quite successful formula.
The higher-tier models offer greater external display support, with it capable of powering one 6K display at 60Hz, or two 4K displays at 60Hz. The lower-tier 2020 models and those from 2019 are able to power an external 5K monitor at 60Hz, and two 4K displays at 60Hz.
Stereo speakers are still used in the new model, though this time with "wide stereo sound" and support for Dolby Atmos playback. The three microphones are also similar, but this time they are configured in an array with directional beamforming.
The 2020 editions are slightly thicker at 0.61 of an inch compared to 2019's 0.59 inch height. The width and depth are identical across all models in both years, though the new versions are also slightly heavier at 3.1 pounds to 3.02 pounds.
A Lot of Repeated Details
The display is the same 13.3-inch LED-backlit IPS display with a 2560-by-1600 resolution, wide color (P3) support, True Tone technology, and 500 nits of brightness.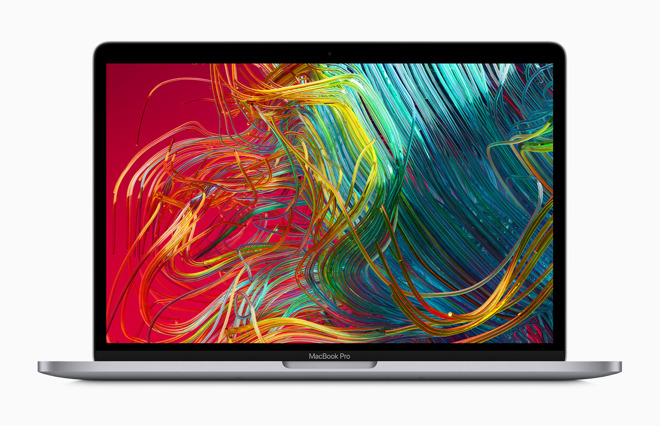 You're also getting two or four Thunderbolt 3 ports, depending on processor generation, with the eighth generation model having two ports, and the tenth generation getting four. Wireless communications are provided by 802.11ac Wi-Fi, Bluetooth 5.0, a 720p FaceTime HD camera, and a 3.5mm headphone jack.
Power is also identical, with the built-in 58-watt-hour or 58.2-watt-hour lithium-polymer battery still providing up to 10 hours of wireless web access or movie playback. The charger is still 61 watts and uses USB-C.
Pricing
The 2019 base configurations were offered by Apple at the price points of $1,299, $1,499, $1,799, and $1,999.
Handily, for the 2020 release, Apple has priced its models in exactly the same way. The $1,299 and $1,499 price points are used for versions equipped with eighth-generation processors and two Thunderbolt 3 ports, while $1,799 and $1,999 are for the tenth-generation processors and four Thunderbolt 3 ports.
The tiered models and upgrade pricing also raises the prospect of users getting more benefit from paying for a higher-cost base model than shelling out for upgrades to a lower-tier version.
For example, the $1,499 configuration has an option to move from the eighth-generation Core i5 to the eighth-generation Core i7 for $300, bringing the total cost of the system up to $1,799.
For the same money, paying for the $1,799 base configuration installs the far faster 10th-generation Core i5, better Intel Iris Plus graphics, doubles the memory with faster RAM modules, and adds two more Thunderbolt 3 ports.
A tale of two 13-inch MacBook Pro upgrades
Apple's update is an unusual one, as in this particular case, the level of changes seen depend on whether the customer opts for a lower-tier or higher-tier configuration. Across the board, the Magic Keyboard and higher storage capacity starting points will be welcomed.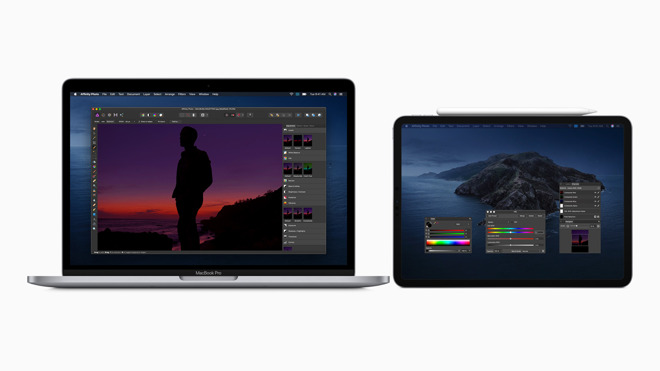 However, while that's largely the story for the lower-tier options, the higher-end arguably gets more of the changes. Shifting from eighth-generation Intel chips to tenth-generation versions will give a considerable performance advantage, while the faster memory and higher memory capacities will further push the 13-inch MacBook Pro as a portable powerhouse.
Even the maximum storage capacity of 4TB is only available to those with deep pockets to go for the higher-end configurations from the start. That price premium would buy a lot of network or Thunderbolt 3 storage.
For those looking to purchase a new 13-inch MacBook Pro to replace their existing model, there isn't really that much to write home about for the lower-tier versions. Sure, the Magic Keyboard is a nice addition, but aside from a storage bump, there isn't much in the way of groundbreaking elements here.
Anyone looking at the upper end of the range, however, will see considerably more changes and bigger performance boosts. Those with a bigger budget will fare better for their upgrades than people who go for the frugal option this time around.