France, UK to test contact tracing apps without Apple and Google technology
As world governments scramble to contain the spread of COVID-19, France and the UK this week announced plans to begin testing digital contact tracing solutions developed without the aid of Apple and Google's exposure notification system.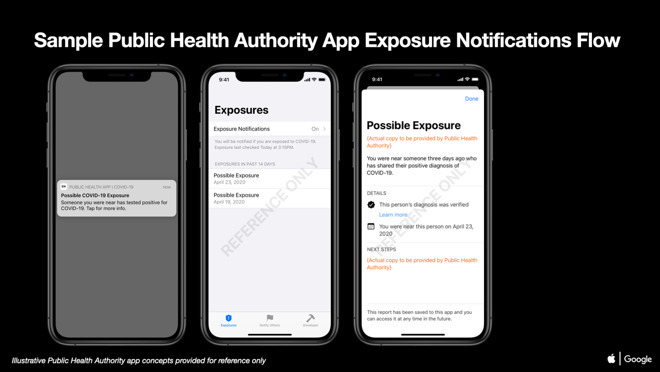 Sample user interface elements for Apple and Google's COVID-19 Exposure Monitoring system.
The UK's Department of Health and Social Care in a
press release
Monday said the NHS COVID-19 App will roll out to Isle of Wight residents as part of the "test, track and trace" program.
NHS and council staff will be able to download the contact tracing app on Tuesday ahead of wide distribution on Thursday.
Designed to work in concert with "enhanced contact tracing services" and swab testing for residents showing
COVID-19
symptoms, the app was developed by NHSX and a team of scientists and doctors.
Like other contact tracing apps in development by governments and private entities, the NHS method uses Bluetooth technology to track contact between smartphones and issue anonymous alerts should someone test positive for the virus. Those without smart devices can record recent contacts via an online portal or through telephone interviews.
Notably, the UK system relies on a
centralized database
to store patient information and as such is incompatible with an exposure notification platform created by Apple and Google. Decentralization is a core feature of the Apple-Google system, which relies on such measures to ensure anonymity and protect sensitive user information.
Without access to the cross-platform Exposure Notification API, which works across Android and iOS devices, apps that require Bluetooth communications typically suffer limited integration. Knowing this, the NHS has worked "
phenomenally closely
" with Apple and Google to ensure the COVID-19 App is fully functional, reports
CNET
.
NHSX CEO Matthew Gould in a Parliamentary committee meeting on Monday said privacy is "at the heart of the app" and noted the NHS is willing to shift to a decentralized solution if needed, the report said.
France, too, is adopting a
centralized data approach
with its "StopCOVID" app, scheduled to enter testing next week, reports
Reuters
.
Detailed by Minister for Digital Affairs Cedric O in a
post to Medium
, the app's methodology is nearly identical to the NHS COVID-19 App in that it logs anonymized Bluetooth interactions to monitor coronavirus spread and alert users to exposure.
It is unclear whether France is working with Apple and Google to overcome technological hurdles, specifically to address background access to a smartphone's communications stack, that would severely impact the app's utility. O previously asked Apple to
lift the security barrier
, but found the company was unwilling to cooperate on the matter.
"French health and technological sovereignty ... is the freedom for our country to be able to have the choice and not be constrained by the choices of a large company, however innovative and efficient it may be," O wrote on Medium.
While France and the UK are employing centralized tech at odds with Apple-Google standards, other countries are more willing to work with the tech giants to gain access to what is expected to be a powerful coronavirus monitoring and mitigation platform. Germany, for example, was originally opposed to the exposure notification system, but late last month
changed its stance
on the issue and moved toward rollout of a decentralized framework. America's Centers for Disease Control and Prevention also appears to to be mostly
aligned with Apple and Google
in its guidelines for contact tracing technology.
Apple and Google are forging ahead with their joint project and last week
issued a beta version
of the API to developers as part of iOS 13.5. On Monday, the companies released
coding resources
like sample user interfaces for developers creating apps for health authorities.
Additional requirements were also delivered with the new code, including provisions that prohibit apps from accessing user location data and a restriction that limits PHAs to one app per country, the latter of which is designed "to promote high user adoption and avoid fragmentation."
After the API rolls out, Apple and Google plan to integrate the exposure notification system into their respective mobile operating systems, a move that should increase accuracy while reducing battery load.