Apple has made 2020 the year of value -- so far
It's not as if Apple is actually making inexpensive devices this year, but 2020 is seeing a clear trend toward greater value across iPhones, iPads, and Macs.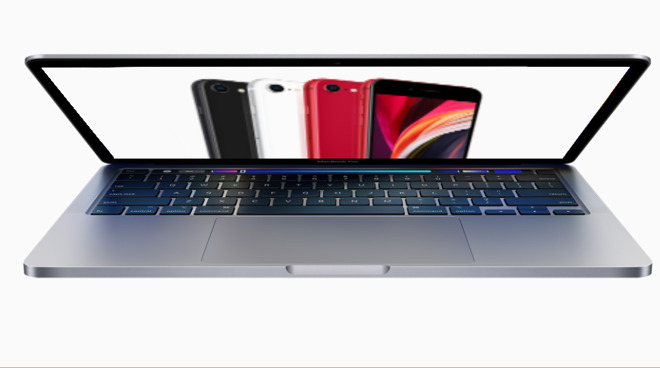 Apple's iPhone SE shown on a 2020 13-inch MacBook Pro
If cost at purchase is your main criteria, you're not going to buy Apple devices. It's not as if services are
doing so well
that Apple is giving away iPhones to run them on.
Where 2019 was clearly the year of services, 2020 does seem to be the year of value. That's definitely the case up to now, but it looks like it's going to continue even on to the launch of the 2020 "
iPhone 12
" range, to some extent.
So far, Across the board, Apple seems to have arrested prices creeping up and is providing more hardware to the dollar, versus the 2019 lineup.
The new iPhone SE
The standout example of this is the new second generation
iPhone SE
. Some people sniff at the hardware looking like the
iPhone 8
,
or iPhone 7
, or even the
iPhone 6s
, and for many people the single camera is not going to cut it. But for everyone else, that low-end new iPhone is a marvel.
Maybe Apple had some smarts in leveraging its old case designs, and the manufacturing tools that make it, but the company also had some chutzpah in giving the iPhone SE the same innards as the iPhone 11. Starting at $399, the least expensive iPhone is not what you'd call a casual purchase, but it pretty much matches the performance of the iPhone 11, and it
entirely blows away
flagship Android phones.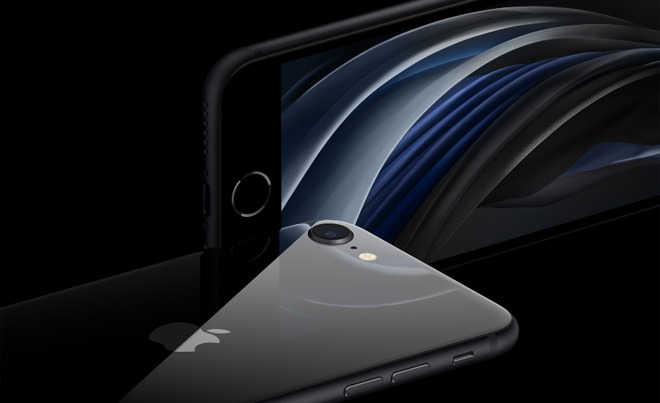 Apple's iPhone SE second generation
There's no possibility, quite obviously, that Apple saw how the world's economy would be changing, and so decided to build a lower-cost iPhone in readiness, given that we've been hearing consistent rumors about this for about nine months. Even Apple can't turn on a dime, and deliver 10 million iPhones in the middle of a pandemic in a month.
Perhaps, though, it did see in mid-2019 that the time of ever-more costly iPhones was ending and it needed to grow by grabbing more Android switchers.
Forthcoming "iPhone 12"
It definitely appears that Apple won't go the way of Android manufacturers and push up the price of its "iPhone 12" range on the back of
adding 5G support
. While we cannot ever truly know until
Tim Cook
or
Phil Schiller
stand up on stage and tell us, it does appear that Apple will keep to last year's pricing.
That's not entirely true, but it is practically. According to what leaks there are
about pricing
, the two top end Pro models will keep 2019's pricing. The lower end one, what might previously have been called the entry-level model if it weren't for the new iPhone SE, is changing price but chiefly because it's changing everything.
Rather than one iPhone 11-like model priced to start at $699, we're due to get two. True, one of them will cost more at $749, but the other is said to be $649.
Apple doesn't do low cost, but when they want to, they can do less expensive
Apple's iPad range
The 2020
iPad Pro
may not have been all that we expected -- or even perhaps all that
Apple intended
-- but it what it definitely wasn't, was more expensive.
Apple introduced the 2020 iPad Pro for the same price points as its immediate predecessor, the 2018 models. Except, Apple also changed what you get for the lowest prices.
This has been an issue with Apple for such a long time. Many, or most, devices come out with a base configuration that is simply unworkable. It means Apple hits a price point that, for this company, looks as good as it can be -- but users invariably have to spend more to get a device that's sufficient to work on.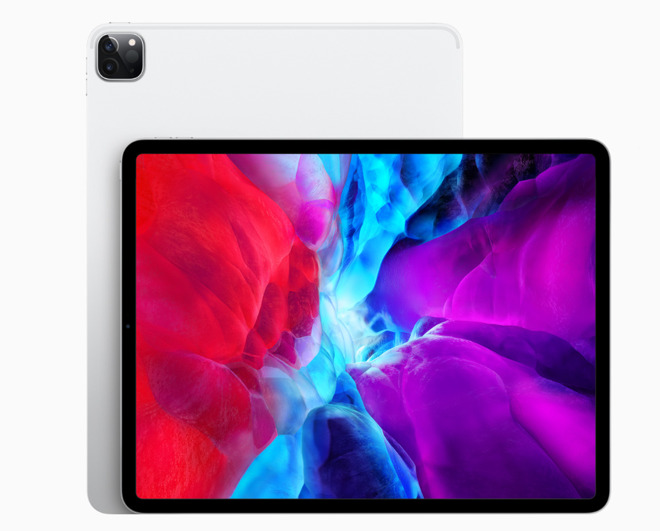 The 2020 iPad Pro refresh wasn't huge, but it included double the storage for the same price
You can well argue that this has been the case since the start of the Mac, as that original 1984 model was under powered. It's become more standard, though, in recent years as Apple typically displays a good, better, and best option in its build-to-order store pages.
With the 2018 iPad Pro, this meant that for the starting price of $799 for an 11-inch model, or $999 for a 12-inch model, you got 64GB storage. For both of 2020's models, you start with 128GB for the same price, and on top of that, a new LiDAR scanner.
That's a clear, demonstrable improvement in value for money, especially as quite little else in the iPad Pro has changed. However, there are more intangible improvements across the iPad range as, for example, Apple now offers a regular iPad starting at $329.
For the giant majority of users, that iPad is more than sufficient, and in late 2019 it offered a larger 10.2-inch display for the same price as 2018's 9.7-inch model.
New Macs and MacBook Pro models
If the iPhone SE is the poster child for Apple offering better value, then the company's portable Macs are not very far behind. That's especially the case with the
16-inch MacBook Pro
, again a 2019 release on the calendar, but released in Apple's 2020 fiscal year.
While everyone predicted a larger screen, everyone assumed improved specifications, and most everyone hoped for a better keyboard, nobody saw the price coming. Even supply chain sources thought this new
MacBook Pro
would come in at a much, much higher price than it did.
So much so that it was even assumed that the 16-inch model would fit into the range above the then-current 15-inch version, not that it would replace it -- for the same price.
Then this year, the
MacBook Air
regained its title as the best value MacBook to buy. It would have got that simply for utilizing the same new Magic Keyboard as the 16-inch MacBook Pro, but Apple also
dropped the price
by a hundred bucks.
That was for the base model, but Apple also introduced new options for MacBook Air buyers that it hadn't before. There was now a choice of processors and speeds, and a slightly expanded choice of storage.
Then with the newly revamped
13-inch MacBook Pro
, Apple again stuck to the same pricing as the previous model, but gave us more. In truth, while that 2020 13-inch MacBook Pro is a tempting machine, it
doesn't bring very much
that is new to the range.
It doesn't, for instance, have the 14-inch screen that was expected. However, it does have the new Magic Keyboard, and Apple doubled its storage while keeping the price the same.
Similarly, when the 2018
Mac mini
got what can only charitably called a refresh
in March 2020
, the sole marked difference was that you got more for your money.
Instead of the base $799 model coming with a 128GB SSD, you got 256GB. In the Mac mini, the 13-inch MacBook Pro, and the MacBook Air, that's the difference between a machine you'll regret and a machine you could love.
Hold on
As Apple users, we are so used to talking about large sums of money that they become normal. Even at $999, a MacBook Air is an expensive laptop -- it just happens to be worth it from performance, build quality, how long it lasts, and the fact that it runs macOS.
Still, if Apple now occasionally surprises us with the odd doubling of storage for the same price, it's also just as capable of making us jolt.
At least in 2020, though, it's really only done that twice. First up was the announcement of the
Magic Keyboard for iPad Pro
, which comes in a 11-inch version for $299, and a 12.9-inch version for $349.
As well as having to spend about a third as much again as you did on the iPad Pro to get a keyboard, it's also significantly more than Apple's previous options. To be fair, the Smart Keyboard Folio ($179 for the 11-inch, $199 for the 12.9-inch),
doesn't really compare
to the engineering of the new option.
In fact, it so doesn't compare that where Apple usually replaces an item with its successor, the company continues to sell this version of the Smart Keyboard Folio.
It's also the case that you do have alternatives to Apple's offerings for an iPad Pro keyboard, whereas with Apple's single biggest head-jolting, eye-popping price for 2020, so far, you don't.
On the same day that Apple announced what's probably its best-ever value iPhone, it also announced what actually is its best-ever value set of wheels. But only because it hasn't offered wheels before, and may never again unless it releases an
Apple Car
.
The Apple Mac Pro Wheels Kit -- a
set of four wheels
to go on a
2019 Mac Pro
-- cost $699. The idea is that if you bought a Mac Pro with feet, you could now swap for wheels, and that meant there was an option to go the other way, too. If you originally bought wheels, you could now order the Apple Mac Pro Feet Kit for a mere $299.
That really is how Apple works more often. It can't ever make $299 for feet seem reasonable, but it somehow manages to make us think it's more reasonable than the $699 for the wheels.
It's certainly true that Apple remains expensive, but what gets missed too easily is that Apple is very, very and three times very good at pricing. No price is arrived at casually, and no price is arrived at in isolation from everything else.
Which means that Apple's moves in late 2019, and so far throughout 2020, toward better value for money are not chance. The company has planned this, and that's one reason we buy -- in every sense -- that the "iPhone 12" range will be at the prices we're told it will be.
Keep up with AppleInsider by downloading the AppleInsider app for iOS, and follow us on YouTube, Twitter @appleinsider and Facebook for live, late-breaking coverage. You can also check out our official Instagram account for exclusive photos.