Compared: Pixel Buds versus AirPods and AirPods Pro
Google has released its latest set of wireless earbuds, the second-generation Pixel Buds. We've taken them for a spin to compare against Apple's AirPods and AirPods Pro.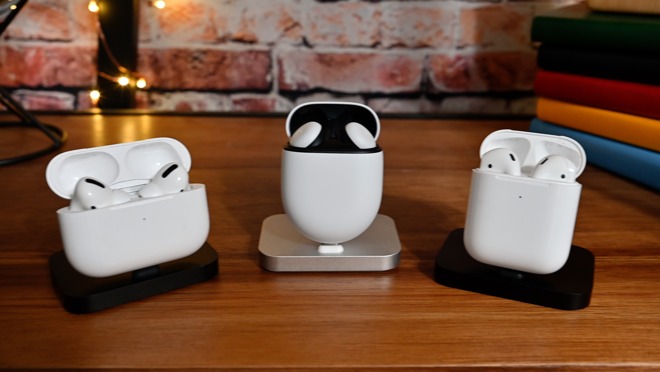 AirPods Pro (left), Pixel Buds (center), and AirPods (right)
Pixel Buds and Apple AirPods
The second-gen Pixel Buds aren't Google's first attempt at wireless earbuds -- Google previously launched the original Pixel Buds in 2017. In the original iteration, there was a wire that connected the earbuds that rested behind your head. With the 2020 release, they are now entirely wireless, similar to Apple's
AirPods
and
AirPods Pro
.
Google kept a similar style to older versions on the exterior of the buds, but removed the wire and added the stabilizers. The still look like circular discs in your ears, though they fit very close to the ear surface and don't protrude as much as AirPods do.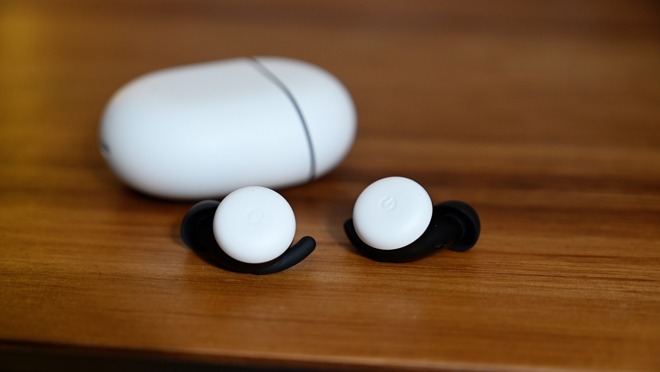 Pixel Buds earbuds
To control the Pixel Buds, you can tap and swipe on the large external surface. Tapping once can play or pause your media, taping twice will skip to the next track or chapter, and a triple tap will go backward. Swiping adjusts the volume up and down. The controls are intuitive and easy to manage thanks to such a large area.
Whenever a new set of earbuds come across our desk, we immediately compare them and their case to AirPods. Apple nailed the "fidget factor" including the perfect lid of the AirPods case -- it easily snaps open, has a solid hinge, doesn't wiggle, and snaps perfectly closed.
The case of the Pixel Buds is nearly as good as the AirPods charging case. Google has delivered a product with excellent build quality, in the second-generation Google Buds.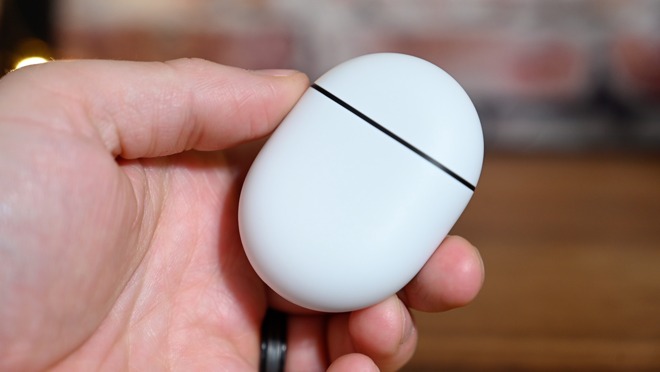 Pixel Buds charging case
The case feels great with its matte finish and subtle colorways -- something we wish Apple would steal -- and the attention to detail is spot-on. The earbuds are easy to grab as you open the case, which gives them a sense of presence and makes them easy to remove. There are very clean lines, a nice curved shape, and no unnecessary branding or labels.
Even the USB-C port is well-designed. It has a clear opening and sharp edges that complete the simple aesthetic of the Buds.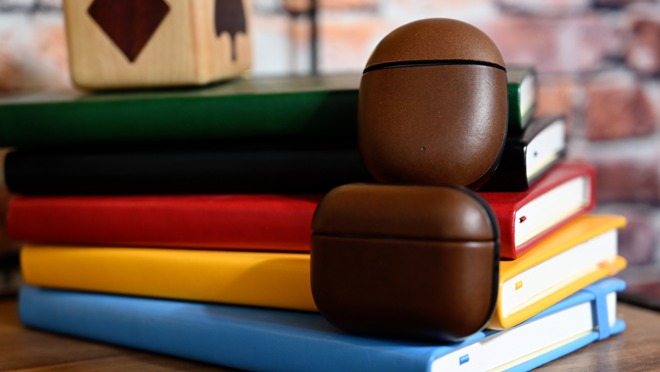 AirPods Pro and Pixel Buds in Nomad Horween leather cases
AirPods
have a similar aesthetic though it doesn't feel as polished as the Pixel Buds. Apple still has regulatory information stamped on the back and unsightly lines from the hinge.
Standard AirPods are controlled via a tapping gesture while the
AirPods Pro
upgraded to the new force stems that can be squeezed for physical control when not using Siri hands-free.
AirPods Pro support both wireless charging and Lightning whereas AirPods support Lightning unless you upgrade to the model with the wireless charging case or choose to pick it up extra later.
How Pixel Buds are better than AirPods or AirPods Pro
Google has done a great job outfitting the Pixel Buds with features, adding more functionality than Apple's base AirPods but not nearly as much as the AirPods Pro.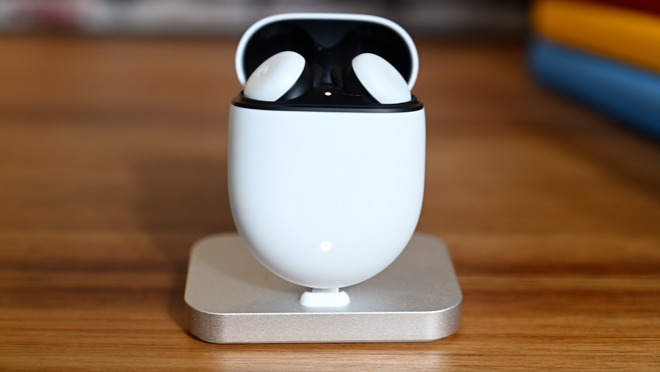 Google's second-gen Pixel Buds in their charging case
Compared to AirPods, Pixel Buds are more technologically impressive with wireless charging by default, real-time language translation when paired with a compatible device, more controls, water resistance, passive noise cancellation, and a more secure fit.
Some of those features are better than AirPods Pro as well. Real-time translation is a standout, allowing you to get translations in your ear as you are speaking with someone in a different language.
How AirPods and AirPods Pro are better than Pixel Buds
Basic AirPods offer no degree of noise cancellation, which in and of itself is both a benefit and a negative. Some people like the open nature of AirPods which allows them to easily ear around them while wearing them and find them very comfortable since they don't create a strong seal.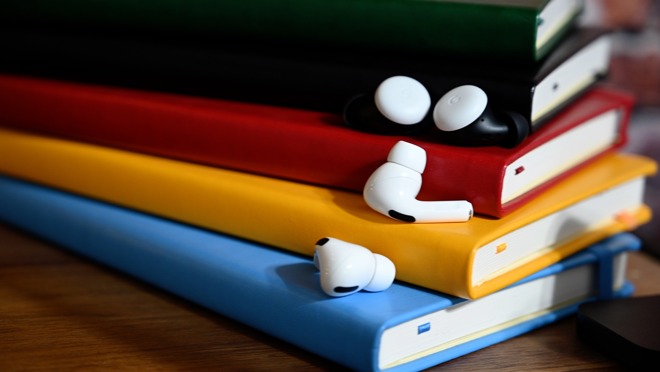 Pixel Buds offer passive noise cancellation with its gel tips that help block out external sound, as compared to AirPods Pro that offers true ANC. Apple is even using an internal microphone to listen to the anti-noise from the noise cancellation to be sure that the sound you hear is correct. This is a feature called Adaptive EQ and it tunes the audio to your ear as well as monitors the ANC.
AirPods also have many iOS-specific features. You can toggle listening modes from Control Center, adjust them via Siri, find them with the Find My app, and customize them within Settings. One of the best features is iCloud sync. This syncs the Bluetooth profile across all your Apple devices signed into the same Apple ID. Once you pair with your iPhone, you can move to your iPad, Apple Watch, Mac, or even Apple TV.
Apple also designed its own chip for AirPods -- the H1. The H1 chip enables Bluetooth class 1 audio which has a far more robust signal and increases the range from the industry standard 33 feet to around 100 feet.
Which should you buy?
| | AirPods Pro | Pixel Buds |
| --- | --- | --- |
| Noise Cancellation | Active Noise Cancellation | Passive Noise Cancellation |
| Pass-Through Audio | Yes,transparency mode | No |
| One-tap setup | Yes *on iOS | Yes *on Android |
| Assistant | Siri *on iOS | Google Assistant *on Android |
| Translation | Ask Siri | Real-time *on Android |
| Auto-pause | Yes | Yes *on Android |
| Controls | Force stems | Swiping and tapping gestures |
| Water Resistance | IPX4 | IPX4 |
| Wireless Charging | Yes | Yes |
| Battery | 4.5 Hours (5 with ANC off) | 5 Hours |
| Unique Features | Live Listen,Find My app,iCloud syncing,Lightning,adaptive EQ,Apple H1 chip with 100-foot range,audio sharing,integrated into iOS Control Center | USB-C,multiple colors,stabilizer arc |
| Price | $249 | $179 |
Typically, when we set out to compare two sets of headphones, they are on rather even footing, but there is no way to put these on even footing. All of the smart features of each are sequestered to their own operating systems, never to cross paths.
Just as AirPods aren't nearly as impressive on an Android device, Pixel Buds don't quite live up on iOS.
Pixel Buds' adaptive audio isn't active on iOS, nor is the ability to auto-pause audio when the earbuds are removed from your ear. This is odd considering many other earbuds -- like the recent Jabra Active Elite 75t manage to do just that.
You can't find them with the Google Find My Devices app, you can't use the translation features, Google Assistant, nor fast pair.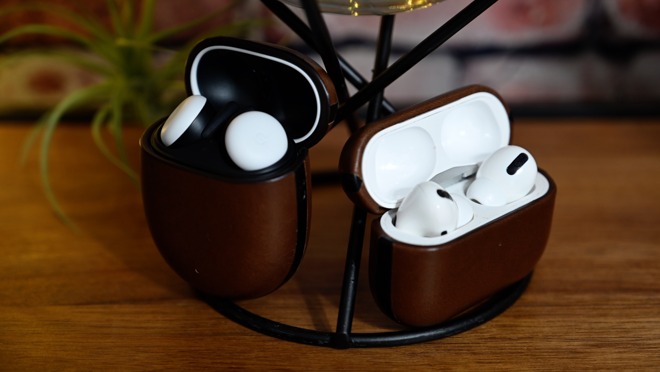 Pixel Buds and AirPods Pro
AirPods drop their Siri support, lose their customization features, many of their unique features such as Live Listen, and more fall flat when used on Android.
So when it comes to our recommendation, it is easier than ever. If you have iOS -- grab yourself a set of AirPods or AirPods Pro. And conversely, if you have an Android phone, then absolutely pick up the Pixel Buds.
Both of these sets are outstanding and set the bar in their respective ecosystems, just don't try to mix and match.
Pixel Buds vs AirPods Pro: which has better deals?
Google's Pixel Buds Gen 2 sell for $179 at popular retailers like
B&H Photo
and
Best Buy
.
Meanwhile, Apple AirPods Pro are currently
on sale for $224.99
at Verizon Wireless. This is one of the
best AirPods deals
we've seen on the wireless earphones.