Apple's Mobility Trends Reports adds additional regions, all 50 US states covered
Apple this week expanded the dataset of its Mobility Trends Reports tool to include hundreds of new cities and sub-regions, allowing researchers to better study the effects of COVID-19 on personal and public transportation.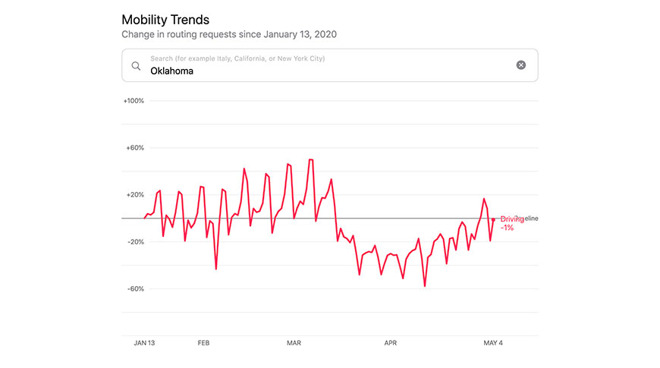 Oklahoma is a new addition to Apple's Mobility Trends Reports project.
In all, Mobility Trends Reports now covers some 800 countries, regions, cities and sub-regions, including all 50 states as well as major metropolitan areas and population centers around the world.
According to Asymco's
Horace Dediu
, who has closely tracked the tool's evolution, Apple added some 580 sub-regions to its list of supported locales this week. The new category further bolsters Apple's comprehensive dataset to provide a top-down view of driving, walking and transit trends around the globe.
Launched
in April
, Mobility Trends Reports illustrates the impact
COVID-19
has on regular travel patterns by aggregating and charting Apple Maps routing requests.
The reports allow researchers and other interested parties to view month-by-month changes collected since January 13, 2020, which serves as the tool's baseline. Most locations offer data on driving route queries, while others incorporate requests for walking directions. Transit data is supplied in larger cities and countries.
When it debuted, Apple said the charts "provide helpful insights to local governments and health authorities" impacted by the coronavirus pandemic, "and may also be used as a foundation for new public policies by showing the change in volume of people driving, walking, or taking public transit in their communities." All data is anonymized and Apple noted it does not keep a "profile" of user movement or searches.
Mobility Trends Reports are one of many Apple initiatives to assist in virus tracking and mitigation during these unprecedented times. The company is working with Google on a cross-platform exposure notification system
expected to roll out
to users soon. Other projects include a
COVID-19 screening app
, surfacing
COVID-19 testing sites
in Maps, the design and manufacture of
protective face shields
for health workers, and N95 mask donations.