Apple-sponsored NFC Forum adopts wireless charging spec amid 'bilateral' iPhone charging r...
Posted:
in iPhone
edited May 2020
The NFC Forum, an industry group tasked with setting global standards for near field communication technology, on Tuesday announced the adoption of a new Wireless Charging Specification (WLC) that could one day enable smartphones to juice up smaller consumer devices.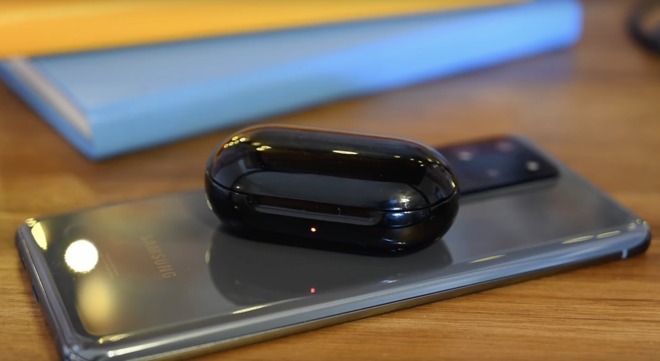 Samsung's Wireless Powershare is based on the Qi charging standard.
NFC Forum's WLC relies on a single antenna to both carry data communications and transfer power to compatible equipment at a rate of up to 1 watt, according to a
press release
.
While not a significant amount of juice, 1W is enough to give a quick pick-me-up to low-power internet of things devices, including smart watches, wireless earbuds and styli.
Apple Watch
and
AirPods
, for example, are currently limited to low wattages due to their relatively small internal battery cells.
"NFC wireless charging is truly transformative because it changes the way we design and interact with small, battery-powered devices as the elimination of plugs and cords enables the creation of smaller, hermetically-sealed devices," said Koichi Tagawa, chair of the NFC Forum.
Apple is a sponsor of the group.
The WLC specification uses a 13.56 MHz base frequency and harnesses an NFC communication link to control power transfer, the group said.
Today's announcement arrives more than a year after rumors suggested Apple
was developing
"bilateral" wireless charging technology for what would become
iPhone 11
. Similar to a system used by Samsung in its Galaxy smartphone line, the technology was expected to allow users to charge iPhone wirelessly via a coil array, then use that same hardware to power other gadgets by laying them on the phone.
Analyst Ming-Chi Kuo in an investor note released
just prior
iPhone 11's launch said Apple decided against incorporation of bilateral charging due to efficiency issues.
Apple might integrate iPhone-based wireless charging tech in this year's revamp, though rumors surrounding an anticipated "
iPhone 12
" have not included such claims. If the handset does boast bilateral wireless charging capabilities, it will almost certainly operate on the Qi standard, making it compatible with existing iPhone chargers and Apple equipment like AirPods and
AirPods Pro
cases. Support for Apple Watch is less clear, as that system is based on a proprietary protocol not compatible with Qi devices.
In any case, implementation of the NFC Forum's WLC is years away, if Apple opts to adopt the technology at all. To do so would require design reworks for a number of major product lines that currently lack NFC stacks, and potentially tweaks or updates for those that do include such hardware.