India motivating iPhone production with incentive rule changes
Posted:
in iPhone
edited May 2020
India is making it more attractive for Apple and other mobile phone companies to set up production facilities in the country by adjusting the rules for its PLI scheme, a change that could allow Apple to increase manufacturing in the region.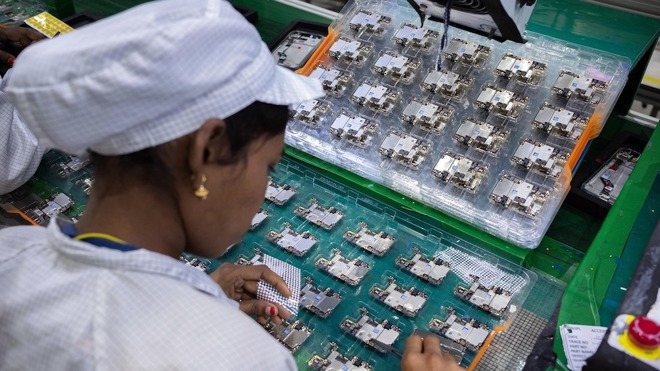 The government of India has been trying to tempt large-scale manufacturers to bring more smartphone and mobile phone production to the country with its production-linked incentive (PLI) scheme. PLI offers a variety of benefits over a five-year period if foreign manufacturers abide by specific rules or reach certain targets when setting up or operating production facilities.
Despite the potential benefits, Apple has so far declined to take up the offer, but changes to the scheme
reported
by the
Economic Times
could make it far more useful for the iPhone maker
to take up
.
One of the clauses in the scheme is that plant machinery acquired from China and South Korea for use in production has to be valued at only 40% of its real value. To a manufacturer like Apple, it therefore would either have to source the same machinery locally to have a higher valuation, or import more than twice as much machinery as it may necessarily need to meet required expenditure levels.
On Friday, an official aware of a meeting of a committee of secretaries organizing the scheme claims the 40% clause has been removed. A few other changes are also being made, such as including members of the smartphone manufacturing industry into discussions before making any further changes to the scheme once a company has invested and started production.
"Earlier, a clause permitted only the empowered committee to be able to unilaterally change the rules but investors had voiced concerns with this clause," the official claims.
Other changes include alterations to various caps, the removal of a clause that would allow the government to release the incentive to manufacturers meeting targets only if it had the money to do so, and a reduction of the "excessive business information" the government wanted from participating companies.
Manufacturers will receive graded incentives between 4% and 6% of production value over a five-year period, if they produce smartphones that exceed certain values that increase each year, in excess of the base year's production value.
It is expected the scheme's changes will be formally announced over the next week.
An expansion in manufacturing
The government's aim with the scheme is to try and convince more foreign companies to use India for its manufacturing instead of relying on existing supply chains operating in China, as well as other regions. For manufacturers, aside from a financial benefit offered by the scheme, expanding into production in India provides an opportunity to diversify the supply chain, allowing it to not be as badly affected by major emergencies like
COVID-19
, or political issues like the
US-China trade war
.
Apple's main production takes place in China, but it is allegedly looking at India as a possible secondary production hub. Apple already uses contract partners
Wistron
and
Foxconn
for local iPhone production, with Apple's participation in the scheme revolving around increasing its manufacturing through its partners.
On May 11, it was alleged Apple was considering taking up India's offer, and had been speaking with
high-level government officials
for months about possibly scaling up production. It was suggested Apple was seeking to shift roughly a fifth of existing China-based output
to India
, which could equate to $40 billion in local manufacturing revenues over the next five years, and could make Apple India's largest exporter in the process.
It is believed Apple sells iPhones worth around $1.5 billion per year in India, with a market share of between 2 and 3%. As existing manufacturing efforts are thought to total less than $0.5 billion annually, Apple would therefore need to make considerable investments to bolster its supply chains to reach the required PLI target.
The increase in manufacturing will also help Apple with its other aim of owning its own retail outlets in India. Apple is intending to open the first retail space in the country
in 2021
, but to do so, it had to abide by some tough restrictions.
Under ownership rules, a foreign brand like Apple would need to locally source at least 30% of its products sold in stores, which would largely consist of iPhones made by Foxconn or Wistron in the country. A change was introduced where exports would also count towards the 30% sourcing rule, incentivizing Apple to increase its manufacturing investment in the process.