Apple Research adds test and survey to Apple Hearing, Heart & Movement studies
Posted:
in iOS
edited June 2020
The Apple Research app has been updated, with it now including a new "Speech in Noise" test for the Apple Hearing Study along with a survey for the Apple Heart & Movement Study to examine the effects of COVID-19.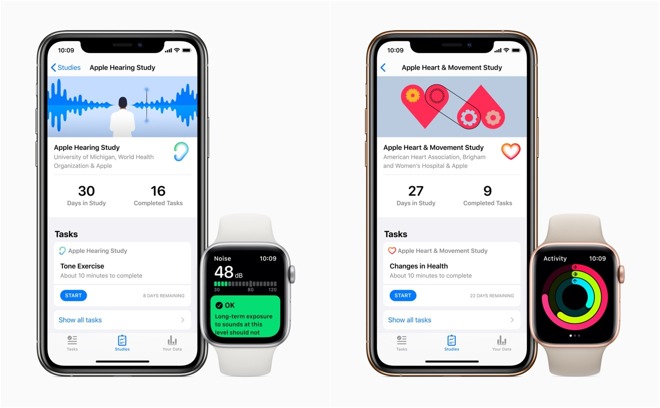 Issued on Tuesday, version 1.3 of the
Apple Research
app offers a selection of bug fixes and improvements, but the main changes revolve around two of the studies powered by the app: the Apple Hearing Study and the Apple Heart & Movement Study.
For the Apple Hearing Study, the "Speech in Noise" test intends to help understand the hearing ability of study participants under a variety of circumstances, including the presence of background noise.
Launched
in November
, the Apple Hearing Study in association with the University of Michigan aims to determine how long-term sound exposure can impact stress levels and cardiovascular health. This included studying whether receiving Health app notifications when loud sound exposure is detected can motivate users to modify their listening behavior to protect their hearing.
The update to the Apple Heart & Movement Study is in the form of a new survey, which is offered to help "understand the impact of
COVID-19
on daily life."
Working with the American Heart Association and Brigham and Women's Hospital, the Apple Health & Movement Study examines the activity and movement of participants, including an exploration of the correlation between a broad range of physical activities and overall heart health.
Participants in the studies will see the new additions within the Research app automatically.
The foundations to Apple's Research app were developed during and after the Apple Heart Study. Apple launched that study
in late 2017
, with the program later called the
largest arrhythmia of all time
by the
American Heart Journal
. Research concluded in 2018, with data from the work later used to
gain FDA approval
of the electrocardiogram introduced with Apple Watch Series 4.