Here are our favorite cases for iPhone SE (2020) -- Updated with more options
Posted:
in iPhone
edited August 2020
With a new iPhone SE comes new cases. While your old iPhone 7 or iPhone 8 case might fit, there are lots of new options for you to choose from, instead of using a case that's already two years old -- or more.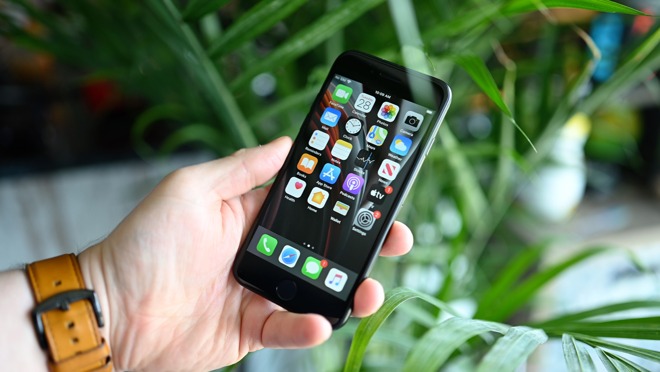 iPhone SE (2020)
Updated 8/12/20 with new Element Case Black Ops
For the
iPhone SE
(2020), Apple chose to adorn the smartphone with a glass back to enable wireless charging. This alone may necessitate a new case, beyond wants for style, lens mounts, lanyard attachments, or wanting an integrated wallet.
We've taken some time to source some of our favorite cases, ranging from low-cost bare-bones shells, through eco-friendly options, and some high-end models.
Element Case
Black Ops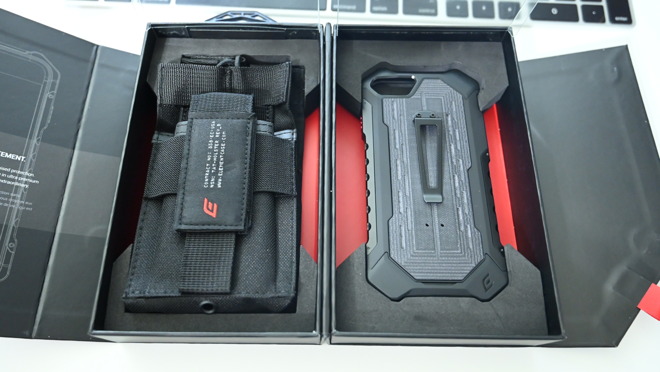 Element Case Black Ops box with case and pouch
The Element Case Black Ops case is one of the most rugged and stylish cases we've come across. In the box, you get not only the case but a "MOLLE Tactical Holster" as well. MOLLE stands for modular, lightweight, load carrying equipment. It is easy to carry and has a drawstring top.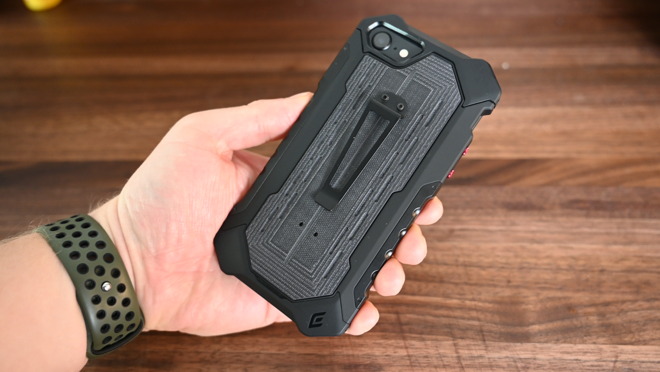 Element Case Black Ops iPhone SE (2020) case
Turning to what's important -- the case. It has a start, matte black appearance and is made of a variety of different materials for various purposes. The back is made of a rigid G10 glass composite which is then CNC machined to size and affixed to its polycarbonate frame. This provides a strong back for the phone case.
To insert the phone, the top and bottom of the case are removable and the phone can be inserted into the case.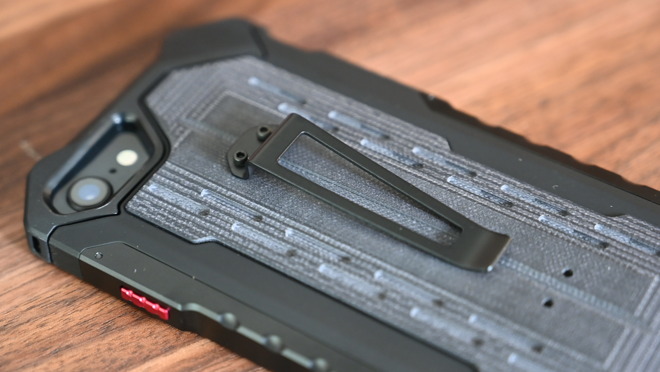 Rear belt clip on Black Ops case
On the back of the case is an aluminum clip for quickly locking to a belt, bag, or pocket. It is flexible and strong, though not removable like it is on the iPhone 11 Pro and iPhone 11 Pro Max models.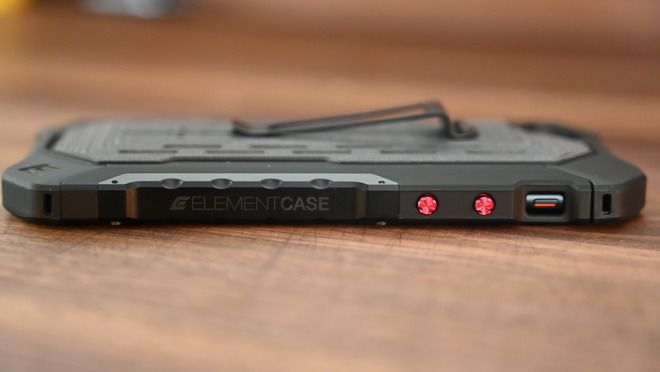 Element Case Black Ops
Lastly, the side rails are also CNC machine aluminum which give it an even more premium feel. The buttons are aluminum as well which are very quick and responsive and they connect directly to the buttons below them.
Grab your elite Element Case Black Ops iPhone case on
Amazon for $199
.
OtterBox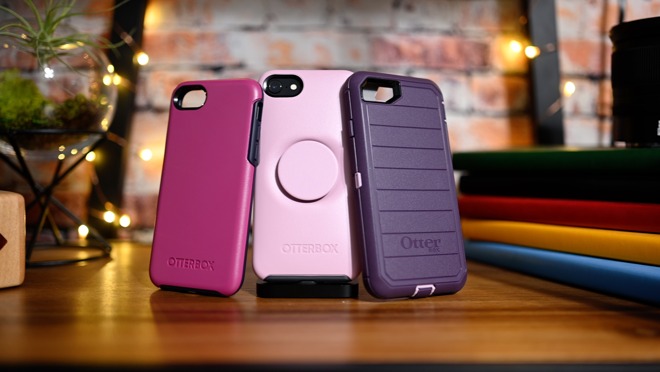 OtterBox Symmetry (left), Pop + Otter (center), and Defender Pro (right)
Otter + Pop Symmetry
PopSockets are all the rage as of late, and OtterBox is making them even more convenient. With the
Otter + Pop Symmetry case
, you get a slim, protective case with an integrated PopSocket that is swappable and supports wireless charging. The back of the case is plastic while it has a soft, grip-able silicone edge surrounding it.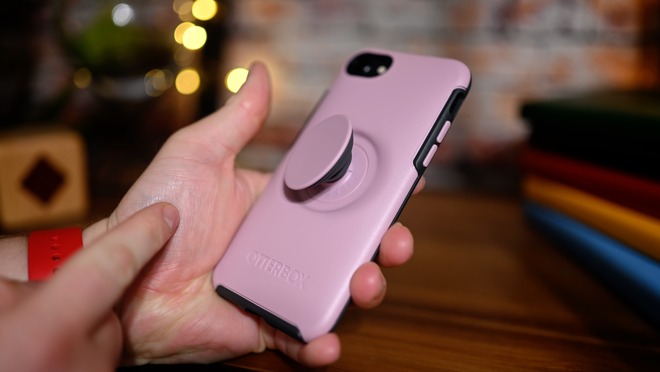 Otter + Pop Symmetry Case
The big deal here is the integrated PopSocket. By pressing in and twisting, it can be removed and interchanged for another of your choice. We've used PopSockets and they often cause issues with wireless charging and they have a tendency of catching your pocket. This fixes both of these issues. The PopSocket is recessed slightly which make it feel slimmer than your normal PopSocket. Various color combinations retail for between $51 and $59 at
OtterBox
and
Amazon
.
Symmetry
The OtterBox Symmetry case is up next and feels slightly more rigid. Not only does it have a strong plastic back, but it is entirely lined with silicone for added impact resistance.
We've always been immense fans of the Symmetry case in OtterBox's lineup because it isn't as bulky as OtterBox's other offerings but it still holds up very well.
Our biggest issue with this case is the buttons can be a bit stiff to press. The OtterBox Symmetry case for Apple's iPhone SE
retails for $40.95
, but is currently
on sale from $9.99
at Amazon.
Defender Pro
Rounding out our OtterBox recommendations is the
Defender Pro
. This case has certainly slimmed down over the years yet it still remains just as protective.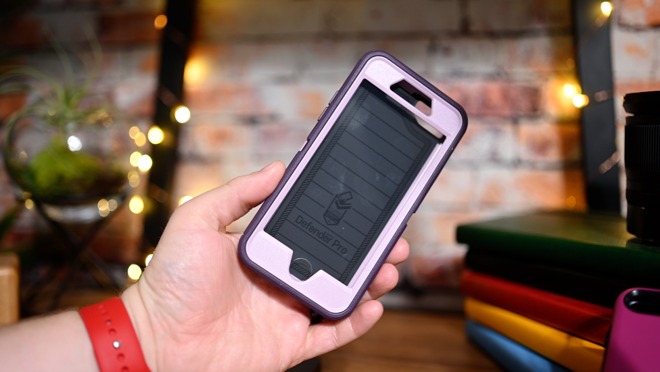 OtterBox Defender Pro
It has the best drop protection of the lineup and offers a limited lifetime warranty. It is coated in "OtterArmor" which is an antimicrobial coating to fight against germ build-up which is rampant on our phones.
The whole back and sides of the case are rubberized and it even covers the Lightning port at the bottom of the phone. The screen is protected via a built-in film.
It does take a bit more patience to install having to first remove the silicone then separate the plastic shell but if you want protection, those are the trade-offs you make.
OtterBox includes a belt clip too. It rotates around to work at multiple angles and protects the screen further with it facing inwards, against the plastic back of the clip. Although it
retails for $60.95
, Best Buy is selling the Defender Pro case
for $49.99
.
Bodyguardz
Harmony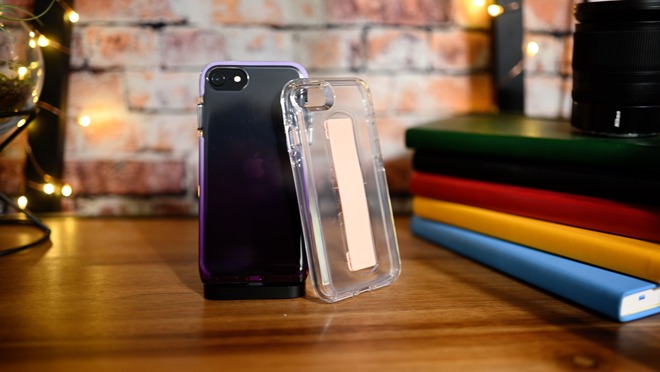 Bodyguardz iPhone SE cases
The Harmony case is as sleek as they come. It is a very slim slip-on shell-style case that is quite flexible. It comes in
multiple chic colors
that increase in opacity as they move from top to bottom. On the top, the case is clear, but by the bottom it is more pronounced. The clear material has a slight texture on the inside and is made of BodyGuardz "Unequal" impact material which is made using Kevlar.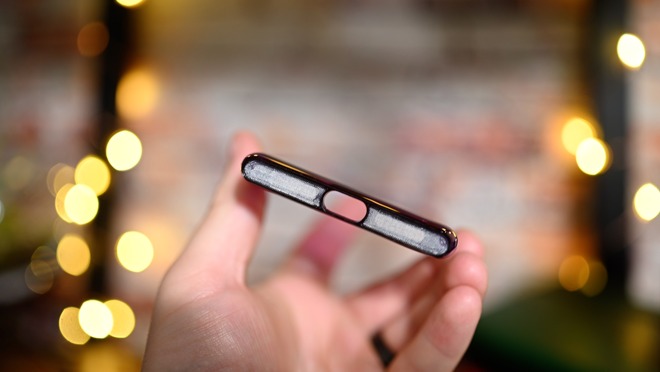 Bodyguardz Harmony speaker covers
It features ten feet of drop protection despite its thin nature. One unique feature we appreciate is the protective mesh that covers the speaker and microphone on the bottom of the phone. The side buttons are solid and chromed for another nice accent. The Harmony iPhone SE case is currently
on sale for $31.96
.
SlideVue
SlideView is another BodyGuardz case that breaks the mold. It has a slightly thicker back and integrates a movable grip. It slide up and down to add a grip where you can slide in your fingers to help hold onto your phone.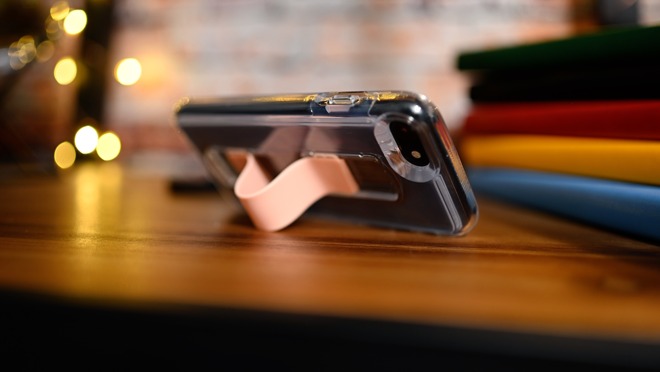 SlideVue loop can also be used as a kickstand
That loop also is able to double as a kickstand, great for watching videos on your phone. The SlideVue case for Apple's 2nd Gen iPhone SE
sells for $23.96 at BodyGuardz
.
LifeProof
Wake
The
LifeProof Wake case
is riding the eco-friendly wave. It is a hard shell case that is made from 85% ocean-reclaimed plastic. It has reinforced ribs on the interior edges and separate contrasting buttons on the sides. The back of the case is textured with wave-like patterns.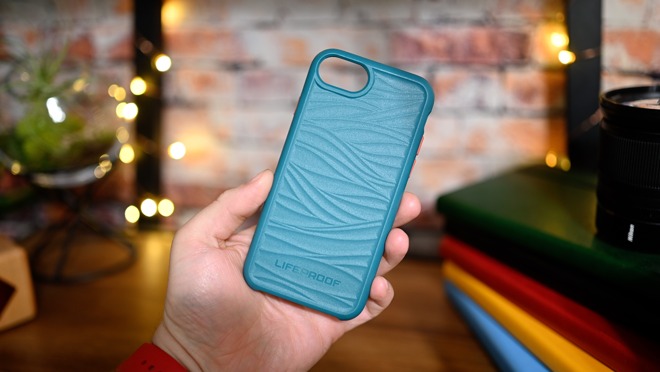 Lifeproof Wake iPhone SE case
It also has two meters of drop protection and each purchase goes towards giving back. Verizon Wireless is currently knocking
$20 off the LifeProof Wake case
, bringing the price down to $19.99.
Moment
Photo Case
Moment's
cases
are not only stylish and protective but bring support for Moment's outstanding mobile lenses. These lenses can be mounted on the iPhone's lens for versatile shots. This is even more important on the SE that lacks the additional lenses found on the iPhone 11 and iPhone 11 Pro.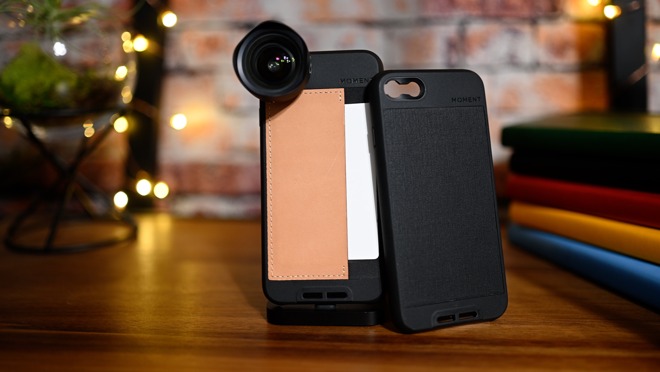 Moment iPhone SE cases
There are 2X tele lenses, ultra-wide lenses, fisheye lenses, anamorphic lenses, and macro lenses. Perfect for taking your photography to the next level.
Moment's cases come in a variety of styles, including the black canvas and natural leather wallet options we tested out. The cases have an anchor point at the bottom of a lanyard, too. Several styles are currently
on sale at ShopMoment.com
.
Speck
Presidio Pro
The most basic of Speck's cases is the
Presidio Pro
(on sale
at Amazon
). It is a semi-flexible case made of two distinct layers. Those dual layers add increased protection for up to ten feet of drop resistance. Hard plastic is on the outside and Speck's "Impactium" material lines the inside.
The matte exterior is covered in an antimicrobial coating to help kill germs. There is a raised edge that helps protect the phone when placed face-down.
Presidio Stay Clear
With eight-feet of drop protection, the
Stay Clear
is similar to the Presidio Pro but in a transparent design. It won't yellow like cheap cases have a tendency to do.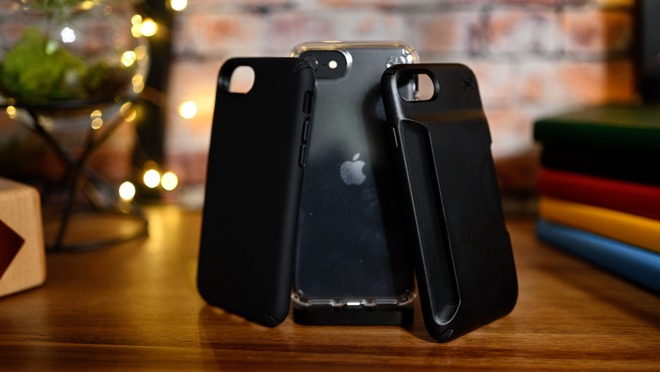 Speck Predisio Pro (left), Presidio Wallet (center), and Presidio Clear (right)
It still has two layers of plastic and Impactium and has the same raised edge for face-down screen protection. The Stay Clear is available at Amazon
for $24.48
.
Presidio Wallet
Then there is the
Presidio Wallet
. This wallet-style case has a slim pocket on the back to hold onto a few cards on the back for easy access. Up to three cards will fit, all while staying slim.
It has a plastic body with an Impactium lining and a rubber back to the wallet compartment. It is capable of withstanding ten-foot falls like the Presidio Pro. At press time, the Presidio Wallet is over half off
at Amazon
.
Urban Armor Gear
Outback Series
The
Outback Series
from UAG is another eco-friendly option. This biodegradable case is ultra-lightweight and a great premium feel. Once you are done with the case, when placed in a proper composting location, it will entirely break down rather than take up space in a landfill somewhere.
It is still protective though, meeting all military drop test standards.
A quick word of note here, UAG does recommend keeping it away from dark dyes as that can stain the case.
Plasma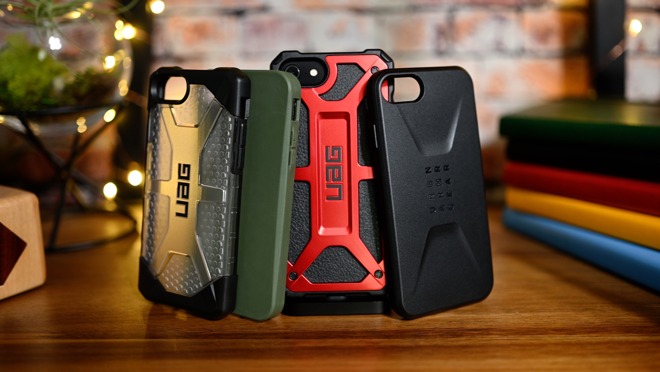 UAG Plasma (left), Outback Series (Second), Monarch (second from right), Civilian (right)
Moving to UAG's more classic cases, we have the
Plasma case
($39.95). This is a very striking case with a semi-transparent back with colored accents on the top and bottom.
It is very light despite its mil-spec drop test rating. The buttons are easily pressed thanks to cutouts along the sides of the buttons which causes them to be less rigid. Raised edges around the camera and the display protect those as well.
Civilian
Civilian is a less showy option from UAG. Plasma has a great stylized look to it but it can be a bit much, as can the Monarch case. If you want something more subtle, Civilian may be a good option.
It has a simple matte back with slight grooves. The inside is accented by a bright orange color which is a great contrast to the rest of the case. It peeks out just a bit on the lower two corners as well as the top edge of the case.
Like all of UAG's cases, it meets or exceeds military drop test standards. The Civilian style
sells for $49.95
.
Monarch
That brings us to the UAG Monarch. The most luxe case from Urban Armor Gear. It has a five-layer construction including the impact resistant core, to natural leather, to another frame, all held together by a set of screws.
This case looks very cool and is sure to catch someone's eye. Once more, it also meets military drop test standards. The UAG Monarch case for the iPhone SE 2 can be found on Amazon
for $59.95
.
Gear4
Crystal Palace
Gear4 doesn't mess around. With many of its cases, including the Crystal Palace, sporting 13 feet of drop protection, these cases will hold up.
The Crystal Palace case has a very slim design, an anti-microbial coating, and an anti-yellowing feature. It is relying on D30 Crystalex for its impact protection which is a variant of the D30 material used in all of Gear4's cases.
Compared to other slim clear cases, the Crystal Palace case is rigid instead of flexible. Verizon Wireless currently has the Crystal Palace case
on sale for $19.99
.
Oxford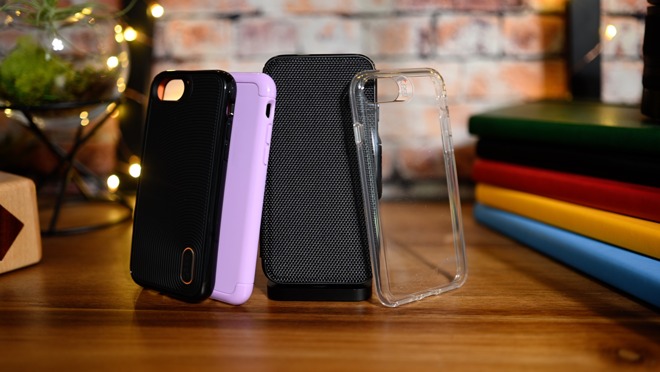 Gear4 Battersea (far left), Wembley (second from left), Oxford (second from right), and Crystal Palace (right)
The Oxford case from Gear4 is a folio-style case. It has a fabric-covered front panel made from recycled plastic. Behind it are two card slots. Store a couple credit cards or your ID and a backup card for when Apple Pay isn't available.
The folio portion clips shut, locking on the side of the case but still being easy to open. Propping up the folio allows you to repurpose it as a kickstand.
Again, Gear4 is utilizing D30 as its impact material for the rest of the case with 13 feet of drop protection. The Oxford case sells for $49.99, but
AppleInsider
readers can
save 20% on one item
with coupon code
INSIDER20
at Gear4.
Wembley
Wembley is the thinnest of Gear4's cases. It is ultra-lightweight and is entirely flexible as you put it on your iPhone SE. It feels great to hold with a matter finish along the back and glossy accents towards the top and bottom.
It still relies on D30 but this time only offers ten feet of drop protection which is frankly still quite good.
Wembley also features an anti-microbial coating. This thin and light option is available
from Gear4 directly
for $23.99 with promo code
INSIDER20
.
Battersea
Then we have Battersea. This is the most protective of the lot, offering an outstanding 16 feet of drop protection thanks to D30.
The case isn't much bigger though. It is still surprisingly thin but a reinforced back that has a two-tone look. The textured back adds extra grip as well.
This case also offers an anti-microbial coating, all
for $39.99
with coupon code
INSIDER20
at ZAGG.
Pelican
Voyager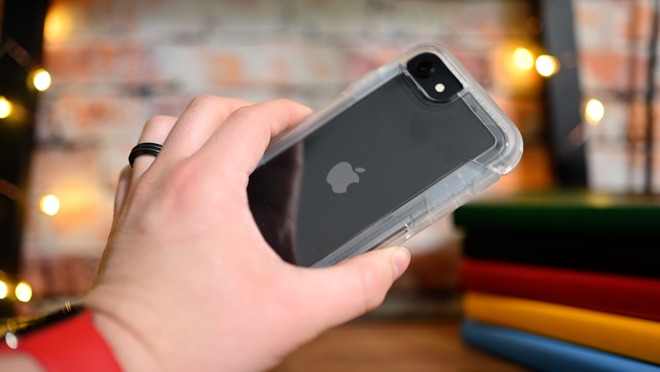 Pelican's durable Voyager Clear
Pelican's Voyager case is one of the most durable cases around. This rugged, strong case is rated against the military spec for drop test durability. It has a four-layer construction including a clear back, rigid front edge, and durable impact-resistant rubber layers.
The case is a two-part case, requiring a coin or the edge of the holster to open it apart. Once apart, the iPhone SE is placed inside for strong protection from all angles.
It also has a holster belt clip to keep the phone secure and add additional protection to the display side. Pelican backs it up with a lifetime warranty. Third-party sellers are currently selling the Pelican Voyager case on Amazon
for $19.95
.
Casery
Protective Hybrid Case
Casery has a flair for style and we see that in spades with its cases for the new iPhone SE. Its Protective Hybrid Case has a slim fit, a clear coat, won't scratch, has a raised lip, and won't yellow. All while sporting some fantastic prints.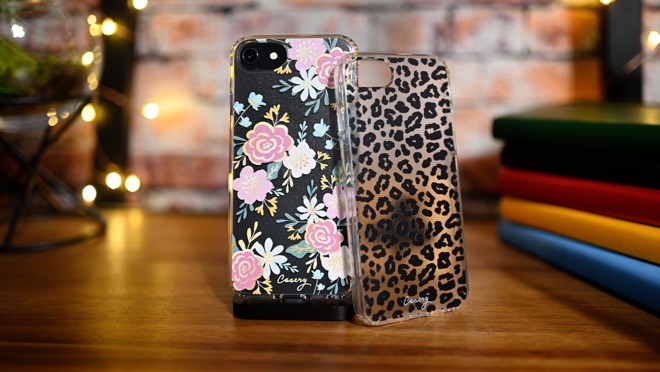 The Casery floral iPhone SE cases
We picked up a couple models to test, each with their own look. The first has a cheetah-like pattern down the back with clear sides. The other has a simple floral pattern.
These cases make it almost look as if your iPhone a pattern on it with the case just fading into the background. A wide variety of patterns can be found
on Amazon
for $32.
Rifle Paper Co.
iPhone SE cases
Rifle Paper Co. has some stylish options of its own. Its basic case is clear and very slim. On the clear case are various floral prints that are classy and subtle. They aren't overly flashy, but elegant.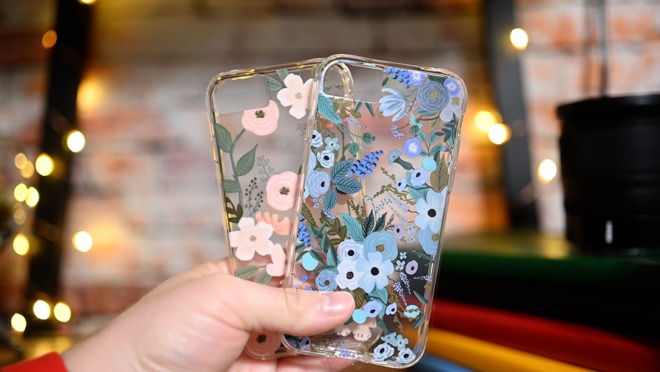 Rifle Paper Co iPhone SE cases
All its cases offer ten feet of drop protection as well.
Within its lineup is also an eco option. This case looks the same and still has ten feet of drop protection but is made from entirely plant-based materials. It
retails for $39.99
on Amazon.
X-Doria
Shield
X-Doria is out with its latest updated cases for the new iPhone SE. These reliable cases have been favorites for years. They are very well built, use premium materials, and are very protective
for under $30
.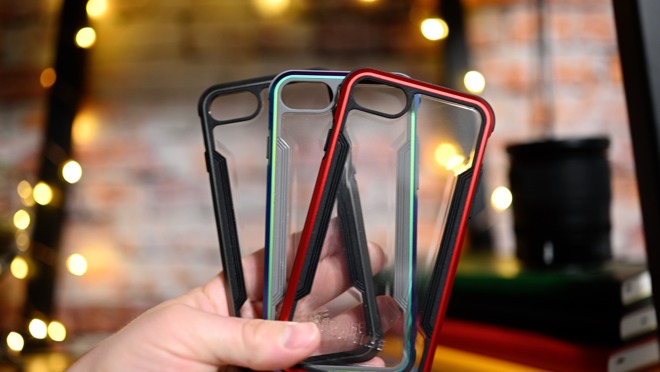 X-Doria Defense Sheild iPhoen SE cases
They are listed as "military-grade," with machined metal around the edge, a clear polycarbonate back panel, shock-absorbing rubber bumpers, and acoustic channels. The acoustic channels are particularly unique as they direct the speaker forward making the audio appear louder as you listen.
The cases feel great and look great as well. We love being able to see the iPhone's Apple logo through the back and you are still able to show off the different colorways while adding some color from the machined metal case.
We tested the green, black, and red and aren't sure which one we'd pick as our favorite.
Case-Mate
ECO94
ECO94 is an environmentally-friendly line from Case-Mate. We tested out two of their models for our iPhone SE.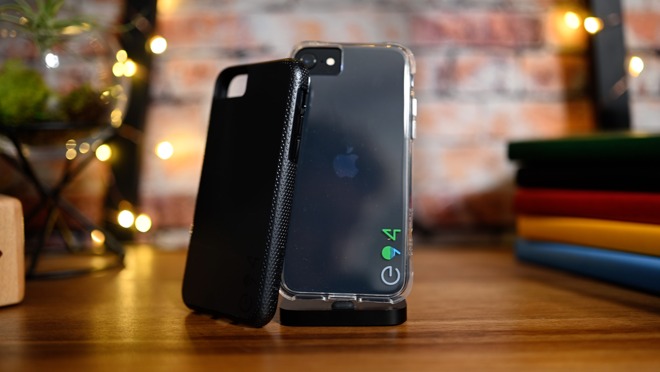 eco94 iPhone SE cases
The Eco-Clear case is a clear, shell-style case that is made with plant-based materials. It is shock-absorbing, made of a single piece of material, and has flexible sides for added grip. It is
$39.99 on Amazon
.
Then we had the recycled phone case which is similar and made with post-consumer recycled plastics. It has a two-part design and the same ten-foot drop protection found on the Eco-Clear case. The recycled case is also
$39.99 on Amazon
.
These cases are done as a partnership between Case-Mate and The Nature Conservancy. It is a global conservation organization dedicated to conserving water and lens. Case-Mate is helping to plant more than 30,000 trees around the world, going toward The Nature Conservancy's goal of planting a billion tees.
Tough Clear
The Case-Mate Tough Clear case is a shell-style clear case for the iPhone SE. It has an anti-yellowing feature to help it age well, a lifetime warranty, and ten-feet of drop protection.
It is very thin and the buttons on the side are chromed which is a nice touch. All edges of the phone are covered, including the bottom of the device.
You can also get the Tough Case and a screen protector as part of the "Protection Pack" which includes both. These cases are
$27.99 on Amazon
.
Tough Groove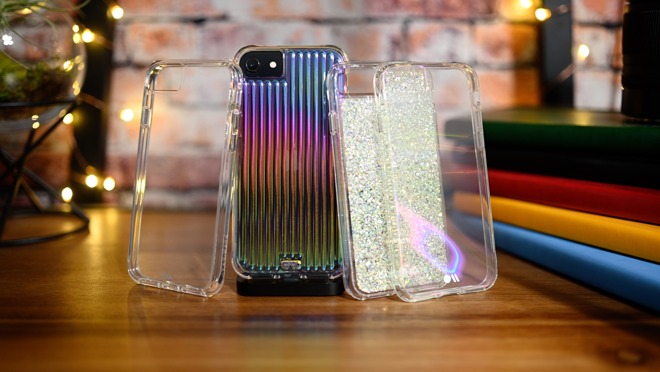 CaseMate Tough Clear (far left), Tough Groove (second from left), Twinkle Stardust (second from right), Soap Bubble (far right)
Tough Groove is similar, keeping the same specs and chromed buttons, but the back is grooved from top to bottom. It has a slight rainbow effect to the clear back panel which gives it an even more unique look.
These run
$39.99 on Amazon
.
Twinkle Stardust
Twinkle Stardust is a sparkly case, with many reflective pieces of material embedded in the back of the case. It gives off a subtle twinkle effect as you move the case around.
It offers the same drop protection as all of Case-Mate's other cases.
These cases are
$39.99 on Amazon
.
Soap Bubble
Soap Bubble is a super cool looking iPhone SE case. It is essentially a clear case, but with a glossy, rainbow-like effect reminiscent of looking at a soap bubble.
In the light, it gives off a slightly purple look but will partially depend on the color of the phone the case is put on.
Own one for
$39.99 on Amazon
.
Invisible Shield
Glass+
Invisible Shield's screen protectors are very popular. They of course have new versions out for the SE.
Starting with the Glass+ screen protector, it offers 3X shatter protection compared to an unprotected screen. It has reinforced edges for drops and is very easy to put on.
It clocks in as a 9H on the hardness scale, includes a lifetime warranty, won't scratch easily, and deflects smudges.
They have them for
$19.99 on Amazon
.
Glass Elite+
The Glass Elite+ model ups the ante, going to 4X the shatter protection. It also integrates anti-bacterial technology to kill 99.99% of surface bacteria. Out of the lot this is the one we'd recommend for most people. It's priced at $34.99
at Best Buy
.
Glass Elite Visionguard+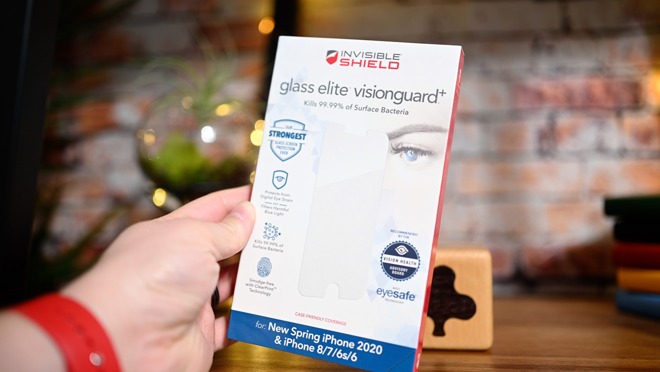 Invisible Shield Glass Elite Visionguard+
If you want to be sure to protect your eyes, then there is the Glass Elite Visionguard+. This has everything from the first two covers but also helps block blue light. This helps alleviate dry, irritated eyes, blurred vision, and prevents sleep disruption. The Glass Elite Visionguard+ is currently out of stock
at ZAGG
.
Spigen
Slim Armor CS
The Spigen Slim Armor CS is a wallet-style case, adding storage for two cards or some cash right on the back of your phone.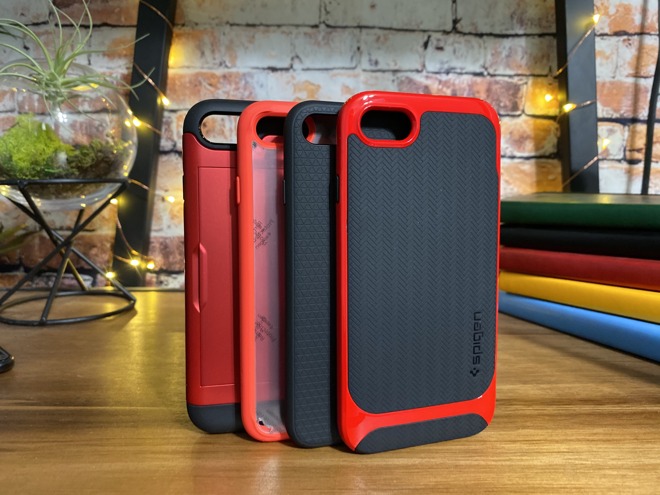 Spigen iPhone SE cases
It is still a slim case and the back slides open when you need access to your cards.
Our model had a red metallic hue to the body with matte black accents on the top and bottom.
They are available for
$17.97 on Amazon
.
Ultra Hybrid
Ultra Hybrid come in several colors including clear, back, and colored, all with a clear back.
It is very slim, combines a clear and stylish case, and as added grip compared to an unencumbered iPhone.
Buy for
$12.99 on Amazon
.
Neo Hybrid Herringbone
The Neo Hybrid Herringbone case offers a distinctive look. It has a colorful (or not colorful) edge with matte black on the back and bottom of the case. We particularly like this look out of all of Spigen's cases.
The back is textured with a herringbone pattern and also adds extra grip to the device.
Own one for
$15.99 on Amazon
.
Liquid Air
Liquid Air is the thinnest of the lot. It is made of a rubbery, flexible material that encompasses your device.
The sides are smooth but the back has a subtle triangular pattern. It adds protection while staying as minimal as possible.
Pick up on for
$10.97 on Amazon
.
Smartish
Kung Fu Grip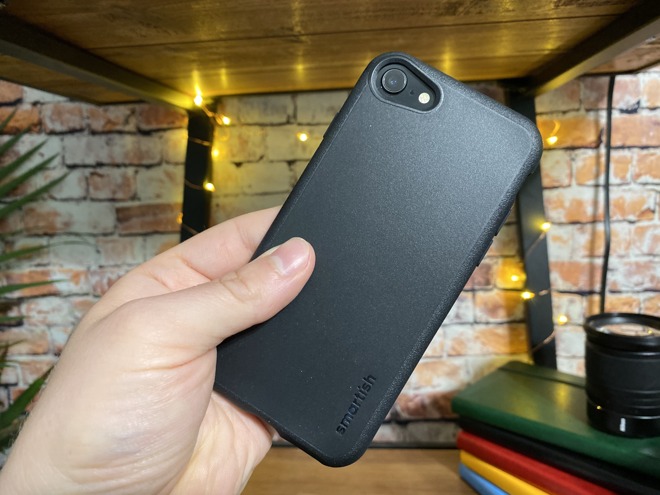 Kung Fu grip
We are all about the slim cases, and that is what the Smartish Kung Fu Grip is. It is a flexible material and has a matte finish to it. Just slightly textured which gives you the added grip the case is designed for.
Grab yours for
$11.99 on Amazon
.
Wallet Slayer Vol. 1
The first volume Wallet Slayer is another wallet-style case.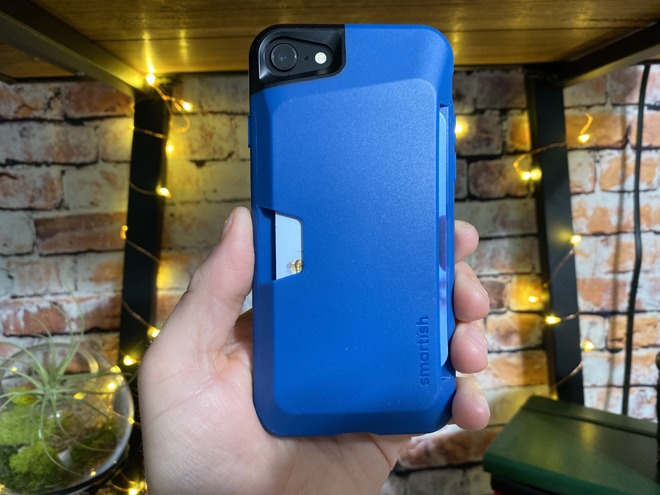 Wallet Slayer from Smartish
This one is flexible and holds three cards on the back. It also has "grippy" sides for added protection though not as slim as the Kung Fu Grip.
Pick up yours for
$14.99 on Amazon
.
Tuff Sheet
Smartish
is also known for the screen protectors. It offers a two-pack of tempered glass screen protectors that work with all of its various cases.
Prop Tart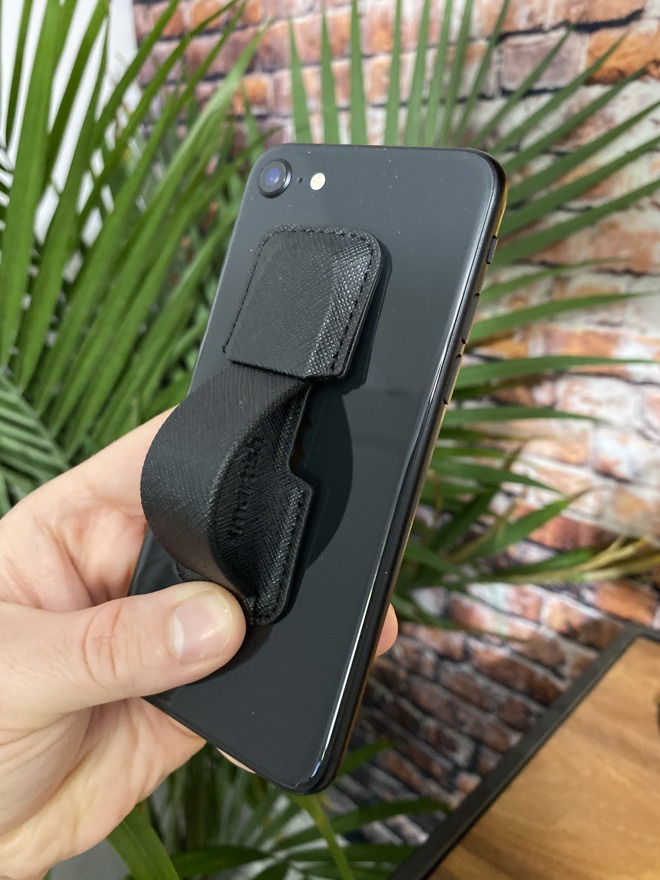 Smartish Prop Tart
Another fun accessory is the Prop Tart. This is similar to the grip cases above that adds a loop to the back of your phone. Your fingers slide behind to aid you in holding your phone, or it can be extended to act as a kickstand.
Kickstands are helpful for watching videos or even taking a quick FaceTime call.
It can be nabbed on
Amazon for $9.99
in any of the four colors.