Apple TV+ review: 'Dear...' a surprisingly shallow documentary series
The series, premiering June 5, explores, with limited depth, how famous people like Spike Lee, Oprah and Lin-Manuel Miranda inspired others.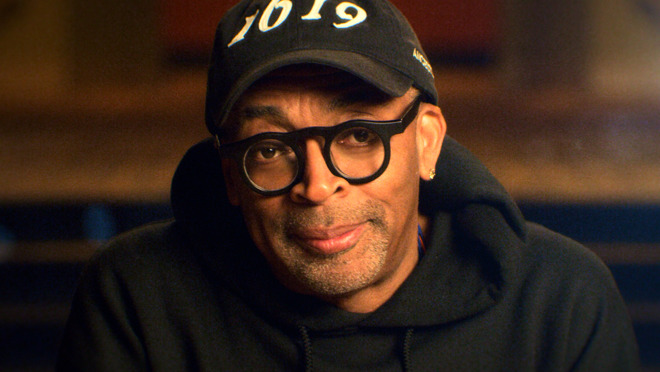 Spike Lee in "Dear," premiering June 5 on Apple TV+.
Dear...
,
a ten-part documentary series
that debuts in its entirety on June 5, has something of an odd conceit. Each of the episodes concerns a very famous person, and functions as something of a career retrospective of them, complete with interviews, archival footage, and stories of how they inspired others.
The show was executive produced by R.J. Cutler, the documentarian best known for the 1993 Clinton campaign documentary
The War Room
, with various different directors credited for the episodes. We've watched seven of the ten.
The "Dear..." part comes from everyday people writing letters to the subject, about how that person's work inspired them in life, often through difficult or tragic circumstances, after which the letters are read by the celebrities. It's all told in the sort of syrupy, inspirational register that's very familiar from human interest stories one would find on the local news, Olympics telecasts, and even episodes of
American Ninja Warrior
.
It might have better if
Dear...
had chosen either traditional biography or all inspiration. These subjects have all had long and accomplished careers that simply can't adequately be explored within the confines of a 30-minute episode, especially when so much time is spent on the people writing the letters.
Apple managed to line up some A-listers for this, and has clearly spared no expense in clearing all of the relevant movie and music clips. But not only do none of the episodes really go much beyond what's widely known about these very famous people and their biographies, but several of them have already been the subject of previous documentaries that told their stories much more completely.
Not only that, but the format requires the episodes to canonize these people and stay away, for the most part, from anything that's negative or controversial.
It's as though the producers and Apple pitched the subjects by telling them "we're going to make a short documentary about you, in which we talk about how great you are, and then have you read letters from people, who also tell you how great you are." I can understand why the celebrities said yes, but it doesn't exactly make for illuminating television.
"I got it, I'm gone"
The first episode is about filmmaker Spike Lee. It goes into stories about some of Lee's most famous films, like
Do the Right Thing, Malcolm X
and
He Got Game
, while admirers share what those films meant to them.
The Lee installment shows, right off the bat, what a missed opportunity this project was. With their financial resources and access to Lee, Apple could have produced a two-hour documentary about Spike Lee's life and career, including in-depth examinations of all of his films and the many controversies he's been part of over the course of his more than 30 years as a filmmaker.
Lee is a fascinating figure, one who frequently says surprising and illuminating things when he's interviewed. But
Dear...
rushes through Lee's filmography, spending a couple of minutes on the more-relevant-then-ever
Do the Right Thing
, while Lee shares a half-dozen stories that he's told many, many times before.
Sure, it's sweet that Lee inspired people, who include retired WNBA star Candice Wiggins. But I wanted to hear more from the subject himself, especially now.
Throwing away his shot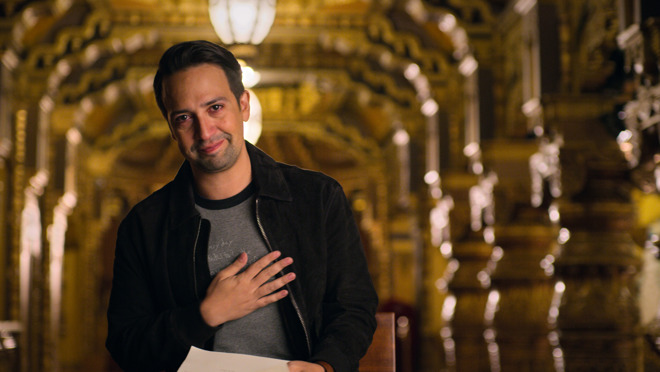 Lin-Manuel Miranda in "Dear," premiering June 5 on Apple TV+.
Lin-Manuel Miranda, the decorated composer and star of the Broadway sensation
Hamilton
, is the subject of the second episode.
Miranda's episode has less of a compression problem than the Lee one, simply because Miranda hasn't been famous for nearly as long. But Miranda, like Lee, doesn't reveal much of anything that you probably don't know if you're even slightly familiar with his biography, or have ever seen him interviewed before.
The letters to Miranda are sweet, many of them from immigrants inspired by
Hamilton
and his earlier show
In the Heights
, as well as a young girl who survived cancer. As each letter is read, the narration shifts from the letter writer to Miranda in much the same way it shifted from Alexander Hamilton to George Washington at a key moment in
Hamilton
.
But if you're even a little bit of a fan of Miranda or
Hamilton
, you've probably seen
Hamilton's America
, the PBS documentary from a few years ago in which he tells all of the same stories about his own biography and about how Hamilton was created.
It's the summer of Lin on streaming services, as Disney+ will debut the movie version of
Hamilton
. Hulu was to premiere his documentary
We Are Freestyle Love Supreme
June 5, the same day
Dear...
debuts on Apple TV+, although it's now been delayed due to the death of George Floyd and its aftermath.
It isn't exactly a moment of glory for Apple that Disney+ landed the actual
Hamilton
musical, while Apple TV+ has, a month earlier, what amounts to a documentary short about its creator. Similarly, you could watch the half-hour
Dear...
episode about Glorida Steinem, while there's an entire acclaimed mini-series on Hulu,
Mrs. America
, about Steinem and her friends and rivals in the 1970s feminist movement, while Spike Lee's next movie,
Da 5 Bloods
, will premiere on Netflix June 12.
Songs in the key of Apple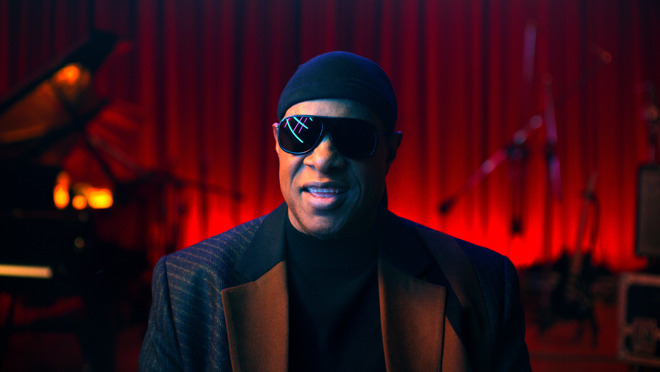 Stevie Wonder in "Dear," premiering June 5 on Apple TV+.
This is the case with the other episodes, including those featuring Oprah Winfrey and Stevie Wonder. Neither of them says a single surprising thing or share anything that isn't widely known about them.
Sure, several of the episodes deal with racism, and the Steinem one doesn't shy away from discussion of abortion. But there's just about nothing in any of these that makes the subject look less than great.
There are some fun clips from Oprah's old talk show, and we do get to hear snippets of some great Stevie Wonder songs, in his episode. But a lot of these installments -- the Oprah one especially -- play more like public relations exercises on behalf of the subject than they do TV episodes.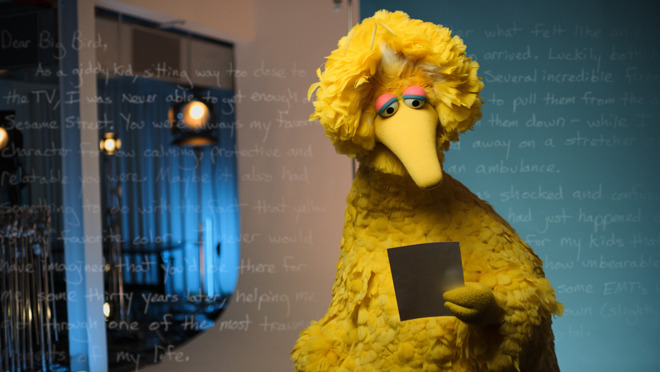 Big Bird in "Dear," premiering June 5 on Apple TV+.
The sixth episode features Big Bird, although the
Sesame Street
character -- or rather, his creator and longtime puppeteer, the late Caroll Spinney -- was already the subject of a feature-length documentary, 2014's
I Am Big Bird
. The episode even spends five minutes on the famous Mr. Hooper scene, which the previous doc already covered in much greater depth.
Jane Goodall, the subject of the seventh episode, also had her own documentary, Brett Morgan's 2017
Jane
, which utilized cutting-edge filmmaking techniques that the Apple episode lacks.
Dear... Apple
Like many other genres of content, Apple TV+ has been ramping up its documentary efforts. There was last year's ambitious LGBTQ+ docuseries
Visible: Out on Television
, as well as acquisitions like
The Elephant Queen
and
Beastie Boys Story
.
The Beasties doc was a triumph, but
Dear...
is a lesson that Apple should aim a bit higher, and do something more ambitious in the documentary space. They could throw some money at the some of the world's greatest documentarians to make passion projects, which is what ESPN did with its original vision for the
30 for 30
series.
Apple's
next documentary series
is July's
The Greatness Code
, a short-form series which will profile superstar athletes like LeBron James, Tom Brady, and Usain Bolt, complete with participation from James and Brady's own production companies.
This indicates that Apple's continued strategy with documentary series is to make shows about great and famous people, focused on how great and famous they are. This approach gets Apple in business with lots of celebrities, but it's highly unlikely to do is lead to shows that are especially watchable.
It's understandable, especially following the absolutely horrifying events of the spring of 2020, why some viewers will find themselves in the mood for something happy and inspirational. But what they won't get is any kind of achievement in documentary filmmaking.