New iPhone App Store feature focuses attention on racism & advocacy
Posted:
in iPhone
edited June 2020
Apple is highlighting ways to "make a difference in standing up to racism" in the App Store with a feature promoting "apps to engage and stay informed."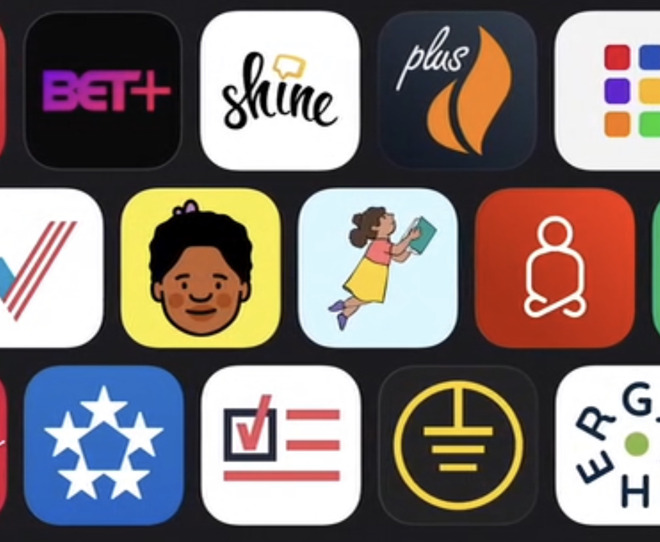 As America's most popular mobile platform, Apple's iPhone App Store is recognizing the power of smartphones to
shift perceptions
, to inform, and to take action on issues ranging from protests and police brutality to recognizing the contribution of Black developers.
Apps offer immediate access, unfiltered by conventional media
Third parties are also certainly noting the impact of mobile apps and smartphones. On June first,
Motherboard
highlighted
that police scanner apps were gaining broad popularity in downloads.
5-0 Radio
had jumped to the top of paid App Store titles and was also the second-highest free app, leaping Facebook, Instagram, and TikTok.
The popularity of police scanner apps in part allowed protestors to be aware of police activity, while also serving to "help keep communications open between different hospitals, departments, and precincts who normally wouldn't have access to each other's communications," its developer noted.
Conventional social media apps also gained popularity, with Sarah Perez
reporting
for
TechCrunch
that Twitter experienced a record breaking week in new installs based on data from two analytics firms.
"Twitter's usage is on the rise because of the immediacy around news-sharing its platform provides," Perez stated. "This was in particular demand amid the George Floyd protests in the U.S., as protestors used Twitter to share live images and videos of the demonstrations, the fires and looting, instances of police brutality and more. Meanwhile, non-protestors downloaded the app to watch the events unfold directly and get unfiltered, breaking news."
Writing for the
New York Times
, Taylor Lorenz noted that "people can't stop watching videos of police and protesters," citing one supercut of recent U.S police brutality videos entitled "
This is what a police state looks like
" that was viewed in a single tweet more than 45 million times.
Jordan Uhl, a Washington D.C. political consultant and activist who uploaded the video, said he was motivated to push back against conventional media reports that focused on looting and property damage, instead "show how the main story should be that, in response to a mass mobilization against police brutality, the police responded with more brutality."
Reflecting the public
statement
Apple's chief executive Tim Cook made on Thursday, the App Store feature "
Standing Up to Racism
" noted today that "technology can empower people to change the world for the better," adding, "here are apps that help build a future that lives up to the highest ideals of equality and justice."
Make your voice heard
The feature cites three apps related to political action. The first,
Voter Pal
, is designed to help users get the forms needed to register to vote in their state as "a prefilled PDF, ready to print, sign, and mail in advance of Election Day."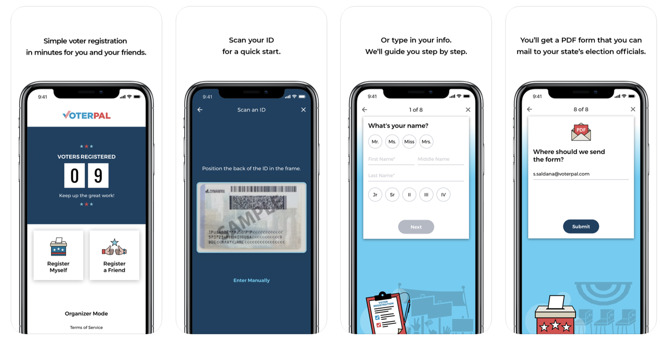 A second title,
5 Calls: Contact Your Congress
shows how citizens can contact their elected representatives, "get helpful talking points to champion the causes you support and place those important calls directly within the app."
A third,
Outvote
, is designed to empower political organizers, helping them "keep up to date on the latest initiatives from social-justice organizations, including the Minnesota Freedom Fund, the NAACP, and community bail funds nationwide."
Stay informed
Apple tooted its own horn with its curated Apple News Spotlight "Protests Across America," a curated selection of the "best coverage from reputable publications nationwide."
In addition to news articles, it also provides a Resources selection of articles on mental health and ways to support the cause of racial justice.
Three other news apps were also highlighted, including
Winno
for "spin-free coverage of current events" in a facts-only news feed written by human journalists. The App Store noted, "for updates about George Floyd and related protests, follow the hashtag
#george-floyd
in the app."
Ground News
allows users to "compare coverage across the political spectrum from more than 40,000 publications worldwide, organized by how the news outlet may lean politically-- left, right, or center."
A third app,
News Break: Local & Breaking
provides "hyperlocal news, including municipal and county briefings, breaking headlines for your neighborhood, and emergency alerts."
Put your money to work
Apple highlighted two apps that help individuals contribute financially, including
GoFundMe
as a way to "contribute to the official George Floyd Memorial Fund, which covers in part the family's efforts to seek justice and the benefit and care of his children."
PayPal
is also cited as a way to "donate to organizations fighting to end racial and economic inequality, like the ACLU, Vote.org, and the Equal Justice Initiative." The feature invites users to "scroll down the main feed to the Make an Impact section to search for a charity."
Learn from history
Four featured apps offer general educational resources, with special content suggestions highlighted by Apple. The first,
Coursera
, "offers online classes from 150 prestigious universities around the world."
On the subject of understanding the history of racism in American, the App Store highlighted "two to start with: the University of Illinois' 'Race and Cultural Diversity in American Life and History' and Emory University's 'From Freedom Rides to Ferguson: Narratives of Nonviolence in the American Civil Rights Movement.'"
Another title,
The Great Courses Plus
, offers to "dive deep into important aspects of U.S. history in video lecture series like 'America's Long Struggle Against Slavery' or 'A New History of the American South,' taught by top professors."
Lessons in Herstory
uses augmented reality "to bring to life forgotten stories of women, right on the pages of your history textbook. Scan any portrait of a man in your textbook and unlock a related story about an important woman."
The education title for kids highlights the stories of a variety of African American women including Bessie Coleman, Alice Dunbar Nelson, Harriet Tubman, and Edmonia Lewis.
Khan Academy
, designed for students, offers "lessons on the civil rights movement, the Civil War, and the slave economy." Apple invites users to discover this content "in the U.S. history course in the app's Arts and Humanities section."
Watch a documentary
The App Store highlights a trio of apps featuring documentaries on race, noting its own Apple TV providing access to the PBS documentary "The Talk: Race in America," which "looks at the increasingly common conversation between parents of color and their children: how to behave should you ever get stopped by the police."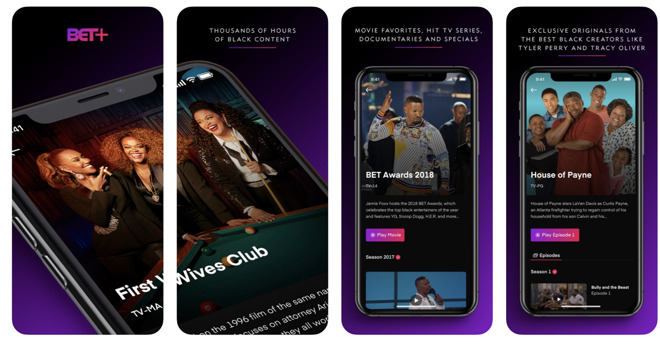 BET+
offers a six-part documentary series "Finding Justice," which "takes a close, uncomfortable look at cities across the U.S. battling systemic inequality and oppression, from a Baltimore community facing devastating levels of lead poisoning to voter suppression in Georgia."
The
PBS Video
apps is also featured as a way to watch "Black America Since MLK: Still I Rise," where professor Henry Louis Gates Jr. "leads viewers on a journey through the past 50 years of African American history, touching on the victories of the civil rights movement, the election of President Obama, and the endemic challenges that persist to this day."
Start a conversation about race
Two apps that facilitate conversations on race are also featured. The first,
Gather
, is introduced as "talking about racial inequality-- whether with a friend, coworker, or family member-- is often difficult. By providing helpful prompts, this app can make the process smoother."
A second title is
StoryCorps
, an oral-history project that attempts to bridge the country's divides. It works as a tool for "encouraging friends and family with opposing political views to record honest interviews with each other." It offers to questions to pose, records the interview, and can archive the recording for future generations.
Support Black developers
There are five featured titles created by Black developers and talent. The first,
Shine
, was founded by two women of color to teach "mindfulness and self-reflection to everyone through motivational daily texts and inspiring audio."
Kaya Thomas created
We Read Too
as a project "inspired by her inability to find book characters who looked like her," curating "great titles for children featuring Black characters or written by Black authors and illustrators."
Zimela
helps people of color "explore professional opportunities, connect with mentors, and discover career placement opportunities and internships."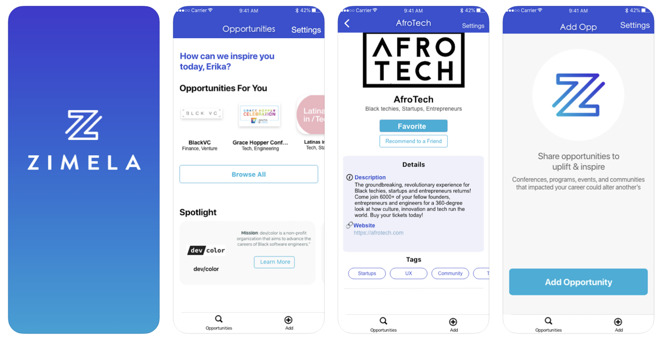 Liberate Meditation
is a mindfulness app "featuring leading meditation teachers of color." The app " helps you find ways to ease anxiety and encourage gratitude in ways that speak to the broad range of Black experiences."
Created by Black fitness experts,
GrpFit
"offers guided workouts, daily motivations, and an uplifting health-focused community."