Fake AirPods, Apple thefts, and fruit bags in the Apple Crime Blotter
Posted:
in iPhone
edited June 2020
In this week's Apple Crime Blotter there's more on the Apple Store looting instances, an iPhone sale led to a murder in Alabama, and iPhone evidence is used in cases against accused MS-13 members, ISIS conspirators, and a judge.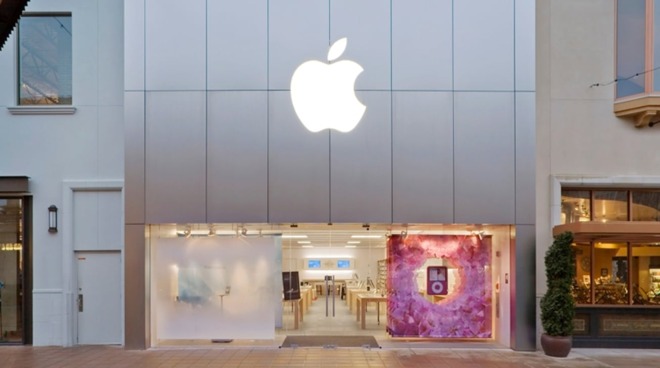 The Bridgeport Village Apple Store in Tigard, Ore.
The latest in an occasional
AppleInsider
series, looking at the world of Apple-related crime.
Apple product looting not limited to Apple Stores
As reported by
AppleInsider
and elsewhere, Apple Stores throughout the U.S. were looted in the closing days of May, as part of the unrest in several cities following the police killing of George Floyd in Minneapolis. This followed nearly three months of not a single report of an Apple Store robbery anywhere in the U.S., as the stores were closed due to the coronavirus pandemic.
There were other reports, amid the looting, of Apple products being stolen from non-Apple Store businesses. On May 31, according to
The Daily Beast
, "a protester
dished out iPads
to an assembled horde" outside a Best Buy in midtown Manhattan, while reporter Danny Gold
tweeted
that someone, possibly the same man, was "chucking iPads into the crowd at one point from the store front."
Meanwhile, those who grabbed stolen Apple merchandise shouldn't expect it
to ever work
. One photo posted to Twitter showed an iPhone that had been purportedly been looted from an Apple Store in Philadelphia, showing the note "Please return to Apple Walnut Street- this device has been disabled and is being tracked. Local authorities will be alerted."
An iPhone taken from Apple Walnut Street in Philadelphia.
Message reads:
"Please return to Walnut Street.
This device has been disabled and is being tracked. Local authorities will be alerted." pic.twitter.com/gSBgfj2zib
Suspicious bag at Oregon Apple Store was apples
On May 27, a few days before the Apple Store in Portland was smashed and looted, a different Apple Store in Oregon was shut down over a
potential bomb threat
. According to
The Portland Tribune
a suspicious package was found near the store, along with graffiti that stated "Timmy, close the back door."
While the note was interpreted as a possible threatening reference to Tim Cook, the bag turned out to contain red Apples. A 47-year-old woman, thought to be responsible, was issued citations for criminal mischief and disorderly conduct.
Man killed in Alabama in iPhone robbery
A Mississippi man who drove to Alabama to buy a cheap used iPhone from someone he met on the Letgo app was
was shot and killed
there.
AL.com
reports the sellers had lowered the price of the iPhone 11 to entice the man to drive further.
The body of the 45-year-old man was found in an abandoned house in Bessemer, Ala.
MS-13 murder indictment cited iPhone and iCloud evidence
U.S. Immigration and Customs Enforcement (ICE) on May 15
announced
the indictment of 10 alleged members and associates of the notorious international criminal organization MS-13, on such charges as murder, attempted murder, conspiracy, and weapons charges.
According to the indictment, one of the murder charges included as evidence photos of the deceased taken with the iPhone of one of the defendants, a photo that was found in that defendant's iCloud account. The indictments were unsealed by the U.S. Attorney's Office for the Eastern District of New York.
iPhone evidence used against man who FBI says planned possible ISIS attack
A 23-year-old Florida man has been charged with attempting to provide support to the Islamic State, and
the FBI says it found incriminating videos
on his iPhone. According to
The Tampa Bay Times
, Muhammed Momtaz Al-Azhari, who is a U.S. citizen, has been charged with attempting to provide material support or resources to a designated foreign terrorist organization.
Al-Azhari is said to have attempted to buy weapons from an eBay seller who was actually an undercover FBI agent. Tthe FBI claims that while monitoring his communications, they discovered "self-shot videos on Al-Azhari's iPhone in which he showed off guns, mimicked shooting people and announced his support for the Islamic State."
Counterfeit AirPods seized by customs in Pittsburgh
Customs and Border Protection agents in Pittsburgh seized a large cache of counterfeit electronics products, including 120 Apple AirPods and Lightning charging cables, as well as 4,000 Roku remotes, the agency announced June 3.
The CBP said the
fake products
arrived in multiple shipments from Hong Kong, and if legitimate would have had a total retail value of $112,000.
iPhone evidence can be used against indicted Brooklyn judge, court rules
A federal judge ruled June 2 that evidence taken from the iPhone of Brooklyn Supreme Court Justice can be
used against her
in a criminal case.
The New York Law Journal
writes Justice Sylvia Ash had sought to suppress evidence from the iPhone, which was issued to her in her former capacity as a board member of the state-chartered Municipal Credit Union.
Justice Ash has been indicted on obstruction charges, concerning a probe into financial shenanigans at the credit union, whose former CEO pled guilty to stealing nearly $10 million. The indictment against Ash alleges that she wiped the iPhone of messages, and also made false statements to investigators.
Suit against AT&T over theft of crypto from iPhone may proceed
A U.S. district judge on May 20 rejected an attempt by AT&T to toss a lawsuit filed by an investor who says the carrier failed to prevent the theft of nearly
$2 million
worth of cryptocurrency from his iPhone.
According to a report by the cryptocurrency news site
Cointelegraph
, investor Seth Shapiro sued AT&T in the fall of 2019, claiming that the company failed to protect him from a SIM swapping scheme that included two AT&T employees. U.S. District Judge Consuelo Marshall rejected a motion by AT&T to dismiss the suit.
AT&T was also sued in 2019 by another crypto investor, Michael Terpin, who in May filed yet another suit alleging the mastermind of the
SIM swapping scheme
was 15 years old at the time of the theft.
Man accused of stealing 40 Apple iPads and 25 Apple iPods
An Alabama man was arrested in late May and charged with stealing over
40 iPads
and 25 iPods, with assistance from other suspects.
Alabama News
reports the accused man sold many of the devices via Facebook Marketplace, Letgo, and eBay.
Chicago man accused of stealing ID, package with Mac in it
In an alleged crime more sophisticated than a typical porch pirate situation, a man in Chicago had
a UPS package
with his order of a new Mac stolen, by a thief who he says stole his identity to do it. According to
CBS Chicago
, the thief used a fake version of the package recipient's ID to take the package directly from a UPS driver.
The incident was caught on video, and the thief was wearing a mask and blue scrubs. The theft victim said that Apple was conducting its own investigation and had promised to send a replacement package.
Have an Apple crime story for us? Email
AppleInsider
and tell us about it.