HomeKit Insider: Hue versus Tradfri, Home+ 4, & new listener questions
This week on HomeKit Insider, your hosts compare the pros and cons of Philips Hue versus IKEA Tradfri, chat about the fantastic Home+ 4 app, give a mini review of the Lutron Aurora, cover this week's news, and answer a listener question.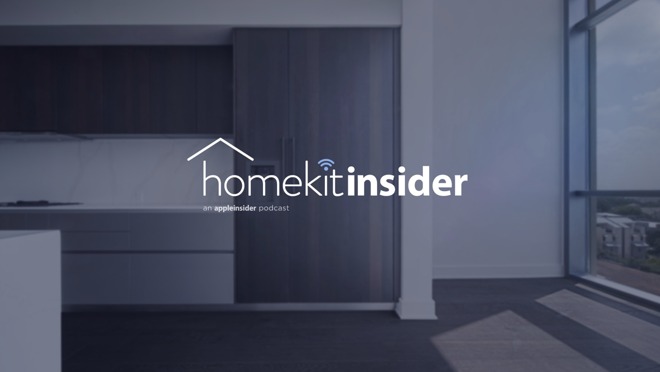 HomeKit Insider: A new AppleInsider podcast
Note:
The next episode of
HomeKit Insider
will be on June 24th rather than the normal Monday release of June 22nd. Apple's developer conference is on June 22nd, hopefully with HomeKit surprises in store.
HomeKit Insider
will return on June 24 to talk about Apple's announcement and how HomeKit will be changing.
The third episode of the HomeKit Insider podcast goes in-depth into two popular
HomeKit
smart bulb platforms -- Philips Hue and IKEA Tradfri. Both are popular, but come with significant trade offs.
Andrew also answers a question, from listener Alex Hall.
"Okay guys, here's a question. A smart plug controls a coffee maker. I want this to turn itself off after X minutes, but it's turned on by whomever first wants coffee, not by an automation. Can I do this? "
While something like this seems basic, unfortunately there isn't a toggle-able way to enable this. There are ways to do this by utilizing an automation, but those need tied to another accessory or trigger. You could grab a HomeKit button and set the coffee maker, light, or any other accessory to turn on when the button is pressed and turn off after a set amount of time.
The problem with this route is it requires another accessory to work. Because of that, we came up with an alternate method.
To start, create a new automation rule in the Home app. Select "When an accessory is controlled" as the type. Find your accessory that we are automating, and select it and mark it as on. At this point, we have a rule that will run whenever that light or smart plug is turned on.
Go to the next step, and scroll all the way to the bottom and choose "Convert to Shortcut" under
Advanced
. You Then have to remove the default action of the shortcut before adding our own by tapping the "x" in the corner of the first step.
Now we can have the shortcut do what we want it to do. Add an initial step by tapping the "+" button and searching for "Wait." Add this and input your period of time, from a 20 second delay to much more.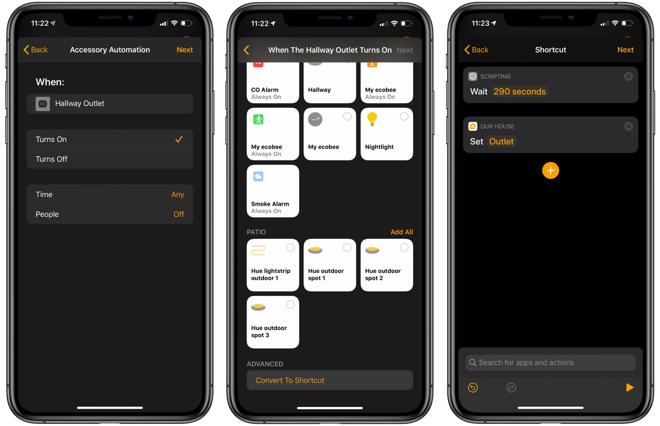 Create the automation, convert its action to shortcut, then add your delay to the shortcut"
Finally, we add our step for turn the lights or smart plug back off by adding another step and searching for "Control My House," though it may read different depending on what you've named your home in HomeKit.
It may sound like a lot of effort, but it isn't all that much and makes sense once you understand the process. Still, Apple could do more to make this more straightforward.
Links from the show
Stay tuned for more!
As we get this podcast off the ground, we'd love to hear what you think. Send your feedback to
Stephen
and
Andrew
via email or ask as us questions on Twitter
@StephenRobles
and
@Andrew_OSU
.
Please also leave a rating on the Apple Podcasts to help us improve the show as we move forward.
Those looking to sponsor the HomeKit Insider show can reach out to
an

[email protected]