The best mobile SSDs for iPad Pro compared
Posted:
in iPad
edited September 2020
With USB-C on the iPad Pro, comes the ability to connect external storage. AppleInsider compares our top picks for the best portable SSDs for iPad Pro all with a small form factor, performance, and durability.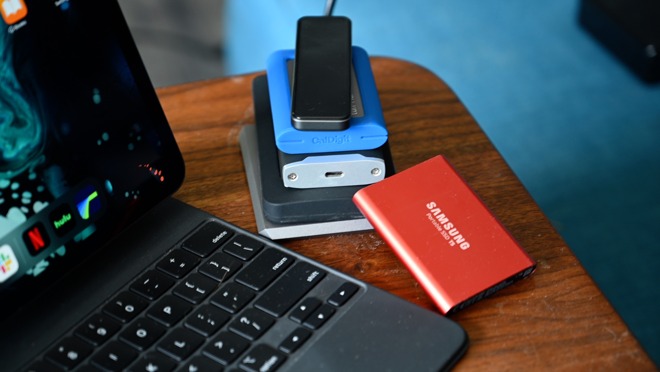 There are a lot of great SSDs for iPad Pro
Apple continues to expand the
iPad
, advancing the hardware and providing software updates that deliver new and productive features. Pairing a portable SSD with Apple's
iPad Pro
can help take you even further.
Thanks to recent updates to
iPadOS
, Apple has enabled external storage access from within Files as well as within third-party apps that utilize iPad storage.
It is now possible now to edit 4K videos off of an external SSD or edit your library of sizable RAW photos from that extra storage. And that's beyond the basics of storing files, sharing content, and much more.
As devout iPad Pro users, we've searched for the best mobile SSDs for our tablets to help get the job done. We're focusing specifically on SSDs that are all USB-C and exceptionally compact, perfect for pairing with a tablet.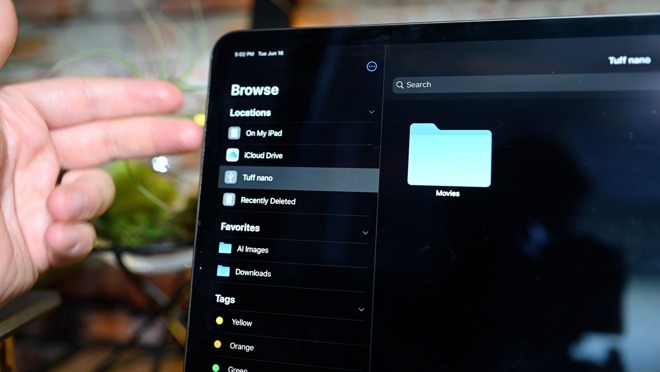 An external drive showing the Files app
Of all the SSDs out there we'd consider ideal companions for our iPad Pro, we're dividing them up into two groups -- the ultra-rugged and stylish. That isn't to say the durable SSDs don't look great, they just have that as a priority versus the others.
Rugged iPad Pro SSDs
CalDigit Tuff Nano
Kicking things off is the CalDigit Tuff Nano. This diminutive drive has a strong, aluminum body and is wrapped in a colorful (and identifying) silicone bumper. That bumper not only lets you have multiple of these drives that can be easily distinguishable from one another, but adds some additional drop protection from the other metal drives in the lineup.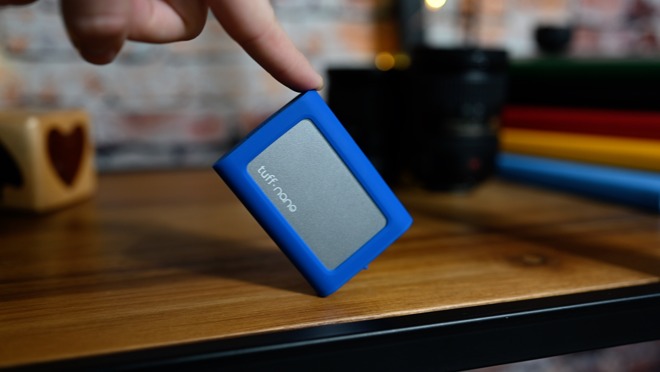 CalDigit Tuff Nano
We've picked up a few of these and we go back to them time and time again for that small size, durable design, and color-coding. With the different colors, we can easily distinguish between our video scratch SSD, out photo library, and our backup for our Mac.
These guys have an IPX8 water resistant USB-C port which is also protected from dust with a silicone dust cover. It sports a 1055 megabytes per second max transfer speed. They come in 512GB and 1TB capacities.
Own your
CalDigit Tuff Nano starting at $129.95
from Amazon.
Glyph Atom SSD
The Glyph Atom RAID SSD is another great rugged option. It too has a metal body wrapped in silicone, though it is a big larger and heftier than the Tuff Nano.
Inside it has two SSD modules set up in a hardware RAID for a single volume when connected to your machine. But those two modules in a RAID 5 configuration allows both SSDs to be written to at the same time, roughly doubling its speeds. This yields max speeds of 950 megabytes per second.
It comes in 500GB, 1TB, 2TB, and 4TB capacities.
For those who are looking for more, there is also the Glyph Atom SSD Pro. This newer version of this drive has 2800 megabytes per second read speeds and 2600 megabytes per second write speeds.
Grab your
Glyph Atom RAID SSD starting at $249.95
from Amazon.
GDrive Mobile SSD
Rounding out our rugged category is the GDrive Mobile SSD. Available in 500GB, 1TB, and 2TB sizes, this drive is the only one specifically rated and tested for crush resistance. It is able to withstand 1000 pounds of pressure without breaking down.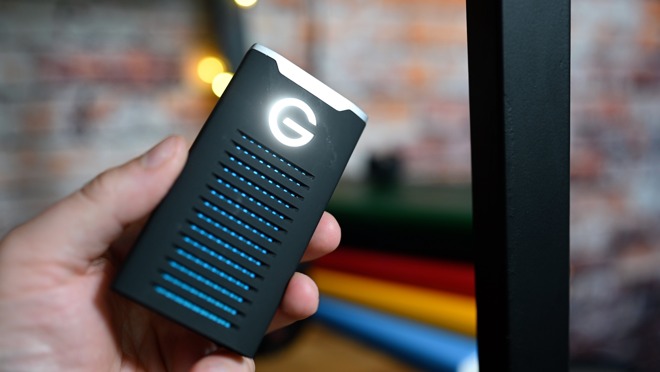 GDrive Mobile SSD
Additionally, it has IP67 water and dust resistance and can withstand drops from up to three meters, making it even more durable. This is due to its multi-level design. It has a matte exterior with a vivid blue aluminum core. This is protective as well as very sleek to look at.
For speed, it can reach 560 megabytes per second which does put it below our first few rugged drives but is still fast being an SSD. Many may prefer its extreme durability for its reduced speeds.
Nab one starting at
$89.95 from B&H
.
Stylish, fast, & unique iPad Pro SSDs
Samsung T7 and T7 Touch
One of the most prominent names in SSDs is Samsung and its T-line of drives. New this year is the T7 and T7 Touch.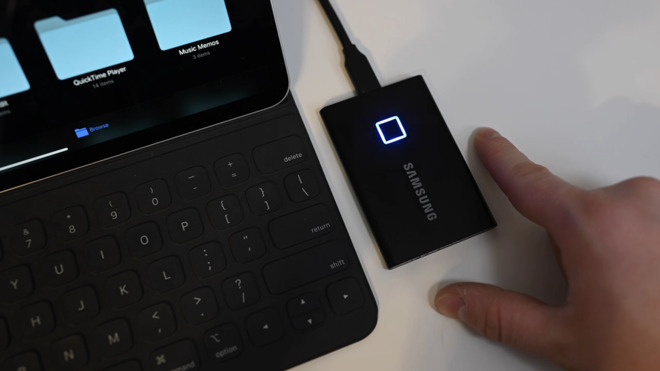 Samsung T7 Touch
These drives retain a lot of the style as the previous generations which is an extruded aluminum shell with plastic caps on either end and often many different stylish colors.
The T7 Touch version differs by offering a fingerprint sensor on the drive itself to protect its contents. For sensitive material, it affords a great deal of protection with the iPad Pro being password protected and the drive itself protected via biometrics.
If the additional security isn't necessary, there is the standard T7 which is still faster than the prior-generation T5. The T7 and T7 Touch is able to get 1050 megabytes per second in read speeds and 1000 megabytes per second write speeds.
Grab the
T7 Touch from B&H starting at $209
as well as
from Amazon
.
Samsung T5
If you don't need the speed of the T7 line, then the now-superseded T5 is an excellent option.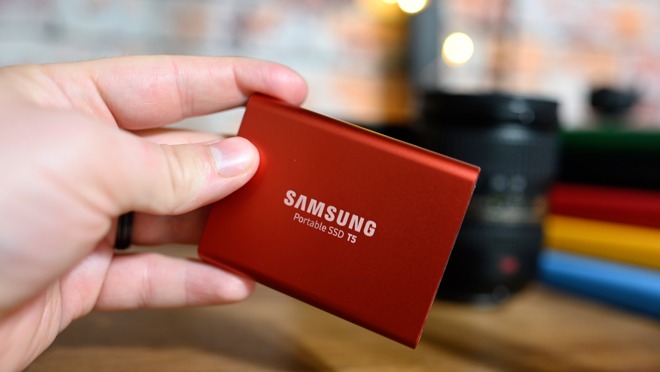 Samsung T5 in red
The T5 comes in 250GB, 500GB, 1TB, and 2TB sizes and a smattering of different colors. They still have the same aluminum body but a slightly different size from the T7.
Instead of the over 1000 megabytes per second of the T7 line, the T5 reached a max of 540 megabytes per second transfer speeds, which is still more than acceptable.
The
Samsung T5 is available
starting at $169.
RAVPower Mobile SSD
A new entrant to the market, RAVPower is out with its new mobile SSD. This one has a unique shape unlike any of the others on our list. Instead of short and squat, the RAVPower Mobile SSD is long and very thin.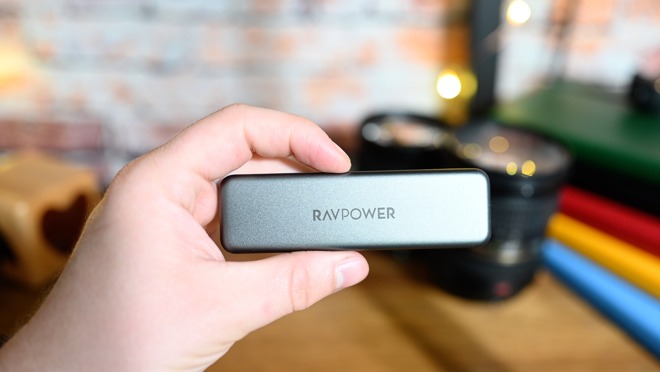 RAVPower mobile SSD
It has a zinc alloy casing with a piano-like baked surface, similar to a ceramic, that aids in cooling on the other. The piano-like surface is a dark grey to black with tiny reflective particles within. It looks fantastic.
It comes in 512GB and 1TB sizes and can reach 540 megabytes per second for its max transfer speed.
Pick up the new
RAVPower Mobile SSD on Amazon
For $89.98 (currently has an additional $10 off).
LaCie Mobile SSD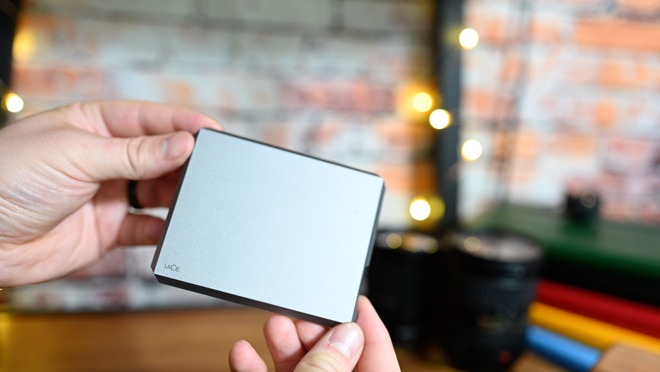 LaCie Mobile SSD
Then we have the LaCie Mobile SSD. This unique entrant is very flat and wide, crafted entirely from aluminum. It has diamond-cut edges for a unique look like no other. The space grey option of the bunch is an Apple Store-exclusive which matches the darker hued iPad Pro perfectly.
It is the most designer-esque of the bunch, catching eyes without a doubt. It is available in 500GB, 1TB, and 2TB capacities with speeds up to 540 megabytes per second. You can pick it up
from Apple
.
Get the job done
This list encompasses the best of the best, offering drives that are protective, durable, reliable, small, and blazing fast. Certainly there's something on this list of drives that we like, that will be suitable without breaking the bank.