iOS 14 'emergency override' allows charging even when liquid is detected
Posted:
in iOS
edited June 2020
Apple's upcoming iOS 14 includes an updated liquid ingress detection system that allows users to override an automated charging disablement feature designed to prevent damage to device internals.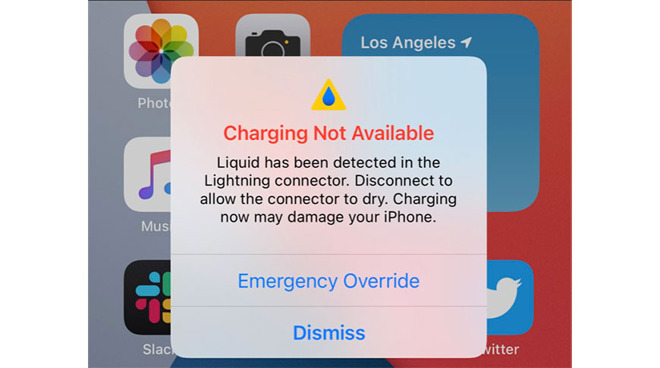 The new behavior was spotted by
Bloomberg's
Mark Gurman, who encountered the warning indicator after an apparent mishap on Tuesday. A screenshot of Apple's revamped safeguard was shared in a
tweet
.
When moisture is detected in iPhone's Lightning port, iOS displays notifications that read, "Charging Not Available" or "Liquid Detected in Lightning Connector." The message related to charging explains that liquid was detected in the connector port and urges the user to disconnect an inserted to allow the port to dry.
"Charging now may damage your iPhone," the notification reads.
Apple now offers an "Emergency Override" option, which assumedly lets users continue the charging process despite the potential for damage. Alternatively, users can heed the iOS 14 warning, disconnect the Lightning cable and manually dismiss the notification.
Liquid ingress protections were first
implemented in 2016
as part of an initial iOS 10 beta seed. The feature, which has been available in all subsequent iOS versions, currently alerts users to the presence of liquid but relies on manual intervention to thwart damage.
The latest iOS 14 build is the first to allow users the option to forfeit protections afforded by the system.