Apple fine-tunes Photos privacy in iOS 14 to tailor access to specific images
A new privacy feature in iOS 14 means that users will be able to specify that they only want to allow access to particular photos, instead of an entire Photos library.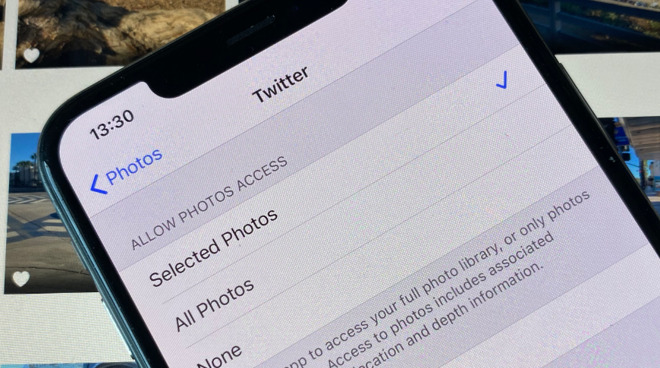 Users can limit which photos an app is able to see and share
Alongside the major announcements about
privacy
in
iOS 14
, Apple has been adding finer options to give users more control over what Photos data can be shared. The options appear when the user is another app which wants access to the Camera Roll.
"Your photos and memories are personal," says Apple in a pop-up dialog that appears when a user first tries to add a photo in a new app, such as when they want to post an image to Twitter. "Apple's new privacy controls let you decide what photos and videos you share."
"When an app asks for permission to access your photo library," it continues, "you have the choice to select specific items or allow access to all photos and videos."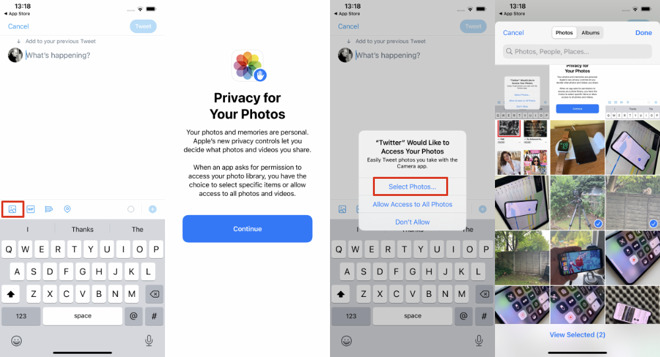 L-R Twitter user taps to add a photo. Apple displays a notice and then offers options. Lastly, a user can then pick the image or images they want to share
The notice is followed by a
Continue
button. When tapped, it leads to a further pop-up menu about levels of access. Those include the existing
Don't Allow
, and the newly-worded
Allow Access to All Photos
.
There's also the entirely new option
Select Photos...
, which leads the user through to the Camera Roll to pick one or more images to share. It is specifically images that users can opt to share, rather than albums.
Which then means there is an issue that the next time a user wants to post an image, they find their selection confined to solely the ones they specified before. To change that and allow all or just different images, the user has to go to
Settings
on their iPhone.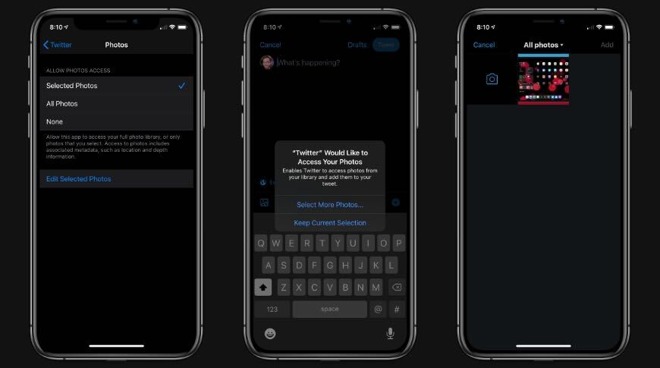 To change their mind about a particular app, the user has to go via the Privacy options in Settings.
Then in the current iOS 14 beta, they must choose
Privacy
,
Photos
, and tap on the app they want to use. This will let them switch to
All Photos
, or redo their selection of specific images.